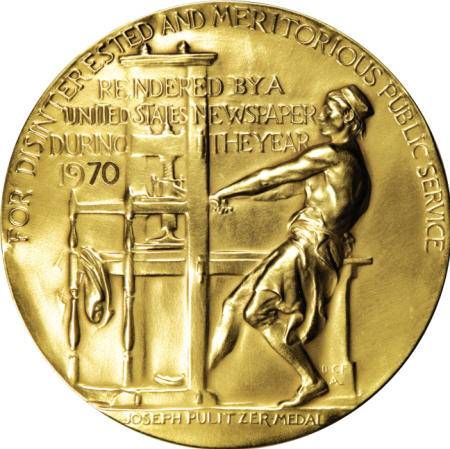 News
The 9 Smartest Things Said about the non-Pulitzer
I can't get enough no-Pulitzer talk and have been reading everything I can find over the last week. Here are nine of the smartest things I've seen on the subject. (I am abstaining from considering discussion that has appeared here on Book Riot. If you are interested in what I or Bethanne wrote, judge for yourself.)
____________________________
"…let me also just note that the report that the three-person jury "read about 300 novels each over the course of six months" is, of course, ludicrous. This would require reading almost two books a day, seven days a week, for those entire six months while also being, at least in the case of Maureen Corrigan, a professor of English at Georgetown. Bullshit. No one is capable of this, not if they have jobs, lives, or engage in basic personal hygiene. I'm willing to grant that the jury "considered" or maybe "reviewed" or "sampled" that many books, but "read"? Not a chance."
John Warner, at The Morning News
____________________________
"Every year the literary press praises dozens if not hundreds of novels to the skies, asserting explicitly or implicitly that these books will probably not be suffering water damage in the basements of their authors' houses 20 years from now. But historically, anyway, that's not the way the novelistic ecology works."
Lev Grossman, at Time.
____________________________
Whassup Pulitzeritos! Do not forget the big event: Mad Men season premiere/costume party/blitzkrieg/whatnot, courtesy of @JosephPulitzer. P.S. we prob should make a decision on that fiction thing soonish.
Avi Steinberg, at The New Yorker
____________________________
The board's indecision seems to me a more truthful statement about the nature of such prizes than saying a certain book was No. 1. The fiction that one book of fiction is the best of the year is ingrained in our book culture.
-Doug Magee, in The New York Times
____________________________
Here are some suggestions for change, all my own: One solution— the obvious one — would be to let the jury who reads through the 300-odd works of fiction make the final decision as to the winner. We were invited to serve on the jury because we're recognized as being, in some way, literary experts. Why, then, turn the final decision over to a board primarily composed of non-literary folk?
Maureen Corrigan at The Washington Post
____________________________
"Another idea would simply be to catch up with the recent books of fiction that have won in the last round of literary prizes, big and small: Jesmyn Ward's "Salvage the Bones," which won the National Book Award; the story collection "Binocular Vision" by Edith Pearlman, the National Book Critics Circle Award (disclosure: I'm on the board); Julian Barnes' "The Sense of An Ending," which won the Man Booker Prize; "The Buddha in the Attic" by Julie Otsuka, which won the PEN/Faulkner Prize; Steven Millhauser's "We Others: New & Selected Stories," which won the Story Prize; "Please Look After Mom," which won the Man Asian Literary Prize; or Patrick DeWitt's "The Sisters Brothers," which won the Morning News' Tournament of Books."
Carolyn Kellog, at The Los Angeles Times
____________________________
"The fate of an entire industry seems to hang on the fate of every book, and the feeling is perfectly understandable."
Leon Wieseltier, in The New York Times
____________________________
"The Pulitzer Prize is our best chance as writers and readers and booksellers to celebrate fiction. This was the year we all lost."
Ann Patchett, at The New York Times
____________________________
"I just realized this No-Pulitzer is going to screw us over with those jerks in Sweden who think America isn't ready for a Nobel."
Ron Hogan, on Twitter