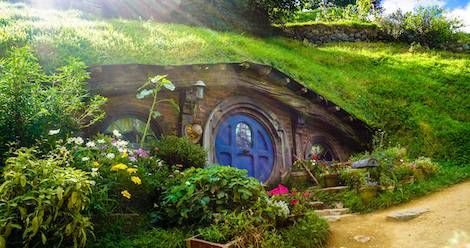 Lists
The 37 Best Lines from The Hobbit
This content contains affiliate links. When you buy through these links, we may earn an affiliate commission.
The Hobbit is one of my all-time favorite books. It contains the best elements of fantasy, adventure, and humor, unforgettable characters, and plenty of daring-do. Here are 37 of my favorite quotes:
"In a hole in the ground there lived a hobbit. Not a nasty, dirty, wet hole, filled with the ends of worms and an oozy smell, nor yet a dry, bare, sandy hole with nothing in it to sit down on or to eat: it was a hobbit-hold, and that means comfort."
"There is nothing like looking, if you want to find something…You certainly usually find something, if you look, but it is not always quite the something you were after."
"May the wind under your wings bear you where the sun sails and the moon walks."
"If more of us valued food and cheer and song above hoarded gold, it would be a merrier world."
"Gandalf, dwarves, and Mr. Baggins! We are met together in the house of our friend and fellow conspirator, this most excellent and audacious hobbit–may the hair on his toes never fall out! All praise to his wine and ale!"
"Now it is a strange thing, but things that are good to have and days that are good to spend are soon told about, and not much to listen to; while things that are uncomfortable, palpitating, and even gruesome, may make a good tale, and take a deal of telling anyway."
"Trolls simply detest the sight of dwarves (uncooked)."
"Is it nice, my preciousss? Is it juicy? Is it scrumptiously crunchable?"
"Elvish singing is not a thing to miss, in June under the stars, not if you care for such things."
"Your lullaby would waken a drunken goblin!"
"Stand by the grey stone when the thrush knocks, and the setting sun with the last light of Durin's Day will shine upon the key-hole."
"And what would you do, if an uninvited dwarf came and hung his things up in your hall without a word of explanation?"
"If you want to know what cram is, I can only say that I don't know the recipe; but it is biscuitish, keeps good indefinitely, is supposed to be sustaining, and is certainly not entertaining, being in fact very uninteresting except as a chewing exercise."
"It seemed like all the way to tomorrow and over it to the days beyond."
"The quiet was so deep that their feet seemed to thump along while all the trees leaned over them and listened."
Bilbo the Brave
"This is the story of how a Baggins had an adventure, and found himself doing and saying things altogether unexpected."
"We are plain quiet folk, and I have no use for adventures. Nasty, disturbing, and uncomfortable things. Make you late for dinner!"
"Then something Tookish woke up inside him, and he wished to go and see the great mountains, and hear the pine-trees and the waterfalls, and explore the caves, and wear a sword instead of a walking-stick."
"Please don't cook me, kind sirs! I am a good cook myself, and cook better than I cook, if you see what I mean."
"'Go back?' he thought. 'No good at all! Go sideways? Impossible! Go forward? Only thing to do! On we go!' So up he got, and trotted along with his little sword held in front of him and one hand feeling the wall, and his heart all of a patter and a pitter."
"A sudden understanding, a pity mixed with horror, welled up in Bilbo's heart: a glimpse of endless unmarked days without light or hope of betterment, hard stone, cold sigh, sneaking and whispering. All these thoughts passed in the flash of a second. He trembled. And then quite suddenly in another flash, as if lifted by a new strength and resolve, he leaped."
"Bilbo saw that the moment had come when he must do something."
"I come from under hill, and under the hills and over the hills my paths led. And through the air, I am he that walks unseen…I am the clue-finder, the web-cutter, the stinging fly. I was chosen for the lucky number…I am he that buries his friends alive and drowns them and draws them alive again from the water. I came from the end of a bag, but no bag went over me…I am the friend of bears and the guest of eagles. I am Ringwinner and Luckwearer; and I am barrel-rider."
"That was the most awkward Wednesday he ever remembered."
The Best of Gandalf
"Gandalf thought of most things; and though he could not do everything, he could do a great deal for friends in a tight corner."
"'What do you mean?' he said. 'Do you wish me a good morning, or mean that it is a good morning whether I want it or not; or that you feel good this morning; or that it is a morning to be good on?'"
"'Where did you go to, if I may ask?' said Thorin to Gandalf as they rode along.
'To look ahead,' said he.
'And what brought you back in the nick of time?'
'Looking behind,' said he."
"There are no safe paths in this part of the world. Remember you are all over the Edge of the Wild now, and in for all sorts of fun wherever you go."
"He charged the ranks of the goblins of Mount Gram in the Battle of the Green Fields, and knocked their king Golfimbul's head clean off with a wooden club. It sailed a hundred yards through the air and went down a rabbit-hole, and in this way the battle was won and the game of Golf invented in the same moment."
On Dragons
"Every worm has his weak spot."
"My armor is like tenfold shields, my teeth are swords, my claws pears, the shock of my tail a thunderbolt, my wings a hurricane, and my breath death!"
"Truly songs and tales fall utterly short of the reality, O Smaug the Chiefest and Greatest of Calamities."
"'You have nice manners for a thief and a liar,' said the dragon."
"No dragon can resist the fascination of riddling talk and of wasting time trying to understand it."
"It does not do to leave a live dragon out of your calculations, if you live near him."
"So comes snow after fire, and even dragons have their ending!"
Also check out The 23 Best Lines from The Lord of the Rings!