This content contains affiliate links. When you buy through these links, we may earn an affiliate commission.
After years of catching glimpses of a purple giant in the end credits of Marvel movies, Avengers: Infinity War is finally here. Though antagonist Thanos appeared in the first Guardians of the Galaxy film, moviegoers still know very little about him. Since his initial appearance in the Iron Man comics in 1973, however, Thanos has had a long written history.
Comics are still, perhaps, the best way to learn about the man, the monster, the titan: Thanos.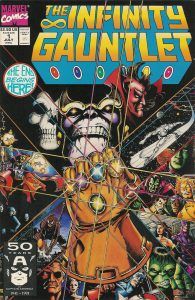 Rather than regurgitate the many, many plot lines in which Thanos has appeared, I want to share some of my favorite Thanos quotes from the comics. As is often the case for comic book characters, his motivations are ridiculous in all of the best ways, and I can't wait to see them make it to the big screen. (I'm only a little heartbroken that it sounds like they've written out Thanos's obsession with Death. Kidding, I'll never get over it. Death is the best.)
With that, allow me to bring you out-of-context Thanos quotes. I've tried to avoid including anything too spoilerific, but since Avengers: Infinity War hasn't been released yet, proceed at your own peril.
(For the record, I like to read these while imagining Thanos as a moody seventeen year old.)
10 Thanos Quotes
"I, Thanos, gaze upon the cold vastness of space and muse upon my life. Both, I find, are empty."
"Earth. That is my price."
"There are many actors in this grand drama, and I, Thanos, appear to be the only participant with a full grasp on the situation."
"Science and a benevolent nature have allowed thousands of different species to flourish beyond the capability of their environs to sustain them."
"I did not ask for your trust. I demand only your obedience."
"I am failure personified."
"Destiny waits for no man. Not even one who shall bring the universe to its knees."
"Again, insects, you ask what am I? What I am is angry. What I am is insane with rage."
"I had too much love in my heart, and no place to put it, no one to give it to."
"I've come home. Because I'm tired of running from who I am. From who I was born to be."
Together all of these quotes paint a slightly different picture than the one of Thanos in the Infinity War trailer. What do you think of him? Will he bring the universe to its knees or become weepy because he has too much love in his heart? Will he and the Hulk bond over their mutual anger? Does Thanos need a hug?
Once Avengers: Infinity War is released on April 27, I suppose we'll find out.
And if you want to read some Thanos comics until then, The Infinity Gauntlet is a good place to start. Or, check out "What To Read Before You Watch Infinity War."