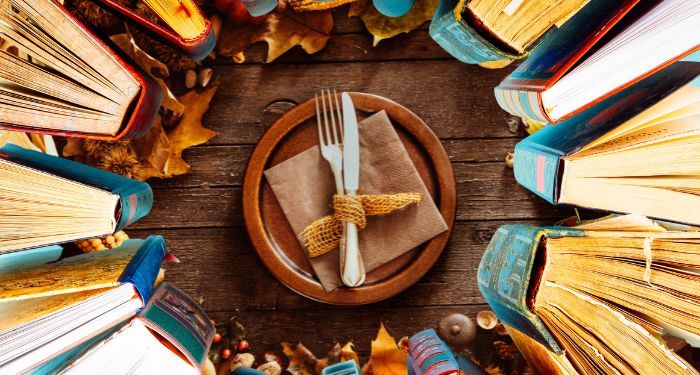 Lists
A Thanksgiving Dinner Reading Menu
This content contains affiliate links. When you buy through these links, we may earn an affiliate commission.
Pass the cranberry sauce! We're having mashed potatoes! Hold that thought — before the big Thanksgiving meal/weekend, you'll need a proper reading list to go with such a banquet. This is not your ordinary reading list. Think of it as a menu for reading.
If you've ever cooked all or some of a big holiday meal, you know that there is a decent amount of waiting time involved. A standard thanksgiving turkey takes 4-5 hours to cook, more if you forget to defrost the turkey on time.
How to use this menu: while your main course is roasting on the oven, help yourself to some nibbles, appetizers, and drinks. Ahem, flash fiction, short stories, and refreshing nonfiction. For the main course, we're having a selection of richly detailed 400+ page novels, with sequels to accompany. Then, for dessert, help yourself to a sweet romance or two. Later in the evening, or tomorrow, there's an assortment of anthologies to satisfy your cravings for a bit of everything. Line up your stacks or load up your ereader and phone with your selections and turn the holiday weekend into a reading challenge.
No matter how you're spending the Thanksgiving holiday weekend, finding time to relax and read is always a good idea.
Time to snuggle up on the couch and snooze for a bit, before making a giant masterpiece of a leftover sandwich, AKA read another chapter. For some "real" thanksgiving reading, visit our Thanksgiving archives for recipe ideas, storybooks, and more!