You've heard the saying: "Everything is bigger and better in Texas." Us Texans firmly believe in that saying while others may view it as Texas arrogance. To each his own, I say. But it should be noted that Texas has the largest single story library in the country and the only one hundred percent digital library in the country. I'm just saying. So it is no surprise that the Texas Book Festival happens to be a monstrous event that takes place at the end of October or beginning of November each year. And what a sight it is to be at the festival. The 2018 lineup for this year's festival was just announced and let me tell you, what a hell of a lineup it is! You can see the festival authors here.
The Basics
Some notable authors who will be attending the festival include Yuyi Morales, H.W. Brands, Julian Castro, Sandra Cisneros, Natalia Sylvester, Guadalupe Garcia McCall and many others. The festival will take place from October 26th – 28th, with Saturday and Sunday being the days filled with the most author sessions. The Texas Book Festival is held in and around the grounds of the State Capitol Building in Austin. This event is absolutely free and is open to the public. One of the largest and most prestigious literary festivals in the country, the annual Texas Book Festival features 250+ nationally and critically recognized adult and children's authors, 20+ venues including the State Capitol, 100+ exhibitors, local food trucks, family activities, and countless opportunities to meet authors and fellow book lovers.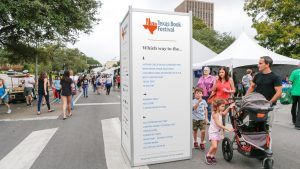 Lit Crawl & Volunteering
On Saturday, October 27th, in partnership with the Texas Book Festival, Lit Crawl Austin will also be celebrating its ninth year of irreverent literary programming. Austin's East Side will be hosting a night of performances, games, trivia matches, music, and all-ages storytelling sessions. Say Lit Crawl like Louise from Bob's Burgers says "Shh! Shh! Shh! Shut your mouth, it's Art Crawl." It's more fun that way. The festival is also always looking for volunteers to assist with the event. Such a large and prestigious event could not operate without the help of the countless individuals who volunteer their time to help make the event come to life. Thinking of volunteering? You can do so by signing up here.
Parking and Getting Around Town
The Texas Book Festival reserves garages that are free-of-cost for attendees and metered street parking is available downtown. My recommendation is to arrive at 10:00 AM when the festival opens to the public. I have never had parking issues when I arrive early. Arriving early also means that you may need to spend the entire day at the festival if the author you really want to see will be speaking later in the day. But there are plenty of things to do at the festival to keep you quite busy. You can also walk north on Congress to visit the state capitol. If you are from Texas, then you know I-35 is the worst place in the world to be stuck in traffic so again, I recommend arriving early. Or if you wish to avoid taking your own vehicle to the event, you can get around town with RideAustin and help support the Texas Book Festival. RideAustin, an Austin-based nonprofit rideshare service, helps raise money for nonprofits like the Texas Book Festival. All you need to do is download the app, choose Texas Book Festival as your roundup recipient and then whenever you catch a ride with RideAustin, you're helping support the festival.
Where to Stay
The Texas Book Festival partnered with Hotels for Hope to offer festival-goers exclusive room rates at some of Austin's finest hotels. Each booking supports the Texas Book Festival. If you wish to avoid some hefty fees for hotels in Austin's downtown, you can scope out Airbnb rentals in Austin here. There are a plethora of amazing Airbnb rentals available around town that are within a few miles of the event.
Other Things To Do in Austin
Austin is a pretty awesome place to visit if you've never been. It can also be a bit weird, hence the "Keep Austin Weird" slogan. But if you are in the mood for other great things to do near the Texas Book Festival, then I will give some recommendations. First and foremost, check out Austin Public Library's new Central Library downtown. It is located only one mile from the festival and I assure you, you will not be disappointed if you visit. The new library was just named one of 2018's "World's Greatest Places" by Time Magazine. The library comes equipped with a lot of natural lighting, over 400,000 books, six floors of awesomeness, a rooftop garden and some of the best views you could imagine. It's no joke! In the mood for something sweet? Take the half mile walk to Voodoo Doughnut shop located on historic 6th street. The donuts are not only tasty, but creative. I recommend the Bacon Maple Bar. But I would recommend you checkout Visit Austin here for a full list of other great things to do.
Whether you're from Texas or not, the Texas Book Festival is a great opportunity to meet some of your favorite authors and purchase amazing books at a relatively low price. Throughout the festival grounds, you will find multiple book kiosks that sell paperback and hardcover books quite cheap. The whole festival is your chance to nerd out with books. If you cannot make it out this year, mark it on your calendar for next year. Enjoy!