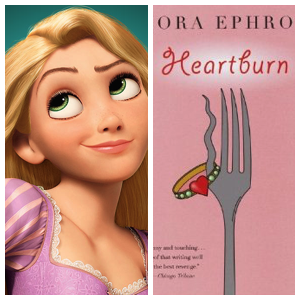 Sites We Like
Testing the Penguin Holiday Hotline with Disney Princesses
Every now and again, I think about some of my favorite Disney characters and what we would do if we hung out together. I can relate to people in a lot of ways, but of course, swapping or sharing books is one of the main scenarios that I've considered. And while I could (and am in the process of doing, actually) write up a list of my own personal recommendations for various characters myself, I thought it might be fun to ask the Penguin Hotline what they'd recommend based on my own descriptions of various characters.
In this case, I asked them about a few Disney princesses, listed their hobbies and strengths, and waited patiently for their emails with recommendations to land in my inbox. I did this both out of personal curiosity as well as to sort of "test" how good these recommendations are. And to legitimize this even more, I went out of my way to read some of the titles and ensure with my own eyes they were a good fit.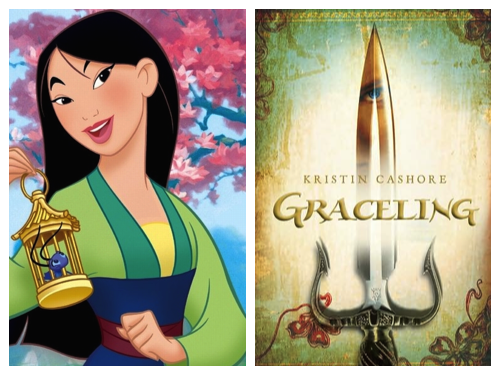 For Mulan, the brave girl who changed her identity in order to protect her father during a time of war, Penguin Hotline recommended several titles with strong female heroines and feminist themes, including Amy Poehler's
Yes Please
. I filled in the submission form with information like Mulan's age (16), her general personality (feminist, fair, honest), and other stuff like how Mulan likes her adventures, but also likes her quiet life at home with her family.
The book I read out of their selection was Graceling by Kristin Cashore. Graceling is about a girl who, in her world, is Graced – that is, she's marked by hetero-chromatic eyes as a person with an exceptional skill, which she believes most of her life to be the skill to kill. However, she discovers on the way that when she isn't blindly following the orders of the cruel king she serves under, a much different side of her Grace reveals herself.
Katsa, the main character, upholds several strong principles throughout the books, including the desire to teach women and children how to defend themselves (something Mulan herself does after the events of the first Disney film, which I mentioned in my notes to PH), and to defend the helpless or aide true justice. All things considered, I'd say this recommendation was spot on.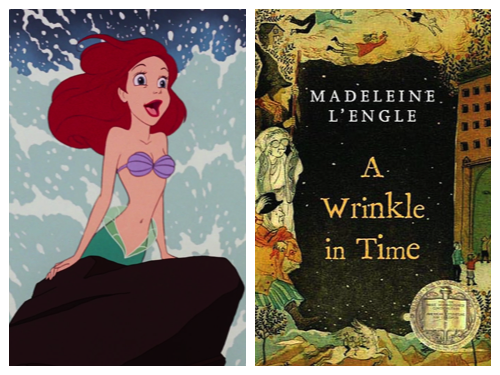 For Ariel, who began her story with the strong desire to explore the land above the sea and learn about other cultures, Penguin Hotline recommended some great titles, including Ursula Le Guin's Earthsea Quartet. In her form, I described Ariel as someone who was curious about other worlds near and far, adapted well to new environments, and was particularly knowledgeable about the ocean.
I was particularly struck by how perfect their recommendation of A Wrinkle in Time by Madeleine L'Engle is, considering that The Little Mermaid, if you paid attention, was more about Ariel's relationship with her father than her romance with Eric, which was realistically a bonus. And after all, the film's problems stemmed from an argument with her father and were resolved when she saved him from Ursula the sea witch. I think that Ariel would love to read a book about a girl near her age who, with her younger brother, goes on a mission to save their father.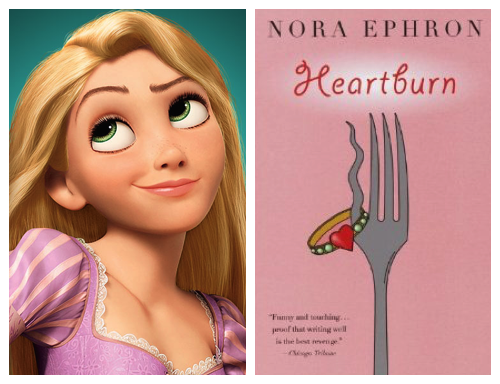 And finally, I asked for some recommendations for Rapunzel, who, before I go on, I should note is 18 years old. I say this because the first recommendation I got was A Song of Ice and Fire, which I had thought was pretty odd! (I think she might like it, though, even if she finds some parts terrifying.) Other things I mentioned in her form was that she's into climbing and cooking, great with a frying pan, and that her major loves are art and painting.
There was also another mention of Yes Please here, which I thought was pretty apt, but the suggestion I loved most was Nora Ephron's Heartburn, which made me literally throw my hands up cheering. Rapunzel is a naive character throughout her film, but ultimately positive and upbeat, and strong-willed (more things I mentioned in the form to PH). I think that she would enjoy reading a story about how a woman totally owned the snot out of a problem that ladies are generally discouraged from talking about. That, and there's food. And Rapunzel likes food.
After giving it a whirl, I'm really confident and optimistic about the Penguin Hotline. Of course, my own biases and opinions are in play here, but so would yours if you asked for a book recommendation for a sibling or partner or good pal. If you haven't already and you're trying to think of a great book to give to someone (or even to find your own next read), I would consider giving it a try yourself.
I only have one warning though, and that is if you have multiple requests to send, write down some notes of your own, or take a screen shot of it before you send it over, because when you get the email response, you won't see a copy of your original request there. It's my one peeve with the hotline, but the super helpful folks who replied did use many key words and such that I put in the form to point me towards the right princess. Really, the responses were quite thorough!
____________________
Did you know that Book Riot has a YouTube channel? We do. It's new and we are having fun with it. Check it out here.