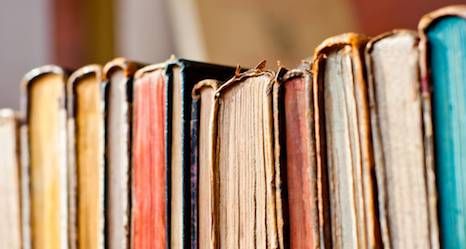 This content contains affiliate links. When you buy through these links, we may earn an affiliate commission.
This post is part of our International Women's Day celebration. See all the posts here.
---
This is a guest post from Terry Tempest Williams. Terry is the award-winning author of fifteen books including When Women Were Birds. Her forthcoming book, The Hour of Land – A Personal Topography of America's National Parks will be published on June 7, 2016. Follow her on Twitter @TempestWilliams.
---
Woman and books. My mother loved novels: Valley of the Dolls by Jacqueline Susann (1967). My grandmother Lettie loved biographies: Tallulah – My Autobiography by Tallulah Bankhead (1952). My grandmother Mimi loved psychology: The Way of the Dream by Fraser Boa and Marie-Louise Von Franz (1988). My mother marked passages with paper clips. Lettie typed up reviews for her book club. Mimi entered into a conversation with the author by writing in the margins with her red pen. Each had their reading spot: a plaid chair by the window; in the bath tub; a turquoise chair in the study. The books they were reading were often left on tables, found on the kitchen counter, splayed open face down on their desk. The spines of the books they read became literary wallpaper. I came to count on their shelves lined with books not as an interior design element, but evidence of an interior life.
Our conversations as women were about the books we were reading — the ideas we found, the passages we loved, the characters encountered. It was our greatest joy, better than gossip. It was how I learned to engage with the world by listening to my mother and grandmothers discuss the world brought to them in Salt Lake City, Utah, from the pages they were turning day after day.
But then, I became older and the books I saw my women reading became more private, more shadowed. I came to see the titles they were reading as clues to their struggles: Why Bad Things Happen To Good People by Harold Kushner (1984); On Love and Loneliness by J. Krishnamurti (1950); The Wisdom of Insecurity by Alan Watts (1951). And then, as they began dying, their lives became simpler, more focused. My mother stopped reading altogether and asked to be read to — We read poetry out loud — Mary Oliver, Wendell Berry, Emily Dickinson. My grandmother Lettie who had Parkinson's disease took only one book with her, "Spanish Grammar, Volume 2," when she had to leave her home and spend the rest of her days at St. Joseph's Villa. She was born in the Mormon Colonies of Mexico. "I love speaking Spanish," she said. "I don't want to forget the verbs."
And after Mimi passed peacefully in her bedroom on a summer morning to owls calling, I stripped the sheets off her bed and put on fresh ones for my grandfather. It was here, when I lifted the mattress to slip over the fitted sheet, that I discovered a book she had hidden, Suicide and the Soul by James Hillman (1985). I pulled it out, sat down on the bed and began reading passages she had outlined:
"Going into questions of death and suicide means breaking open taboos. Opening issues that have long been encrusted requires force, and the harder the defenses, the more one has to press one's point. So this little book shows argument. It questions suicide prevention; it examines the death experience; it approaches the suicide problem not from the viewpoints of life, "society,' and mental health, but in relation to death and the soul."
I kept turning the pages reading my grandmothers comments written in red as she was both living with cancer and dying from it. In the margins, I saw her comments, an exclamation mark here, a question mark there, and her words, "So true" written frequently. And then, I came to this quote from D.H. Lawrence that she had starred, "Oh build your ship of death, oh build it in time and build it lovingly, and put it between the hands of your soul."
My grandmother had privately read herself into a state of grace, helped by a small blue book tucked between her mattress and box springs, so that before she died, before her last breath escaped her beautiful open mouth, she said to someone invisible to me, even as I was holding her hand on the bed, "Oh, please let Terry see what you are showing me , she would so love this — "
And then, she was gone.
Women and books: The ones we read; the ones we share; and the ones we hide. How many times has a particular book not only informed our life, but saved it? The two books I am reading now are Dark Money by Jane Mayer (2016) because it pays to understand the shadow side of where we find ourselves now, both politically and personally; and I am reading the galleys of Louise Erdrich's new novel, LaRose, released in May, because I trust every word she writes. And the book by my bed is Portraits by John Berger (2014) because I love him. Consider these two sentences on his portrait of Hieronymous Bosch, "The act of resistance means not only refusing to accept the absurdity of the world-picture offered to us, but denouncing it. And when hell is denounced from within, it ceases to be hell."
And what is the book I am hiding? I am hiding the book that I want to write, the one unspoken, not yet formed into words, the book that will break my taboos that are breaking me. Perhaps, the books we read and the books we long to write are the one's that help us to understand power, even our own, especially our own as women finally, are leading the world. These are the secret narratives we keep inside our hearts and why we are so grateful when we have a book in hand that is written with courageous, beautiful words, so we, too, can write in the margins with a red pen, "So true." These are the stories I long to share with other women, the same stories I heard the women in my family share with each other.