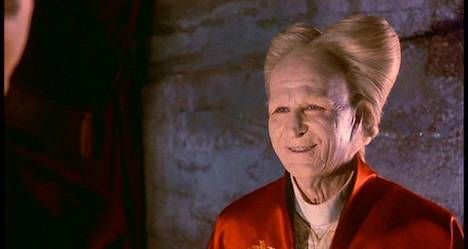 Classics
Terrible Literary Wigs I Have Known (and Loved)
We live in an ever-changing world. Seasons come and go; oceans rise and empires fall. It is said that nothing is certain in life except death and taxes, but I would venture to add "my passion for hilariously bad wigs" to that list. This is a longstanding passion, and one in which I have every confidence I will remain steadfast. Today, friends, I share that passion with all of you.
The following is a list of some of my favourite bad wigs of adaptation history. For the purposes of this post I have limited myself to classic literature only and excluded comic book adaptations, the latter because my colleagues have already done an excellent job at cataloging the bad wigs of comic adaptation television and also because it would triple the length of this post. Let us simply acknowledge that Scarlett Johansson has clearly made a powerful and unrelenting enemy in the Marvel wig department and leave it at that (for now).
Without any further ado, I bring you: wigs.
Gary Oldman, Bram Stoker's Dracula

I can't put this too high on the list because the point of this post is to gawk at wigs that are unintentionally bad, but I could not in good faith deny you a look at this magnificent thing, this campy delight. It's a hairline that starts an inch back from his ears! It's shaped like a heart! It's a blanched Valentine corona. It somehow both recedes and ascends. It is BEYOND.
It's obviously much more tame in comparison, but shoutout also to this tendrilled wig Dracula wears later to seduce Winona Ryder. This looks hilariously to me like when you are attempting that perfect TV hair but instead you curl it just a little too tightly. Vlad, let it fall out a little! Finger-comb! Don't leave the house just yet!
Elizabeth Taylor, Little Women (1949)
This one isn't necessarily egregious, but it certainly isn't right. Aside from the general off feeling of seeing one of Hollywood's most famous raven-haired beauties go gold, there is altogether too much strawberry in this blonde for the colour to look natural, and Elizabeth Taylor's too-dark eyebrows don't help (dear Riverdale, please take note). Sorry, Amy: the lime thing was nbd but in this case you should be ashamed of yourself.
Jennifer Ehle, Pride and Prejudice (1995)
When accepting her Best Actress BAFTA for Pride and Prejudice Jennifer Ehle quipped, "this should really go to my wig." Jennifer, no. You excelled in spite of that hair, not thanks to it. Beyond the stiff, distracting little sausage-curls, the main flaw of this wig is that it does. not. move. Several scenes from this Pride and Prejudice are filmed outdoors, and while the breeze is strong enough to set skirts and bonnet-stings fluttering, Elizabeth's head situation remains … impassive.
Ewan MacGregor, Emma (1996)

"Crispy" and "deep-fried" are words that should conjure up an image of, say, chicken tenders or perhaps a plate of potato wedged, but certainly not someone's hair. Sadly there are no better words to describe Frank Churchill's ratty, dried-out orange mane. His hair looks like someone attempted the Rachel with a rusty kitchen knife. No wonder Emma didn't want to marry him. Good luck, Jane Fairfax!
Tom Hardy, Wuthering Heights (2009)
The main flaw of this wig is how wiggy it looks. It is fakety-fake-fake. It resembles no human hair ever. It's the flat colour, stark hairline and the fact that there is not a part to be seen for miles. This hair does not appear to have sprung naturally from the scalp but rather, looks as if a strong wind plopped it on Heathcliffe's head as he wandered the moors and has been too busy brooding to remove it.
Alec Guinness, Great Expectations (1946)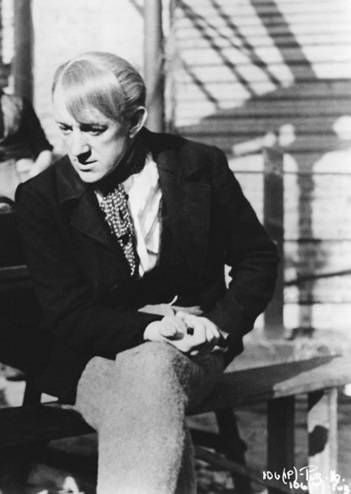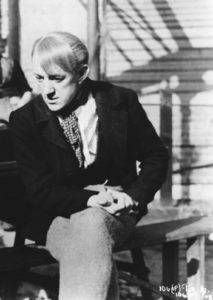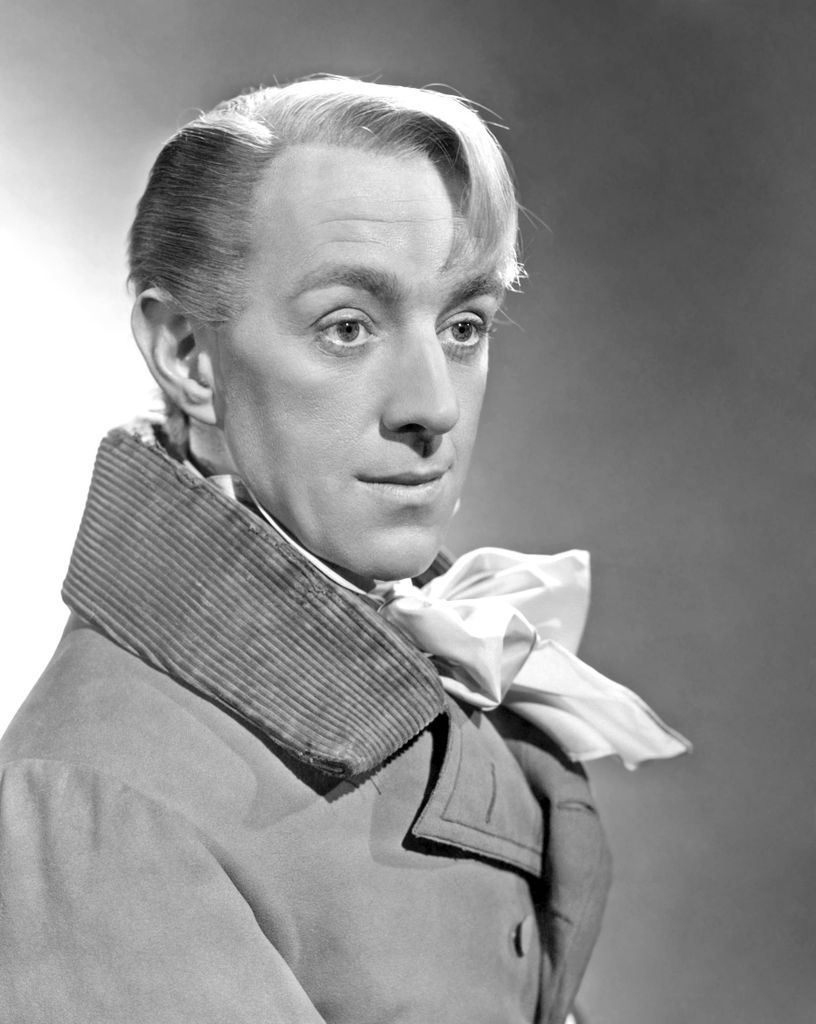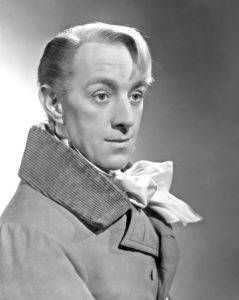 Alec Guinness was legendarily salty about his turn in Star Wars: he hated Obi-Wan Kenobi and hated the film and he was ashamed to be associated with them. With all due respect to Sir Guinness, what he really should have been ashamed of was ever appearing in this wig. It has the distinction of not only being incredibly fake-looking but also sporting a style I can only describe as … half bangs? "A mullet, but for bangs (also sideways)"? Clearly the product of the Dark Side.
Juliette Binoche, Emily Bronte's Wuthering Heights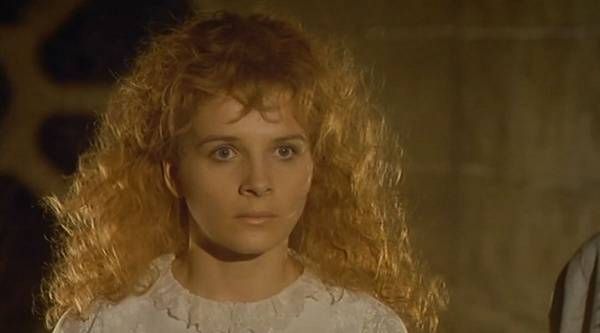 Another appearance for another Wuthering Heights. But while Ralph Fiennes' head situation as Heathcliff is certainly not ideal, it positively pales in comparison to Juliette Binoche's Cathy mop. This version of Wuthering Heights features Juliette Binoche, at different points in the film, as both Cathy Earnshaw Linton and Cathy Linton. The only visual differentiator between the two is hair: Cathy the elder sees Binoche in a (passable) brunette wig, while poor Cathy junior gets stuck with this brassy, refried-Julia-Roberts Sun-In nightmare. Ack!
Antonio Banderas, Interview with the Vampire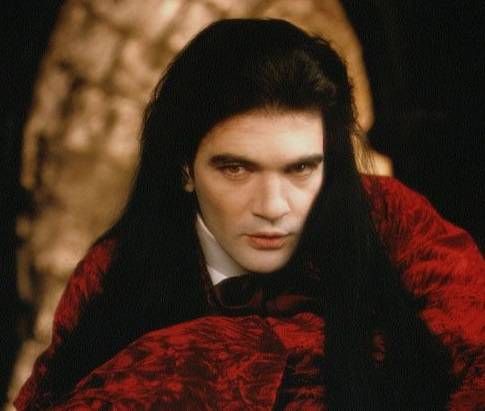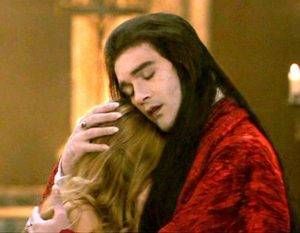 Some might say I'm stretching the definition of both "classic" and "literary" here but bear with me. Like Bram Stoker's Dracula, Interview with the Vampire is a film that has a lot going on for it, bad-wigs-wise. There isn't really a truly good wig in the bunch; Tom Cruise in particular suffers from the same unsettling blondness and hue issues as Elizabeth Taylor in Little Women. But Antonio Banderas surely takes the fluffy, strangely-voluminous nylon cake with this Morticia Addams nightmare. I can say most sincerely that I have seen better wigs in the discount bin at Party City on November 1st. Someone drive a stake into this thing.
Kiera Knightley, Pride & Prejudice (2005)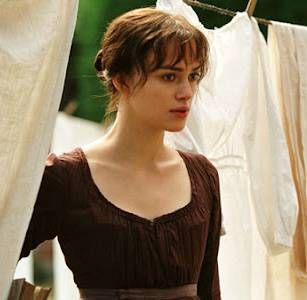 One day Elizabeth Bennett will get the hairdo she deserves but 2005 was not that day. This mess is less a coiffure and more a stiff, wispy nest. Looking at this wig makes me long for the days when I thought Alec Guinness' were the worst bangs I would ever see on screen. As a be-banged woman myself, that dry, straggly fringe straight-up offends me. Forget the inferiority of her connections — I'm frankly surprised Darcy could overlook the inferiority of her updo.
Barbara Stanwyck, Double Indemnity
Oh boy. This wig. This is a wig and a half. This is a wig of cinematic legend. It's breathtaking. It's an architectural marvel. There are buildings with less structural integrity. A lot has been said about this wig, but in closing, allow me to direct your attention to two perfect pieces of wig criticism/celebration: Paramount production head Buddy DeSylva's quip that "we hired Barbara Stanwyck and here we got George Washington," and this glorious post.
Thank you. My work here is done. Please now fill the comments with your own favourite terrible wigs.