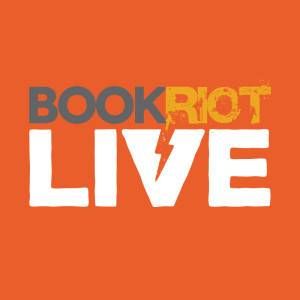 Book Riot Live is this weekend! It's not too late to book your ticket. Here are some of the many reasons you should totally come if you can.
One Thousand Book Nerds.
One Thousand. In one space. Flying in from all kinds of places. How can that be anything other than glorious?
It's in New York City.
Maybe you live there. Maybe you live a train ride away. Maybe you've always wanted to go there. Perfect excuse! Think of the theatre. The museums. The bookstores! And Central Park is gorgeous this time of year.
Meet the Book Riot family IRL!
If you're like me, you've had their voices ringing in your ears for months, maybe even years. But rumour has it they're also real people! I'm so excited to meet the People Behind the Podcasts and everyone who makes this great site and its community happen.
Totally rad authors
Speaking of meeting people, there's a fantastic and diverse line-up of authors, in all genres: Alexander Chee! Margaret Atwood! Angela Flournoy! Sarah MacLean! So many others. And no, I'm not going to apologise for my excessive use of exclamation marks. I'm excited!
I've been to writers' conferences and book events. I've never had a chance to attend a panel on "From Farm to Table – How a Book Gets Made". Or "The Many Faces of Fandom". I've never been to a live recording of a bookish podcast. I've certainly never heard Margaret Atwood read fan fiction based on her own work. There's discussion of how to turn of awareness for the need for diversity into action; of trigger warnings; of how to buy good books for kids. The list goes on. It's here. Take a look!
Bookish games
Literary Jeopardy! Bookish Pictionary! This hits all my nerd buttons. Maybe it will hit some of yours too?
Cocktails in the Strand Rare Books Room.
If every word in that phrase doesn't send excited shivers up your spine, I don't know what to tell you. (You get a pass for "in" and "the", I suppose, but only just.)
The Apparating Library
This comes to us courtesy of the Harry Potter Alliance. Firstly, can we talk about how fabulous that name is? Bring a book on Saturday, pick up another book on Sunday. So much book swapping love. I can't wait to see what I'm going to discover.
Book-inspired music
The whole thing kicks off with an evening of new songs inspired by the works of Book Riot Live attendees, courtesy of the Bushwick Book Club. So much creativity coming together to celebrate books! Come and be part of the celebration!
Be part of history!
Don't you want to tell your grandchildren someday you were there? "Ah, yes, the Great First Book Riot Live of 2015…"