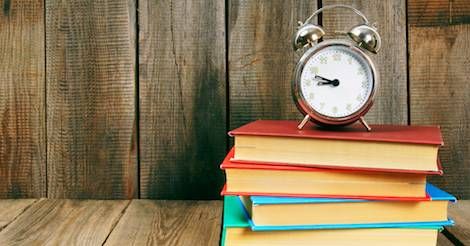 Children's
Ten Books to Help Ease the Back to School Blues
This content contains affiliate links. When you buy through these links, we may earn an affiliate commission.
It's that time of year again, when we are inundated with Back to School marketing: catalogs teeming with backpacks and designer lunch boxes, school supplies and snack packs. For kids, all of this emphasis on school can be a bit overwhelming, particularly if they are more nervous than excited to get back to the classroom.
School is a major topic in children's literature, for obvious reasons: it is the center of [most] kids days, an immersive experience in which they are surrounded by their peers and the all-seeing gaze of teachers and administrators. For younger kids, going to school is about learning how to comport oneself in the classroom, how to make friends, and how to follow all of these new rules and standards. For older kids who have the school experience down pat, it's about balancing a social life with the increasing pressure of academics.
Books can be a great and safe space to work out anxieties about school [and everything]. Whether dealing directly with the first day or more generally with the ongoing experience, school stories remain a tried and true favorite among kids of all ages. Here are ten of my favorite books about school, arranged for intended audience, youngest to oldest.
School's First Day of School by Adam Rex. Illustrated by Christian Robinson.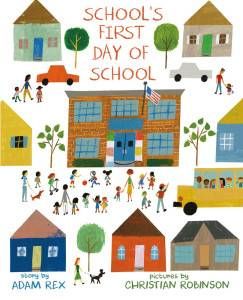 This unique story looks at the first day of school from the physical school itself's perspective. Anxious (and a teeny bit suspicious) of all those children invading its space, the school softens as it overhears students go through a variety of emotions and watches them play outside and tell jokes in the cafeteria. As the school and the children experience this important first day together, they ultimately decide to do it again the next day, a decision with which, hopefully, most readers will agree.
Pete the Cat: Rocking in my School Shoes by Eric Litwin. Illustrated by James Dean.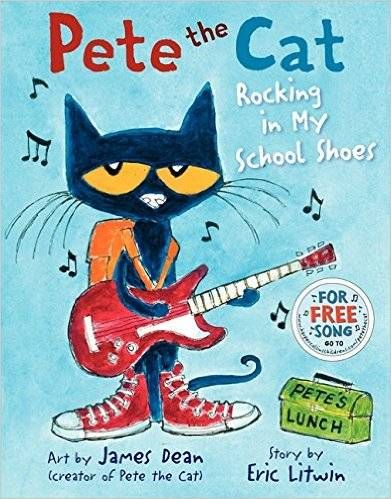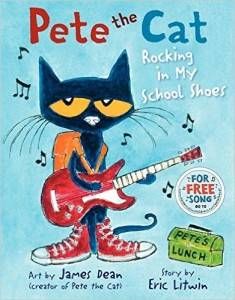 Pete the Cat is a great role model for the management of emotions. Cool and composed (and possibly stoned), Pete meets every challenge with equanimity and the reassuring refrain: It's all good. In this particular story, Pete goes to school in his new shoes and gets a tour of all the places kids can expect to see in a big new school: the library, the playground, the lunchroom. Guitar in hand, Pete overcomes any anxiety he has about his new surroundings and continues to sing his song: "I'm rockin' in my school shoes…"
Wemberly Worried by Kevin Henkes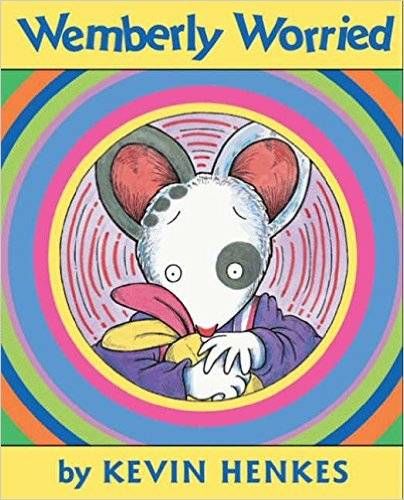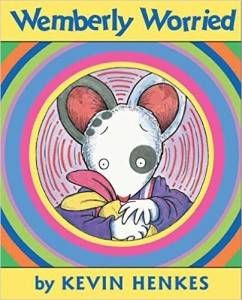 Ah, Wemberly. A mouse after my own heart. Wemberly has a lot of anxiety. She worries about her parents disappearing, about shrinking in the bathtub, about the tree in her front yard falling on her house. But most of all, she worries about starting school. When the big day comes, she unexpectedly meets another worrier at school, and things start to look up for her, so much so that she might even forget to worry.
After her family moves from Korea to the United States, Unhei is anxious about starting at her new school. Will the American kids be able to pronounce her name? On her first day, Unhei decides to pick a new name and tells her teacher she will introduce herself the following week. The next day, she finds a glass jar on her desk filled with suggestions from her classmates. Unhei must decide who she wants to be in this new place. The Name Jar is a beautiful story offering a different perspective on what it means to be the "new kid."
Danitra Brown, Class Clown by Nikki Grimes. Illustrated by E.B. Lewis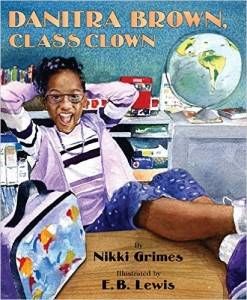 Danitra and Zuri are best friends who respond very differently to the first day of school. Zuri is anxious while Danitra is vivacious. Confident and full of positivity and a desire to have fun, Danitra buoys her friend through the trials and tribulations of a new school year. Grimes' inimitable rhymed verses (written in Zuri's thoughtful voice) paired with Lewis's cheerful, realistic artwork conjure up a perfectly well balanced portrait of school life.
Year of Billy Miller by Kevin Henkes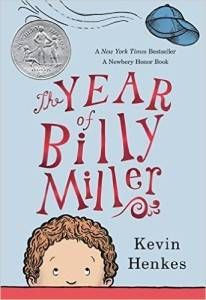 Perfect for early elementary students (Gr 1-3), this short, funny novel by kidlit superstar Kevin Henkes follows Billy Miller as he starts second grade. An accident near the end of summer leaves Billy with a big lump on his head–just in time for the first day of school. Billy's uneven start to second grade sets off a poignant year of transition and growth in this honest look at a young boy's life.
Alvin Ho, Allergic to Girls, School, and other Scary Things by Lenore Look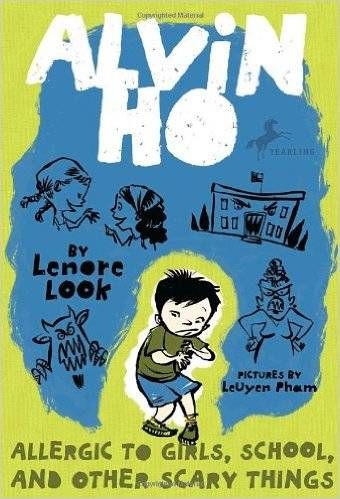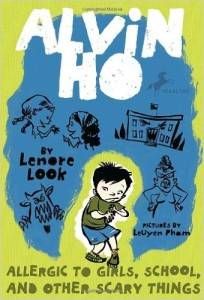 As you might have guessed from the title, Alvin Ho has serious fears to deal with. He fears, among other things, elevators, scary dreams, wasabi, shots and school. Most of all, he fears school. Despite his alter ego "Firecracker Man" (who comes out only at home), Alvin is so fearful at school, that he doesn't speak. In fact, he sees a therapist about this very issue. Written in an authentic-sounding second grade voice, kids will love Alvin's antics.
Locomotion by Jacqueline Woodson

You could argue that Jacqueline Woodson's spare but affecting novel about 11-year old Lonnie Collins Motion (nicknamed Locomotion) is more about overcoming tragedy than school. And while it's true that a large part of the prose is focused on Lonnie coming to terms with his parent's death, it's also true that most of the healing he does comes through the familiar pattern and routine of school. Encouraged by a kind and open-hearted teacher, Lonnie learns to work his feelings out through writing poems, many of which are used to tell the story. Woodson's gorgeous book balances hard reality with infectious hope in a realistic story kids will appreciate.
Told in many voices, this engaging novel follows the story of 8th grader Capricorn (Cap) Anderson as he experiences his first year in a public school. Having grown up on a farm commune where he was homeschooled by his hippie grandmother, Cap is completely innocent of the ways of the world and doesn't even realize how hard his classmates are working to mock him. Kids will love experiencing the weird social constructs of school through Cap's eyes.
The Absolutely True Diary of a Part Time Indian by Sherman Alexie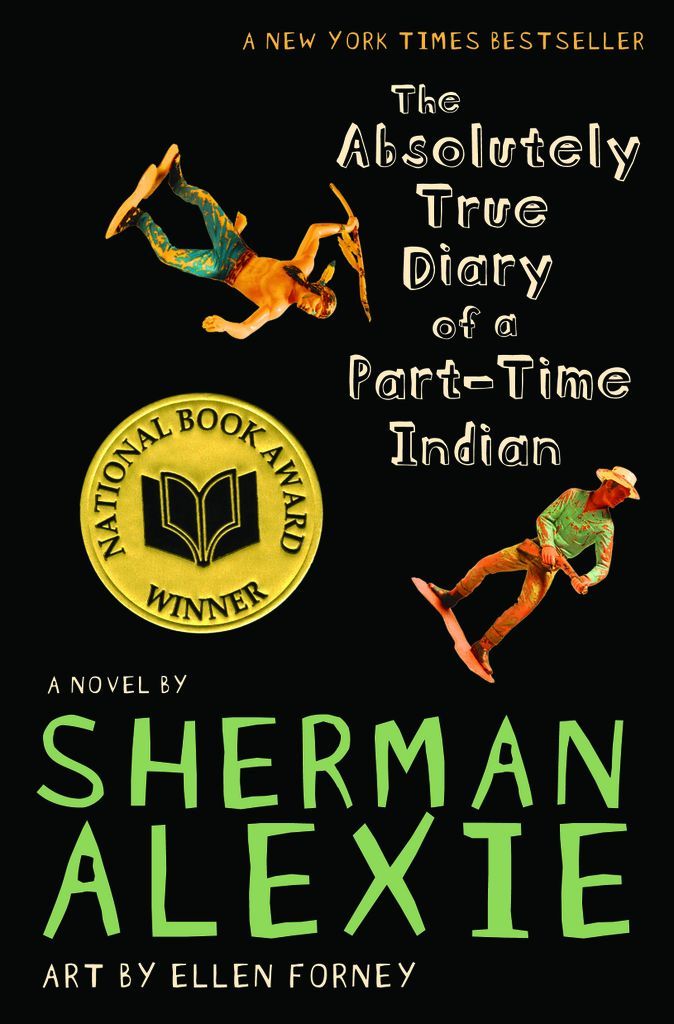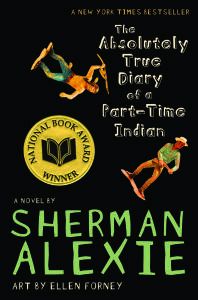 "I think the world is a series of broken dams and floods, and my cartoons are tiny little lifeboats." So says Junior, the hero of Sherman Alexie's inimitable novel about a boy who leaves his Spokane Indian reservation school to attend an all-white high school in a nearby town. Accompanied by Ellen Forney's artwork, Alexie's novel is a hilarious and affecting story that teens are unlikely to forget. A perfect choice for high schoolers, particularly reluctant readers.