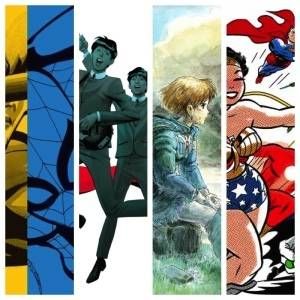 Our new comics site, Panels, is coming October 1st, and we know you're excited! We're still finding confetti in strange places from the last time we spoke.
But don't put down those trumpets just yet! We want you to share the excitement with your friends and followers. Get the most people to sign up through your referral link, and you'll win a $100 gift card to your favorite comic shop AND a stack of comics. To get your referral link and become eligible to win, follow these steps:
1. Visit Panels and enter your email to be notified of launch. (If you've already entered your email, enter it again to access your custom referral link.)
2. Share your referral link with friends and followers and get them to sign-up, too.
3. That's it. As of writing, there's no clear leader. It could be you. GO!

In addition to the $100 to spend at your comic shop of choice, you'll also get this awesome stack:
Jeph Loeb & Tim Sale: Yellow, Blue, and Gray
Adventure and romance collide in this collection of character studies by writer Jeph Loeb and artist Tim Sale. The hardbound edition includes three timeless stories starring Daredevil, Spider-Man, and the Hulk.
An Age of License
Lucy Knisley's comic travelogue of a European book tour, in all of its romance and culinary misadventure
Boxers & Saints Box Set
Includes Gene Luen Yang's critically acclaimed Boxers and Saints graphic novels, examining two sides of China's Boxer Rebellion and the surrounding cultural and spiritual clash
Absolute: Justice League: The New Frontier
A stunning, boogie-board-sized hardcover collection of Darwyn Cooke's love letter to the silver age of DC Comics
Nausicaä of the Valley of the Wind Box Set
Hayao Miyazaki's beloved tale of a brave princess and her efforts to restore peace to a blighted world
The Fifth Beatle: The Brian Epstein Story
The tragic and gorgeously-rendered life story of the visionary manager behind the world's most celebrated pop group from Vivek J. Tiwary, Andrew Robinson, and Kyle Baker
We can't wait to unveil Panels for you! In the mean time, don't forget to follow us on Twitter and Facebook! Thanks for spreading the excitement!
Until next time: read comics, be happy.