Pop Culture
Teaching Awareness Using the Novel The Boy At the Back of the Class
In the high school Library that I manage, I teach students responsible researching skills on a regular basis. This includes teaching them to avoid misleading web sites and to be critical thinkers when it comes to their daily online lives.
Recently, I've been using an amazing new Middle Grade novel entitled The Boy At the Back of the Class by Onjali Q. Raúf. Raúf is the founder of Making Herstory, an organisation mobilising men, women and children from all walks of life to tackle the abuse and trafficking of women and girls in the UK and beyond.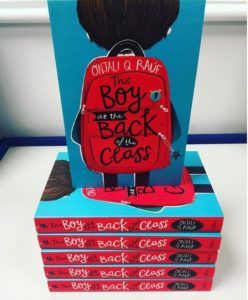 The Boy At the Back of the Class is a novel about a young boy named Ahmet who flees Syria with his family and ends up in the UK. During this hellish journey, he is separated from his family and placed in foster care once he reaches the UK.
In school he's bullied because he doesn't speak English and is placed in isolation because of the trauma he has suffered. A group of friends decide to take it upon themselves to help Ahmet find his family and to do this, they hatch the best plan they can think of. The problem is, their plan might land them all in serious trouble.
It's a really heart warming and "is it getting dusty in here??" kind of story that in my opinion every 10-11 year old should read.
I think it's a perfect book to spark discussion about empathy and important world events like the refugee crisis so I decided to use it as a research basis in Library Lessons with 11 & 12 year old students.
I start off with a simple question: "How many forcibly displaced people are there in the world?" I ensure everyone is aware of what it means to be forcibly displaced and we discuss how awful it would be to have to leave their homes, often with just the clothes on their backs.
The answers are almost always lower than the actual number: Over 65 million people.
I then ask another question: Of all of the people in the UK, which percentage do they think are refugees. The answers are always higher than the actual number: 0.24%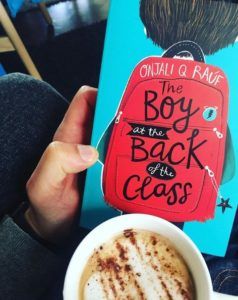 This is a great starting point, that low number dispels a lot of myths about refugees "taking over" and the racist chants of "England's full" that you see posted on social media and garbage news sources like the Daily Mail.
I can then use The Boy At the Back of the Class to show why it's so important that we extend a helping hand to people like Ahmet and his family. It gets the students interested in the novel and wanting to learn more.
From here I discuss effective Google search tips, using quotation marks, using the "site" and "intitle" function and many more. I then ask students to do their own research and in groups using the tips they've learned to find five myths about the refugee crisis here in the UK. It's a fun exercise and they always love sharing their results.
I don't often come across a novel that teaches empathy, important world events while creating a really enjoyable read at the same time.
So go out and get The Boy At the Back of the Class, and your students will thank you! Also, don't forget to check out our Book Riot article 12 Books About Syria to Help You Learn About the On-going Conflict.