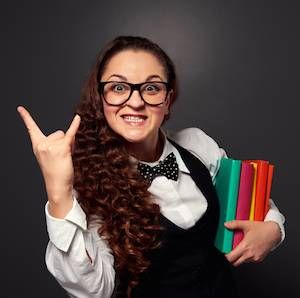 This content contains affiliate links. When you buy through these links, we may earn an affiliate commission.
When I was younger and less savvy about bookish websites, the only place where I could actively engage in my love of reading with someone other than myself was the classroom. My parents were never the type to read to me before bed because they were too tired from working all day. (They did, however, provide me with all the books I wanted.) I also didn't have many friends that were readers, so being a reader was quite a lonely thing to be—unless I was in the classroom.
Most of my classmates were the I-don't-like-to-read type, so it was mostly my teachers that made reading in the classroom fun and engaging. These teachers were important to my development as a reader and writer for many reasons. Without them, I probably never would have gone on to major in English at college, where I also had some amazing professors.
There are three teachers in particular who were essential in shaping me as a reader and writer. Because I have no contact with these teachers anymore, and because I'm not sure how they would feel about me writing about them, I'll only be using the first letter of their last name.
Third Grade
Ms. R taught us a lot about science and art through Mary Pope Osborne's Magic Tree House series. She used the books' imaginative storylines to help foster our own imaginations and creativity. We made papier-mâché dragons based on one of the books, and we led our own group science projects where we researched animals that Jack and Annie encountered on their adventures. Ms. R was able to channel what we were reading into hands-on activities where we could interact with the themes of the books.
Seventh Grade
Despite Ms. L being the primary seventh-grade science teacher, she devoted our homeroom hours to reading and writing. She would have us read books such as Hoot by Carl Hiaasen out loud, and then have us discuss the passages as a class. Our discussions were essential when it came time to structure and write our essays. Ms. L taught us to have a clear understanding of what our thesis was and discuss it in a way where everyone would be able to follow our thought process. This was a huge influence in how I wrote my essays throughout high school.
Junior Year British Lit
Finally there's Mr. V, who is still the most enthusiastic teacher I've ever had. He taught the dreaded British literature class but did so in an exciting and theatrical way. Every story and poem we read in class had to be read precisely—if not, he would make use start all over again. This exercise really helped when words were too difficult to pronounce or the tone in writing shifted. He also had us watch films such as Braveheart, which we used to contrast his favorite play, Macbeth, in an essay. His teaching was just what I needed to tone my literary analysis skills.
These three teachers solidified reading and writing as an essential part of my life, and for that, I thank them. I hope that everyone, avid reader or not, has had a teacher or two like I've had.
Are there any teachers you would like to thank or give a shout-out to?