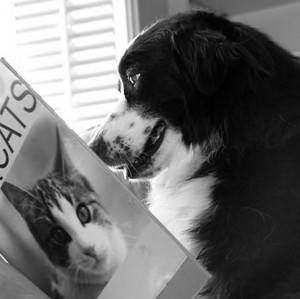 Children's
How to Teach Kids to Be Great Pet Owners – Read!
This content contains affiliate links. When you buy through these links, we may earn an affiliate commission.
When I was seven years old, my family and I took our monthly stroll around the local mall in Pasadena, California. The Pasadena Mall was dilapidated back then; within a few years the whole mall would be razed and rebuilt in typical SoCal fashion with huge skylights and ritzy, pricey stores. When I was seven, however, the mall was a humble building with clouds painted on the ceiling and dull brown tiles on the floor.
We took our usual walking route that day, past the video game store and the sewing machine store and Claire's and Sears. Then we passed by the pet store and joined a group of squealing teenagers who were watching puppies roll over each other in wood shavings.
"Can we get that one?" my brother asked, pointing to a black and brown Yorkshire Terrier the size of a baseball. It was the most frenetic dog in the bunch.
"No," said my father.
"No," said my mother.
"Please?" I pleaded. "He's so cute! I'll take care of him!"
"No," said my father.
"No," said my mother.
A few weeks later, I woke up and found my parents in the kitchen making coffee.
"Mei-mei," my dad said to me. "Can you and your brother go get something in the car?" This was not an uncommon request; my parents asked us to retrieve things for them all the time. He tossed me the keys.
My brother and I jogged down the stairs of our apartment building and found a box in the backseat of my dad's car. Inside was a nest of newspaper shreds, and tucked right in the middle was that little dog we loved from the pet store.
Unfortunately, my parents trusted my brother and I to take care of this dog without their intervention. We knew nothing about dogs except they needed to eat and be walked once a day. The poor little dog was so confused by our curious house training philosophy that he relieved himself all over the apartment. The food we fed him didn't help; he had meals of rice some days, baby food other days, sometimes kibble. On days we took home dinner from McDonald's we treated him to french fries. I'm sure some days we forgot to feed him entirely.
It was reading that save me from living out my life as a horrible pet owner. I began to check out books about pets. I read books about kids who got their first pet. I read every book with a dog on the cover. And slowly, I got better at taking care of our little dog. It was in books I learned how to take care of animals, how to love animals well, and how to be a better pet owner.
Now I have two kids and three pets. My kids each have pet responsibilities — my older daughter feeds our cat in the morning and both of them come with me on the three walks we give our dog every day — but my husband and I are the ones who do the bulk of pet care. I've been reading my kids stories about animals since they were infants, teaching them about animals and pets the way I learned — through books.
I think it's working. My kids, now five and seven years old, are thoughtful and loving pet owners. My older daughter wants to be a veterinarian when she grows up. My younger daughter dreams of having her own dog that she Can Take Care of All By Herself. In the meantime, we'll keep reading.
Below is a list of great children's books about pets and animals, sorted by picture books, chapter books, and middle grade. Check it out, and let us know your favorite books (children or adult!) about pets or animals in the comments below.
Picture Books (Recommended for birth – age 8)
Xander's Panda Party by Linda Sue Park, illustrated by Matt Phelan
The zoo's paucity of pandas doesn't impede Xander's party planning for long. He decides to invite all the bears. But Koala protests. She's not a bear—she's a marsupial! Does that mean she can't come? Xander rethinks his decision to invite only bears, and "Calling all bears" evolves into "Calling all creatures."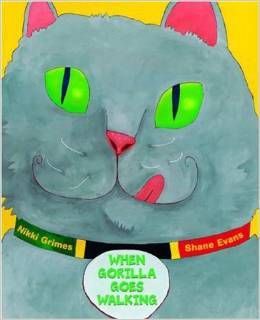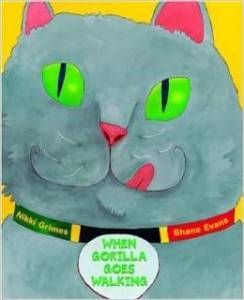 When Gorilla Goes Walking by Nikki Grimes, illustrated by Shane Evans
A humorous and wonderfully poetic story about Cecilia and her pet cat, Gorilla! "When Gorilla goes walking, the neighbors laugh and stare at her tailless rump and her very proud air." Gorilla is an affectionate, jealous, lovable cat who constantly wants to play with Cecilia. Experience their unique relationship through Nikki Grimes's lyrical poetry and Shane Evans's vibrant artwork.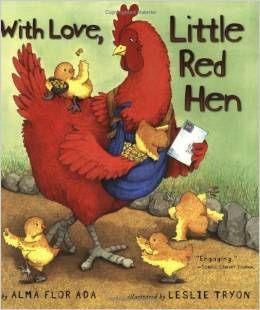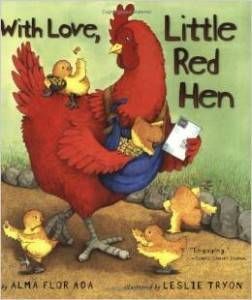 With Love, Little Red Hen by Alma Flor Ada, illustrated by Leslie Tryon
Hidden Forest has a new resident. Little Red Hen and her seven little chicks have moved into a cottage and plan to grow a bountiful crop of corn in the nearby field. The problem is that none of the Red Hen's neighbors are willing to help with the hard work. "Not I," says the dog, the goose, and the lazy cat. So Goldilocks, who has heard about the new arrivals from her friend Little Red Riding Hood, comes up with a neighborly idea: Why don't all the residents of Hidden Forest chip in and work on the garden? Better yet, why not make it a surprise? Of course there are a couple of residents who might not be so cooperative.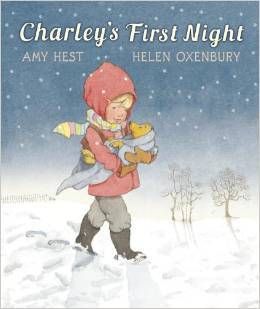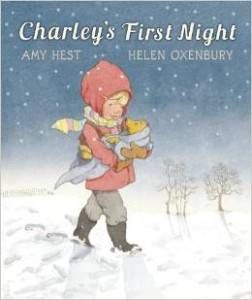 Charley's First Night by Amy Hest, illustrated by Helen Oxenbury
On Charley's first night, Henry carries his new puppy in his old baby blanket all the way to his house. He shows Charley every room, saying, "This is home, Charley." He says that a lot so that Charley will know that he is home. Henry's parents are very clear about who will be walking and feeding Charley (Henry will, and he can't wait). They are also very clear about where Charley will be sleeping: Charley will be sleeping in the kitchen. But when the crying starts in the middle of the night, Henry knows right away that it's Charley! And it looks like his parents' idea about where Charley is going to sleep may have to change.
Diary of a Wombat by Jackie French and illustrated by Bruce Whatley
Wombats are cuddly-looking, slow-moving Australian animals. Their favorite activities are eating, sleeping, and digging holes. Here, in the words of one unusually articulate wombat, is the tongue-in-cheek account of a busy week; eating, sleeping, digging holes…and training its new neighbors, a family of humans, to produce treats on demand.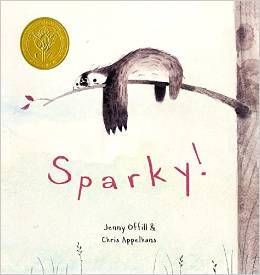 Sparky! by Jenny Offill and Chris Appelhans
Sparky stars a pet who has more to offer than meets the eye. When our narrator orders a sloth through the mail, the creature that arrives isn't good at tricks or hide-and-seek…or much of anything. Still, there's something about Sparky that is irresistible.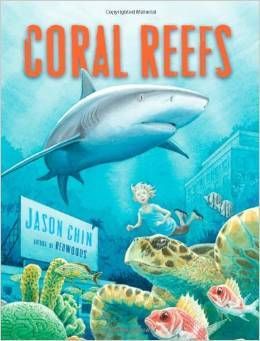 Coral Reefs by Jason Chin
During an ordinary visit to the library, a girl pulls a not-so-ordinary book from the shelves. As she turns the pages in this book about coral reefs, the city around her slips away and she finds herself surrounded by the coral cities of the sea and the mysterious plants and animals that live, hunt, and hide there.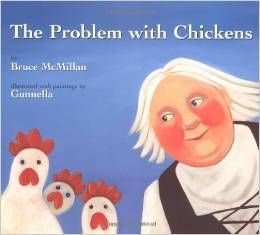 The Problem with Chickens by Bruce McMillan, illustrated by Gunnella
The ladies of Iceland have a problem: the birds lay their eggs in nooks on the sides of steep cliffs, so the ladies have a very difficult time getting any of the eggs for baking. They go to town to buy chickens to lay eggs for them instead. For a while, everyone is happy: there are plenty of eggs to bake plenty of yummy things. But the ladies' problems are far from solved, for the more time the chickens spend with the ladies, the more they begin to act like them too, until eventually they stop laying eggs all together. Now this is a problem indeed, but you can be sure, the clever ladies will find a solution. Full of fun and silliness, this lighthearted tale and vibrant illustrations are a delight.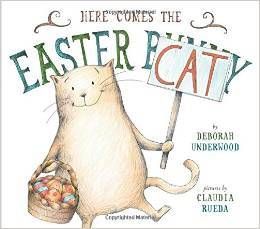 Here Comes the Easter Cat by Deborah Underwood, illustrated by Claudia Rueda
Why should the Easter Bunny get all the love? That's what Cat would like to know. So he decides to take over: He dons his sparkly suit, jumps on his Harley, and roars off into the night. But it turns out delivering Easter eggs is hard work. And it doesn't leave much time for naps (of which Cat has taken five–no, seven). So when a pooped-out Easter Bunny shows up, and with a treat for Cat, what will Cat do? His surprise solution will be stylish, smart, and even–yes–kind.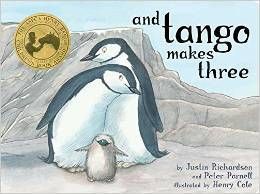 And Tango Makes Three by Justin Richardson and Peter Parnell, illustrated by Henry Cole
At the penguin house at the Central Park Zoo, two penguins named Roy and Silo were a little bit different from the others. But their desire for a family was the same. And with the help of a kindly zookeeper, Roy and Silo got the chance to welcome a baby penguin of their very own.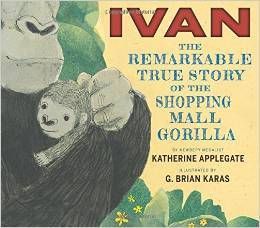 Ivan and the Remarkable True Story of the Shopping Mall Gorilla by Katherine Applegate and illustrated by Mr. G. Brian Karas
Captured as a baby, Ivan was brought to a Tacoma, Washington, mall to attract shoppers. Gradually, public pressure built until a better way of life for Ivan was found at Zoo Atlanta. From the Congo to America, and from a local business attraction to a national symbol of animal welfare, Ivan the Shopping Mall Gorilla traveled an astonishing distance in miles and in impact. This is his true story and includes photographs of Ivan in the back matter.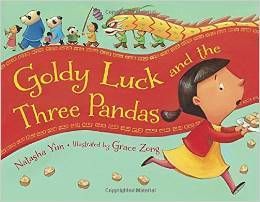 Goldy Luck and the Three Pandas by Natasha Yim, illustrated by Grace Zong
In this Chinese American retelling of "Goldilocks and the Three Bears," a careless Goldy Luck wreaks havoc on the home of a family of panda bears. She eats up the littlest panda's rice porridge, breaks his rocking chair, and rumples all the blankets on his futon. When Goldy takes responsibility for her actions, she makes a new friend (and a whole plate of turnip cakes!) just in time for Chinese New Year.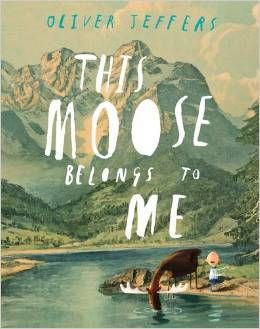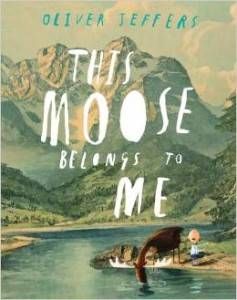 This Moose Belongs to Me by Oliver Jeffers
Wilfred is a boy with rules. He lives a very orderly life. It's fortunate, then, that he has a pet who abides by rules, such as not making noise while Wilfred educates him on his record collection. There is, however, one rule that Wilfred's pet has difficulty following: Going whichever way Wilfred wants to go. Perhaps this is because Wilfred's pet doesn't quite realize that he belongs to anyone.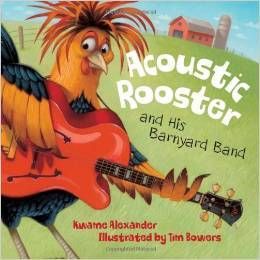 Acoustic Rooster and His Barnyard Band by Kwame Alexander, illustrated by Tim Bowars
When a jazz-loving rooster sets his sights on winning a barnyard talent show, he realizes he can't do it as a solo act. He's up against the talents of Mules Davis's cool duo and Ella Finchgerald's singing group. Acoustic Rooster calls on friends like pianist Duck Ellington, singer Bee Holiday, and percussionist piggy Pepe Ernesto Cruz. Together, the foursome makes beautiful music as they rock the barnyard. And while they may not win first prize, Acoustic Rooster realizes he has the world's best jazz band and that's all that matters.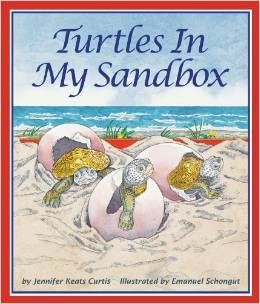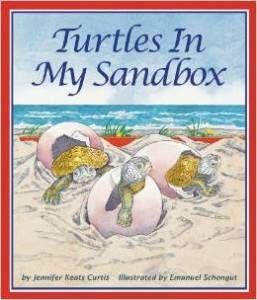 Turtles in My Sandbox by Jennifer Keats Curtis and illustrated by Emanuel Schongut
Imagine finding turtle eggs in your sandbox! When a mother diamondback terrapin lays eggs in a young girl's sandbox, the girl becomes a turtle-sitter to help the babies safely hatch. She raises the teeny hatchlings until they become big enough to fend for themselves in the wild. Then, with the help of experts, she releases them. Along the way, she learns about these unique animals and that she has made an important contribution to their survival.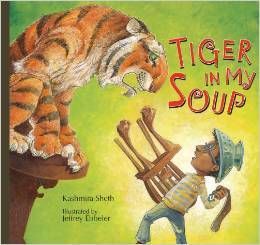 Tiger in My Soup by Kashmira Sheth, illustrated by Jeffrey Ebbeler
When a boy is left in the care of his older sister, he begs her to read him his favorite book, but she s too absorbed in her own reading to pay him any attention. She won t be distracted, even when the boy finds a ravenous tiger hiding in his soup! His sister misses all the action; only after the steamy beast is slain does she return to the table with her brother and finally agree to read to him. But is the tiger really gone?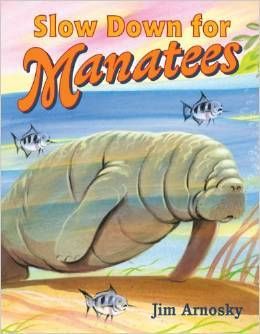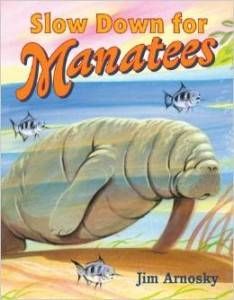 Slow Down for Manatees by Jim Aronsky
Manatees are the gentle giants of southeastern coastal waterways. An endangered species, their biggest threat is humans, who unwittingly hit them with their boats in shallow waters.
Jim Arnosky's conversational narrative tells the story of one such accident, which leads the manatee to be taken to a rescue and rehabilitation facility. There they discover that the manatee is pregnant. And while she recovers and gives birth to a healthy baby, she longs to be free. Ultimately, both manatees are released into the wild, a huge success for the people who intervened in saving the animal.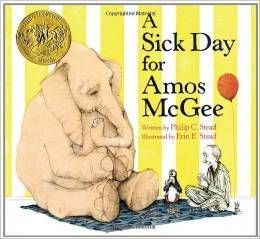 A Sick Day for Amos McGee by Philip C. Stead and illustrated by Erin E. Stead
Friends come in all sorts of shapes and sizes. In Amos McGee's case, all sorts of species, too! Every day he spends a little bit of time with each of his friends at the zoo, running races with the tortoise, keeping the shy penguin company, and even reading bedtime stories to the owl. But when Amos is too sick to make it to the zoo, his animal friends decide it's time they returned the favor.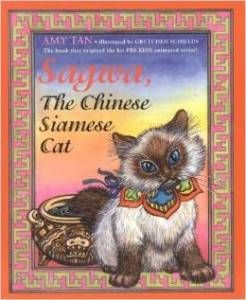 Sagwa, The Chinese Siamese Cat by Amy Tan
"Before you go out into the world," Ming Miao told her five kittens, "you must know the true story of your ancestors…."
And so begins the story of Sagwa of China, a mischievous, pearl white kitten. Sagwa lived in the House of the Foolish Magistrate, a greedy man who made up rules that helped only himself. One day, Sagwa fell into an inkwell and accidentally changed one of the Foolish Magistrate's rules. Little did Sagwa know she would alter the fate — and the appearance — of Chinese cats forever!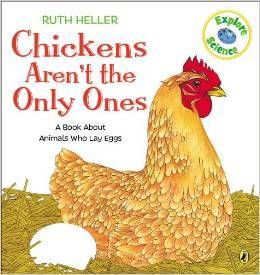 Chickens Aren't the Only Ones by Ruth Heller
Ruth Heller's prose and pictures are the perfect means for discovering the variety of oviparous animals and their unique ways of laying eggs.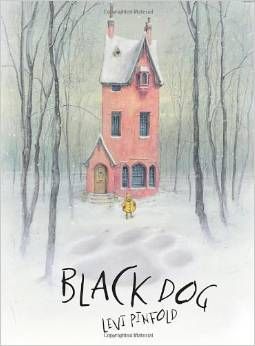 Black Dog by Levi Pinfold
When a huge black dog appears outside the Hope family home, each member of the household sees it and hides. Only Small, the youngest Hope, has the courage to face the black dog, who might not be as frightening as everyone else thinks.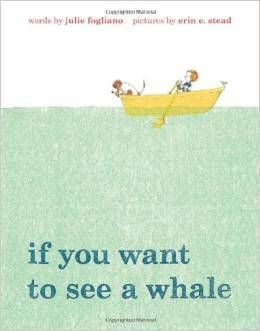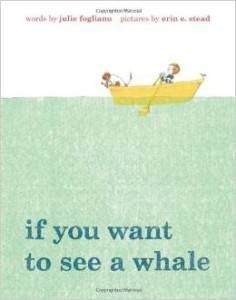 If You Want to See a Whale by Julie Fogliano and illustrated by Erin E. Stead
If you want to see a whale, you will need to know what not to look at.
Pink roses, pelicans, possible pirates . . .
If you want to see a whale, you have to keep your eyes on the sea, and wait . . .
and wait . . . and wait . . .
One Cool Friend by Toni Buzzeo and illustrated by David Small
When well-mannered Elliot reluctantly visits the aquarium with his distractable father, he politely asks whether he can have a penguin–and then removes one from the penguin pool to his backpack. The fun of caring for a penguin in a New England Victorian house is followed by a surprise revelation by Elliot's father.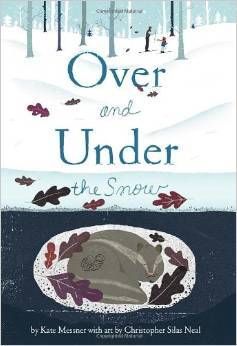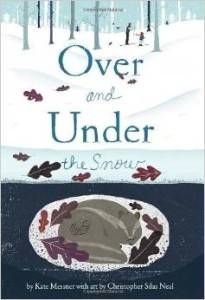 Over and Under the Snow by Kate Messner
Over the snow, the world is hushed and white.
But under the snow is a secret world of squirrels and snowshoe hares, bears and bullfrogs, and many other animals who live through the winter, safe and warm.
OVER AND UNDER THE SNOW takes readers on a cross country ski trip through the winter woods to discover the secret world of animals living under the snow.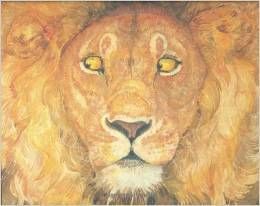 The Lion and the Mouse by Jerry Pinkney
In award-winning artist Jerry Pinkney's wordless adaptation of one of Aesop's most beloved fables, an unlikely pair learn that no act of kindness is ever wasted. After a ferocious lion spares a cowering mouse that he'd planned to eat, the mouse later comes to his rescue, freeing him from a poacher's trap. With vivid depictions of the landscape of the African Serengeti and expressively-drawn characters, Pinkney makes this a truly special retelling, and his stunning pictures speak volumes.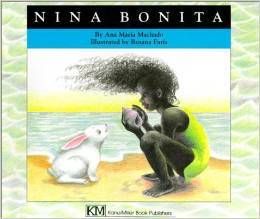 Nina Bonita: A Story by Elena Iribarren and Ana Maria Machado, illustrated by Rosana Faria
This beautiful and charming story deals with a sensitive subject in a sensitive way. "Black is beautiful" to a little white rabbit and while trying to discover the secret that will make him black, readers get a funny, yet educational introduction to genetics. Full color.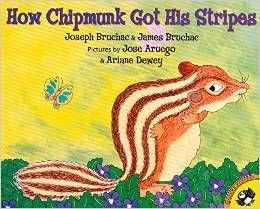 How Chipmunk Got His Stripes by Joseph Bruchac and James Bruchac, illustrated by Jose Aruego and Ariane Dewey
Bear brags that he can do anything-even stop the sun from rising. Brown Squirrel doesn't believe him, so the two wait all night to see if the sun will rise. Sure enough, the sky reddens and the sun appears. Brown Squirrel is so happy to be right that he teases Bear. What happens when a little brown squirrel teases a big black bear? Brown Squirrel gets stripes and is called chipmunk from that day forward . . . Joseph and James Bruchac join forces to create this buoyant picture book, based on a Native American folktale.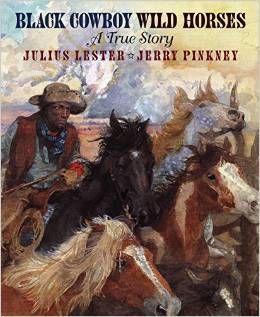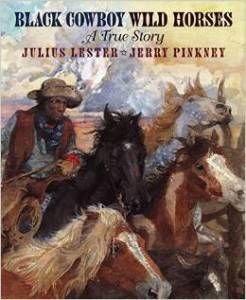 Black Cowboy, Wild Horses by Julius Lester and illustrated by Jerry Pinkney
Bob Lemmons is famous for his ability to track wild horses. He rides his horse, Warrior, picks up the trail of mustangs, then runs with them day and night until they accept his presence. Bob and Warrior must then challenge the stallion for leadership of the wild herd. A victorious Bob leads the mustangs across the wide plains and for one last spectacular run before guiding them into the corral. Bob's job is done, but he dreams of galloping with Warrior forever, to where the sky and land meet.
Chapter Books (Recommended for ages 7-10)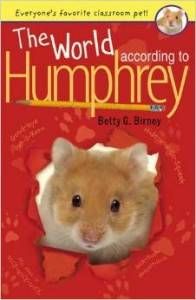 The World According to Humphrey (Humphrey series) by Betty G. Birney
You can learn a lot about life by observing another species. That's what Humphrey was told when he was first brought to Room 26. And boy, is it true! In addition to having FUN-FUN-FUN in class, each weekend this amazing hamster gets to sleep over with a different student, like Lower-Your-Voice-A.J. and Speak-Up-Sayeh. Soon Humphrey learns to read, write, and even shoot rubber bands (only in self-defense, of course). With lots of friends to help, adventures to enjoy, and a cage with a lock-that-doesn't- lock, Humphrey's life is almost perfect. If only the teacher, Mrs. Brisbane, wasn't out to get him!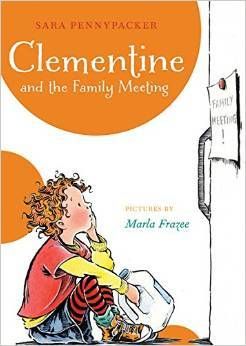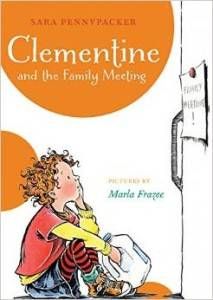 Clementine and the Family Meeting (Clementine series) by Sara Pennypacker, illustrated by Marla Frazee
Clementine's having a nervous breakdown. The FAMILY MEETING! sign is up in her house, and she just knows she's in trouble for something. Has she been too mean to her little brother? Too sloppy? Eating too much junk food? Try as she might to find out what's on the agenda, her parents won't reveal anything before the meeting. As far as Clementine is concerned, the agenda should be something like: "We're getting a gorilla." But no, it's something entirely different.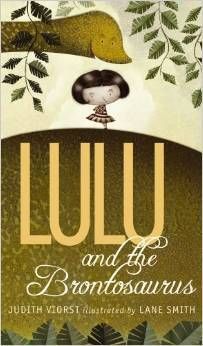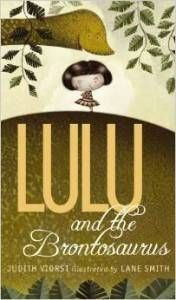 Lulu and the Brontosaurus by Judith Viorst, illustrated Lane Smith
Lulu is so accustomed to getting what she wants that when her parents deny her birthday request for a brontosaurus, she throws a four-day temper tantrum and then storms off into the forest in search of the dinosaur she clearly deserves. Lulu isn't particularly impressed with the snake, tiger, and bear she encounters, but then she finds him—a beautiful, long-necked, graceful brontosaurus. Mr. B completely agrees with Lulu that having a pet would be a wonderful thing, and Lulu thinks she's gotten her birthday wish at last. Until she realizes that Mr. Brontosaurus thinks that she would make an ideal pet for him!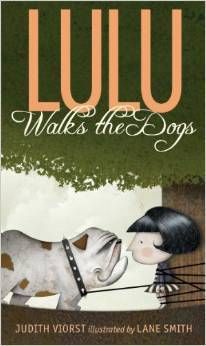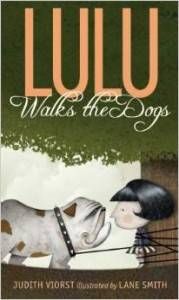 Lulu Walks the Dogs by Judith Viorst, illustrated Lane Smith
The stubbornly hilarious Lulu has decided it's time to buckle down and earn some cash. How else can she save up enough money to buy the very special thing that she is ALWAYS and FOREVER going to want? After some failed attempts at lucrative gigs (baking cookies, spying, reading to old people), dog walking seems like a sensible choice. But Brutus, Pookie, and Cordelia are not interested in making the job easy, and the infuriatingly helpful neighborhood goody-goody, Fleischman, has Lulu at the end of her rope. And with three wild dogs at the other end, Lulu's patience is severely tested. Will she ever make a friend—or the money she needs?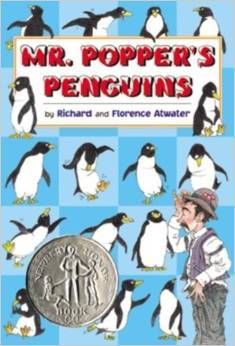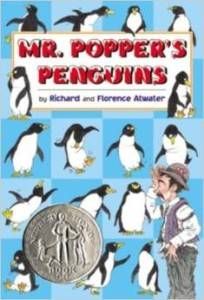 Mr. Popper's Penguins by Richard and Florence Atwater
A classic of American humor, the adventures of a house painter and his brood of high-stepping penguins have delighted children for generations.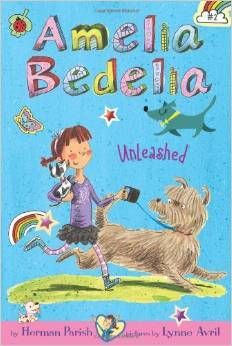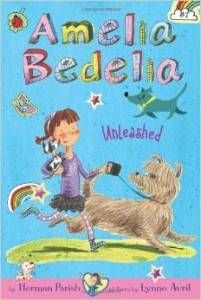 Amelia Bedelia Unleashed (Amelia Bedelia series) by Herman Parish, illustrated by Lynne Avril
Amelia Bedelia is going to get a puppy! When her parents ask her what kind of dog she'd like, Amelia Bedelia doesn't know what to say. There are hundreds of dogs in the world, maybe even millions! How will Amelia Bedelia ever find the perfect puppy?
Look out! Here comes Amelia Bedelia, and she's got one thing on her mind—DOGS!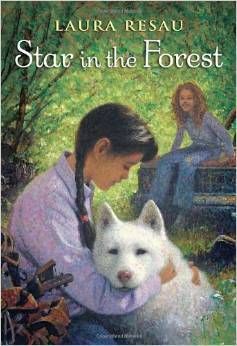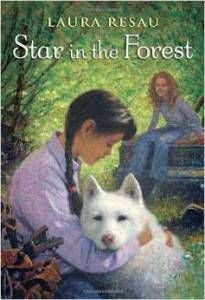 Star in the Forest by Laura Resau
Zitlally's family is undocumented, and her father has just been arrested for speeding and deported back to Mexico. As her family waits for him to return—they've paid a coyote to guide him back across the border—they receive news that he and the coyote's other charges have been kidnapped and are being held for ransom. Meanwhile, Zitlally and a new friend find a dog in the forest near their trailer park. They name it Star for the star-shaped patch over its eye. As time goes on, Zitlally starts to realize that Star is her father's "spirit animal," and that as long as Star is safe, her father will be also. But what will happen to Zitlally's dad when Star disappears?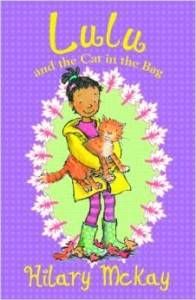 Lulu and the Cat in the Bag (Lulu series) by Hilary McKay and illustrated by Priscilla Lamont
When a mysterious bag is left on Lulu's doorstep, the last thing her grandmother expects to be in it is a cat–a huge, neon orange cat. But Lulu knows this cat doesn't mean any harm. In fact, it needs a lovely new home.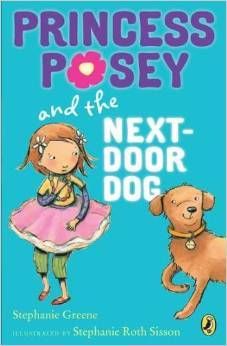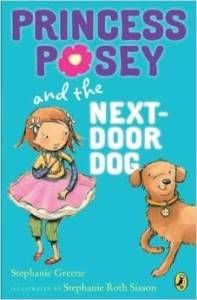 Princess Posey and the Dog Next Door (Princess Posey series) by Stephanie Greene and illustrated by Stephanie Roth Sisson (series)
After hearing about her classmate's new puppy, Posey wants a dog of her own even though she's a little bit scared of dogs. When a new neighbor moves in with a dog that has a very big bark, Posey tries not to be afraid. Will her special pink tutu give her the courage to befriend the next-door dog?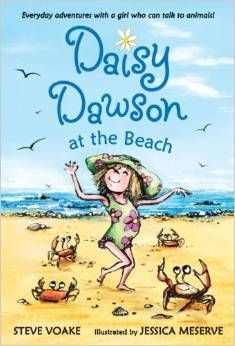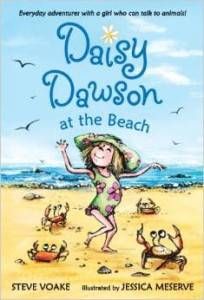 Daisy Dawson at the Beach (Daisy Dawson series) by Steve Voake and illustrated by Jessica Meserve
School's out for Daisy Dawson, and things couldn't be any better. Imagine a whole summer at the beach, full of sand, sun, and surfing! And now that she's making new animal friends – a crab named Pinchy who likes to dance and two fun-loving rabbits named Rabsy and Raberta – her vacation promises to be all the more exciting. But when Daisy hears a call for help from the bottom of the sea, she finds a dolphin in deep trouble, caught in old fishing nets. Will Daisy and her friends be able to save the dolphin before it's too late?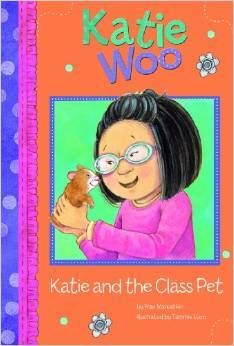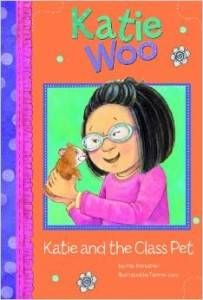 Katie and the Class Pet (Katie Woo series) by Fran Manushkin and illustrated by Tammie Lyon (series)
Katie is so excited when her name is drawn to take the class pet, Binky, home for the weekend. Things start off great, and Katie takes good care of Binky. But when she loses him, she dreads telling her teacher and classmates.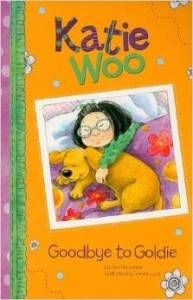 Goodbye to Goldie (Katie Woo series) by Fran Manushkin and illustrated by Tammie Lyon (series)
Katie Woo's dog, Goldie, was very old. Goldie became sick and died. Katie will miss her friend. She is glad that she has lots of happy memories of Goldie.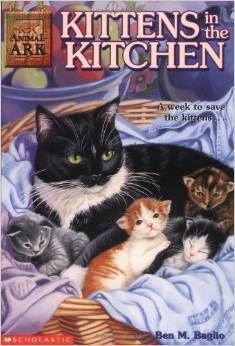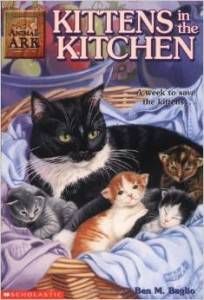 Kitten in the Kitchen (Animal Ark series) by Ben M. Baglio, illustrated by Shelagh McNicholas
When a stray cat gives birth to kittens in Mr. Williams' kitchen, he is furious. Can Mandy find homes for four kittens in one week?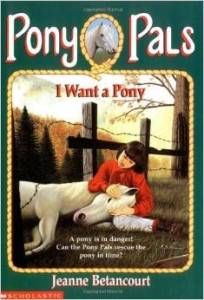 Goodbye to Goldie (Pony Pals series) by Jeanne Betancourt
An early chapter book series featuring a group of young girls and their ponies.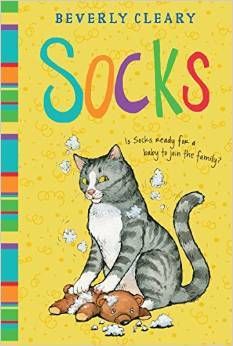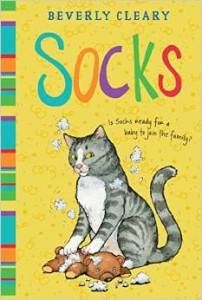 Socks by Beverly Cleary
Socks is one happy cat. He lives the good life with his affectionate owners, Mr. and Mrs. Bricker. Ever since the day they saved him from a life spent in a mailbox drop slot, Socks has been the center of their world. And he always has everything he needs—tasty kitty treats and all the lap room he could want!
But when a new baby arrives, suddenly the Brickers have less and less time for Socks. Little Charles William is the one getting all the attention. Socks feels left out—and to show it, he starts getting into all sorts of trouble! What will it take to make Socks realize just how much the Brickers care about him?
Middle Grade (Recommended for ages 8-12)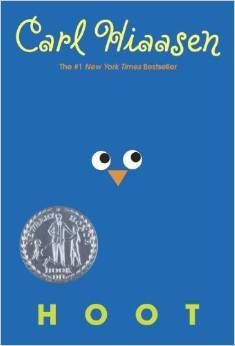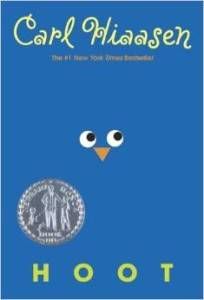 Hoot by Carl Hiaasen
A book for young readers. It involves new kids, bullies, alligators, eco-warriors, pancakes, and pint-sized owls. A hilarious Floridian adventure!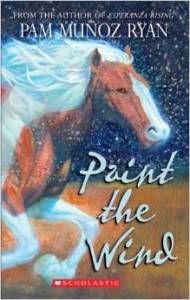 Paint the Wind by Pam Munoz Ryan
Maya lives like a captive. At Grandmother's house in California, everything is forbidden: friends, fun, even memories. And her life is built on lies: lies Grandmother tells her about her dead mother, lies Maya tells to impress or manipulate. But then she moves to the vast Wyoming wilderness where her mother's family awaits – kind, rugged people who have no tolerance for lies. They challenge Maya to confront the truth about who she is. And a mysterious mustang called Artemisia waits, too. She holds the key to Maya's freedom. But to find it, Maya will have to risk everything, including her life.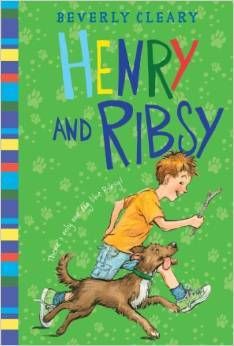 Henry Huggins and Ribsy (Henry Huggins series) by Beverly Cleary
From the first moment Henry found Ribsy, the curious mutt was poking his nose into things he shouldn't be. Whether terrorizing the garbage man, chasing cats, or gobbling Ramona Quimby's ice-cream cone, Henry's four-legged pal has walked himself into one problem too many. So when Henry asks his dad if he can go along on the big fishing trip, Mr. Huggins agrees, but on one condition: Ribsy must stay out of mischief for two whole months. Henry is confident in his loyal dog…until Ribsy goes overboard with his appetite for chaos…literally!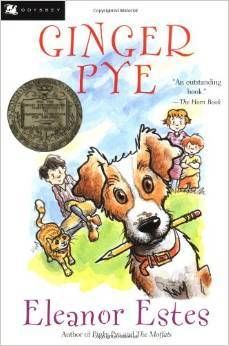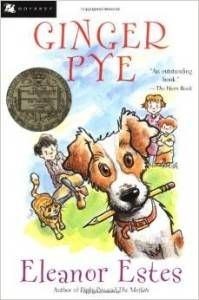 Ginger Pye by Eleanor Estes
Meet Ginger Pye, the smartest dog you'll ever know. Jerry Pye and his sister, Rachel, feel pretty smart themselves for buying Ginger. It was the best dollar they ever spent. Ginger steals everybody's heart . . . until someone steals him!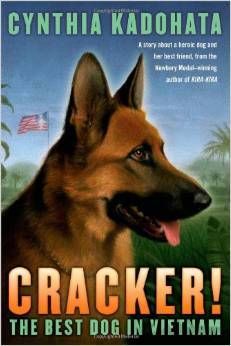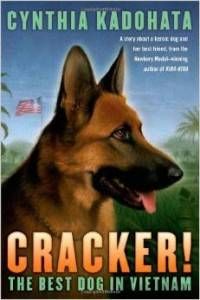 Cracker!: The Best Dog in Vietnam by Cynthia Kadohata
Cracker is one of the United States Army most valuable weapons: a German shepherd trained to sniff out bombs, traps, and the enemy. The fate of entire platoons rests on her keen sense of smell. She's a Big Deal, and she likes it that way. Sometimes Cracker remembers when she was younger, and her previous owner would feed her hot dogs and let her sleep in his bed. That was nice, too.
Rick Hanski is headed to Vietnam. There, he's going to whip the world and prove to his family and his sergeant — and everyone else who didn't think he was cut out for war — wrong. But sometimes Rick can't help but wonder that maybe everyone else is right. Maybe he should have just stayed at home and worked in his dad's hardware store.
When Cracker is paired with Rick, she isn't so sure about this new owner. He's going to have to prove himself to her before she's going to prove herself to him. They need to be friends before they can be a team, and they have to be a team if they want to get home alive.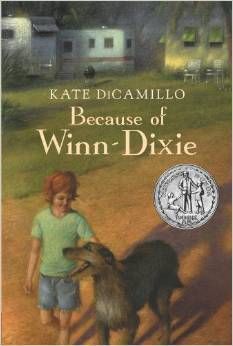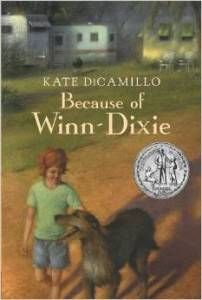 Because of Winn-Dixie by Kate DiCamillo
Because of Winn-Dixie, a big, ugly, happy dog, 10-year-old Opal learns 10 things about her long-gone mother from her preacher father. Because of Winn-Dixie, Opal makes new friends among the somewhat unusual residents of her new hometown, Naomi, Florida. Because of Winn-Dixie, Opal begins to find her place in the world and let go of some of the sadness left by her mother's abandonment seven years earlier.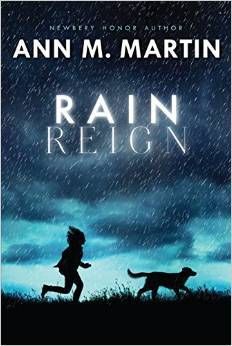 Rain Reign by Ann M. Martin
Rose Howard is obsessed with homonyms. She's thrilled that her own name is a homonym, and she purposely gave her dog Rain a name with two homonyms (Reign, Rein), which, according to Rose's rules of homonyms, is very special. Not everyone understands Rose's obsessions, her rules, and the other things that make her different – not her teachers, not other kids, and not her single father.
When a storm hits their rural town, rivers overflow, the roads are flooded, and Rain goes missing. Rose's father shouldn't have let Rain out. Now Rose has to find her dog, even if it means leaving her routines and safe places to search.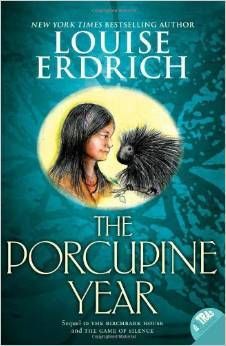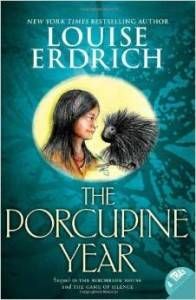 The Porcupine Year by Louise Erdich
Omakayas was a dreamer who did not yet know her limits. When Omakayas is twelve winters old, she and her family set off on a harrowing journey in search of a new home. Pushed to the brink of survival, Omakayas continues to learn from the land and the spirits around her, and she discovers that no matter where she is, or how she is living, she has the one thing she needs to carry her through.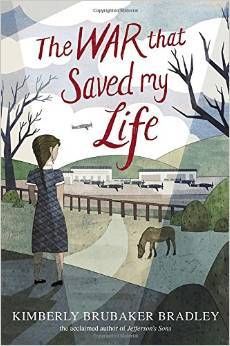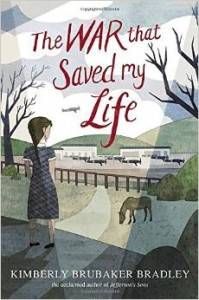 The War That Saved My Life by Kimberly Brubaker Bradley
Nine-year-old Ada has never left her one-room apartment. Her mother is too humiliated by Ada's twisted foot to let her outside. So when her little brother Jamie is shipped out of London to escape the war, Ada doesn't waste a minute—she sneaks out to join him.
So begins a new adventure of Ada, and for Susan Smith, the woman who is forced to take the two kids in. As Ada teaches herself to ride a pony, learns to read, and watches for German spies, she begins to trust Susan—and Susan begins to love Ada and Jamie. But in the end, will their bond be enough to hold them together through wartime? Or will Ada and her brother fall back into the cruel hands of their mother?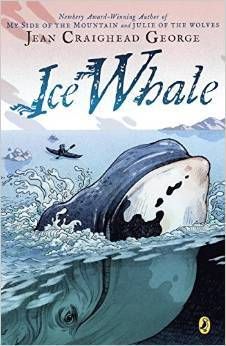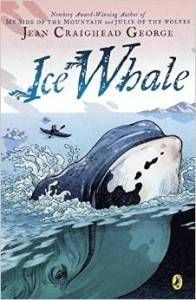 Ice Whale by Jean Craighead George
In 1848, a young boy witnesses a rare sight—the birth of a bowhead, or ice whale, he calls Siku. Years later, he unwittingly brings about the death of an entire pod of whales, and only Siku survives. For this act, the boy receives a curse of banishment. Through the generations, this curse is handed down: Siku returns year after year, in reality and dreams, to haunt the boy's descendants. Told in alternating voices, both human and whale, Jean Craighead George's last novel shows the interconnectedness of humankind and the animals they depend on.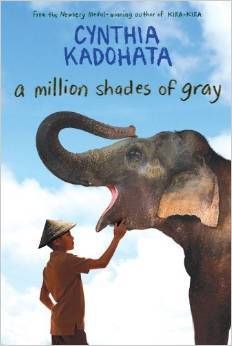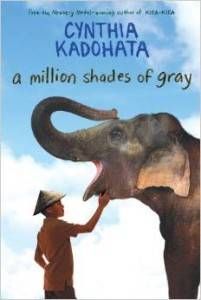 A Million Shades of Gray by Cynthia Kadohata
Y'Tin is brave. No one in his village denies that—his mother may wish that he'd spend more time on school work than on elephant training, but still she knows that it takes a great deal of courage and calm to deal with elephants the way that Y'Tin does. He is almost the best trainer in the village—and, at twelve-years old, he's certainly the youngest. Maybe he'll even open up his own school some day to teach other Montagnards how to train wild elephants? That was the plan anyway—back before American troops pulled out of the Vietnam War, back before his village became occupied by Viet Cong forces seeking revenge, back before Y'Tin watched his life change in a million terrible ways.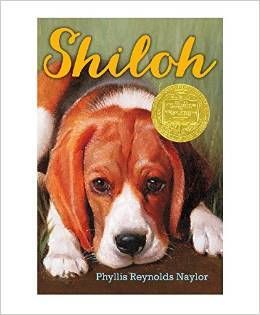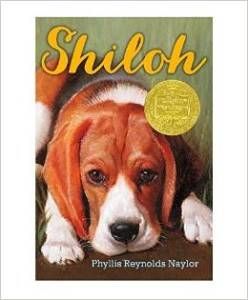 Shiloh by Phyllis Reynolds Naylor
When Marty Preston comes across a young beagle in the hills behind his home, it's love at first sight—and also big trouble. It turns out the dog, which Marty names Shiloh, belongs to Judd Travers, who drinks too much and has a gun—and abuses his dogs. So when Shiloh runs away from Judd to Marty, Marty just has to hide him and protect him from Judd. But Marty's secret becomes too big for him to keep to himself, and it exposes his entire family to Judd's anger. How far will Marty have to go to make Shiloh his?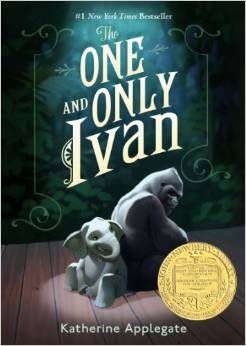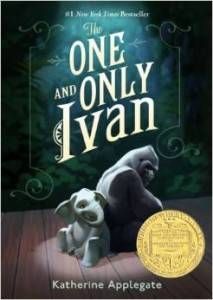 The One and Only Ivan by Katherine Applegate
Having spent twenty-seven years behind the glass walls of his enclosure in a shopping mall, Ivan has grown accustomed to humans watching him. He hardly ever thinks about his life in the jungle. Instead, Ivan occupies himself with television, his friends Stella and Bob, and painting. But when he meets Ruby, a baby elephant taken from the wild, he is forced to see their home, and his art, through new eyes.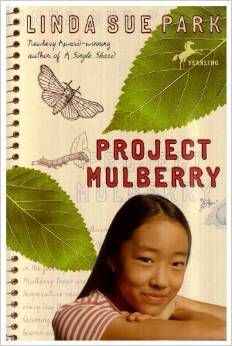 Project Mulberry by Linda Sue Park
Julia Song and her friend Patrick want to team up to win a blue ribbon at the state fair, but they can't agree on the perfect project. Then Julia's mother suggests they raise silkworms as she did years ago in Korea. The optimistic twosome quickly realizes that raising silkworms is a lot tougher than they thought. And Julia never suspected that she'd be discussing the fate of her and Patrick's project with Ms. Park, the author of this book!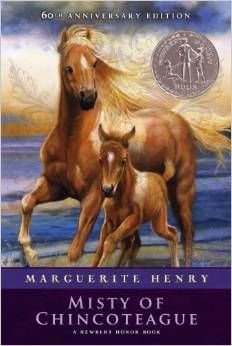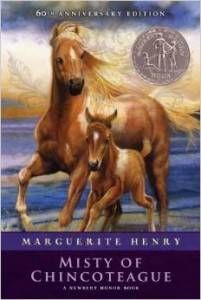 Misty of Chincoteague by Marguerite Henry
Nobody could capture the Phantom. She was the wildest mare on Assateague Island. They said she was like the wind, that the white "map" on her shoulders was her mark of freedom.
Paul and Maureen Beebe had their hearts set on owning her. They were itching to buy and tame her, and worked hard to earn the money that she would cost. But the roundup men had tried to capture her and for two years she had escaped them….
Pony Penning Day holds a surprise for everyone, for Paul not only brings in the Phantom, but her newborn colt as well. Can Paul and Maureen possibly earn enough to buy them both?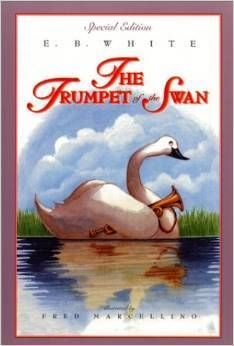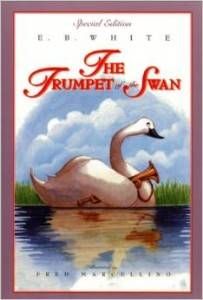 The Trumpet of the Swan by E.B. White
Like the rest of his family, Louis is a trumpeter swan. But unlike his four brothers and sisters, Louis can't trumpet joyfully. In fact, he can't even make a sound. And since he can't trumpet his love, the beautiful swan Serena pays absolutely no attention to him.
Louis tries everything he can think of to win Serena's affection;he even goes to school to learn to read and write. But nothing seems to work. Then his father steals him a real brass trumpet. Is a musical instrument the key to winning Louis his love?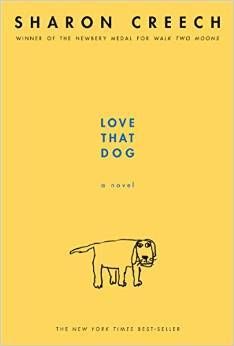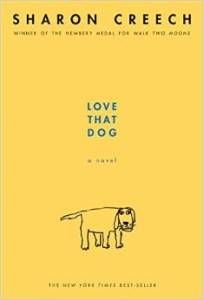 Love That Dog by Sharon Creech
Jack hates poetry. Only girls write it and every time he tries to, his brain feels empty. But his teacher, Ms. Stretchberry, won't stop giving her class poetry assignments — and Jack can't avoid them. But then something amazing happens. The more he writes, the more he learns he does have something to say.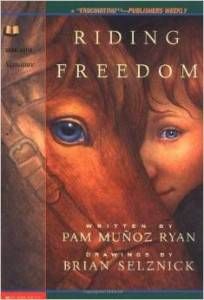 Riding Freedom by Pam Munoz Ryan
In this fast-paced, courageous, and inspiring story, readers adventure with Charlotte Parkhurst as she first finds work as a stable hand, becomes a famous stage-coach driver (performing brave feats and outwitting bandits), finds love as a woman but later resumes her identity as a man after the loss of a baby and the tragic death of her husband, and ultimately settles out west on the farm she'd dreamed of having since childhood. It wasn't until after her death that anyone discovered she was a woman.