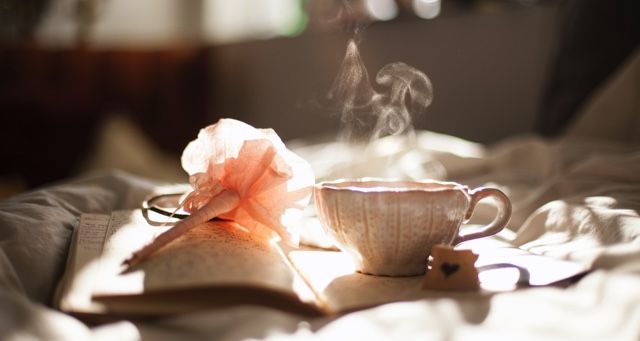 Lists
Tea and Book Pairings For Your Afternoon Cuppa
This content contains affiliate links. When you buy through these links, we may earn an affiliate commission.
I start each day with a large cup of strong, sweet coffee. After that, though, I'm a strict tea drinker. Tea is the mostly widely drunk beverage, after water. Tea is antioxidant rich and available in an innumerable varieties of flavors, including bookish varieties. Nothing goes better with a cup of tea than a good book. Try these tea and book pairings for your afternoon reading session.
Earl Grey is a classic, floral black tea taken with afternoon high tea. Best served piping hot and sweetened slightly with a dash of milk, Earl Grey pairs beautifully with a comedy of manners, such as any of P.G. Wodehouse's Jeeves and Wooster novels. In The Code of the Woosters, an 18thcentury cow creamer has gone missing from the family estate, leaving everyone including Aunt Dahlia in a tizzy. Leave it to Jeeves and Bertie, but mostly Jeeves, to solve the mystery in time for tea.
Jasmine Green is a floral and earthy tea. Next time you go out for Sunday "Yum Cha" (literally "drink tea" in Cantonese) don't forget to pour your neighbor's jasmine before your fill your own cup. Between the torrential downpours and relentless air con of Hong Kong, a steaming cup of jasmine is always welcome. Pair up your lunchtime jasmine with Lucky's eating tour of HK in Somewhere Only We Know. Follow young photographer Jack as he takes (not so) secret K-pop star Lucky on a day out she won't forget.
Irish Breakfast is my choice tea. I drink at least one cup every day, rain or shine. In my opinion, it goes perfectly with every book. Irish Breakfast is a bit stronger and sweeter than its English cousin, best served sweetened and with milk. Favorites, like Irish Breakfast should be revisited often, with gusto. Hence, Ella Enchanted. If the Cinderella retelling isn't for you, swap in a book you treasure.
Sweet Tea is a southern summer classic. It is impossible to survive a humid southern summer without a pitcher of almost cloyingly sweet tea always in the fridge. Look away, British persons, sweet tea is iced. The Little Friend is a beautiful, masterfully woven novel set during a long, hot Mississippi summer. Twelve year-old Harriet seeks the answers to the unsolved murder of her older brother. You'll want a few pitchers of tea for this one; The Little Friend is deliciously lengthy, with measured prose that might last you all summer.
Blooming Tea, or Flowering Tea is created by bundling precious tea leaves around whole dried flowers. When boiling water is poured over the bundle, it "blooms" to reveal a beautiful flower. This tea is best experienced in a glass tea pot so that you can watch the flower open. Combining classic Chinese teas with modern teas and trends, has brought Blooming Tea to the tea spotlight in the last few years. A Hero Born is a Chinese classic, in print in the US for the first time! The Kung Fu epic spans from the Song Empire to the arrival of Genghis Khan.
US Publication Date: September 2019
Moroccan Mint is an essential part of Moroccan daily life. Green tea leaves are soaked in boiling water for 15 minutes before adding it is filtered, sugar, and mint leaves are added and boiled again. This tea is served immediately to guests upon entering a Moroccan household. In Mirage, Amani is a dreamer living in the Valthek controlled empire, a Moroccan inspired star system. Amani becomes unwitting body double for the cruel Princess Maram, her life in danger at every turn. Heat up the kettle and get the adventure started with Mirage, its sequel is expected some time next year.
Masala Chai and variations are enjoyed worldwide, but the spicy, sweet beverage originated in the Indian subcontinent. Black tea, cardamom pods, sugar, cinnamon, ginger, and other spices are brewed either in water in directly in milk to make a deliciously flavorful drink perfect for any time of the day. Tell Me How You Really Feel is a sassy and sweet rom-com featuring aspiring filmmaker Rachel and her perfect leading actress Sana. However, the two don't have the greatest working relationship since Sana once asked Rachel out and Rachel assumed it was a prank. The layered spices of chai flow beautifully with this multifaceted YA novel.
Chamomile is the tea you reach for at bedtime, or in the middle of the night when you just can't go back to sleep. It is made from dried chamomile flowers and can be served hot or cold with honey or unsweetened. The High Mountains of Portugal is a tender and sweet trio of fables, with a dreamy, fairytale like quality, set in rural Portugal. The stories contain questions of life and love, wrapped up in language that will help send you peacefully off to sweet dreams.
Green tea grown for matcha is specially grown in a slower, shaded process, which boosts flavor and aids in the production of amino acids. Only the best leaves are selected to be dried and ground into a fine powder. The tea is traditionally prepared in a small bowl, then hot water is poured over, and a bamboo whisk is used to create a froth. Matcha is often used, in Japan and worldwide, in patisserie and world class cooking. Through her love of cooking, Mikage the protagonist of Kitchen, works through her grief of losing the grandmother who raised her. Like Mikage, matcha needs special care in order to be at its best. Mikage creates a found family for herself, while letting herself grow and change with time.
Rooibos is an herbal tea from South Africa, with a rich, red color and an earthy taste. The color is achieved by an oxidation process. Rooibos can be enjoyed in a similar manner to black tea, hot or iced, with milk, sugar or honey, or plain. Rooibos is not technically a tea, but that's where you'll find it in the store. Born a Crime is comedian Trevor Noah's memoir of growing up as an illegal mixed raced child in South Africa. Noah's childhood was spent hiding, for being not one race or the other. Between essays of Noah's boundless energetic spirit and heartbreaking realities, you will find hope and reflection.
Need some gift ideas for the tea drinkers in your life? Check out these 25 Literary Tea Gifts and Accessories