Essays
Beyond Reading The Cards: The Use of Tarot in Fiction
This content contains affiliate links. When you buy through these links, we may earn an affiliate commission.
Tarot cards have lingered on the edges of my imagination for several years. I was fascinated by how famous artists like Salvador Dali had made their own decks, drawing on their iconographic vocabularies. But recently, I came across a book that stopped me in my tracks: Claire McMillan's recently released Alchemy of a Blackbird. Starting during World War II in Vichy France, the book tells the story of the friendship of artists Remedios Varo and Leonora Carrington, who were on the outskirts of the surrealist movement. Tarot is a vital center of the book, starting with Varo's desire to learn to read the cards, and it is used in the structure of several chapters.
Previously, I had encountered tarot cards in fiction in Italo Calvino's The Castle of Crossed Destinies (1973). In it, a group of travelers meet in a castle and later a tavern, but all have lost the power of speech. They must use tarot cards to tell each other their stories with the corresponding cards in the margins of the book.
Between Calvino and McMillan's works, I became fascinated by the use of tarot cards as a device in fiction. So I decided to talk with McMillan and explore scholarship about Calvino's work to find out more.
Self-Discovery
While most people associate tarot cards with fortune telling, McMillan explained that people could use tarot cards as a means of self-expression. When asked why she included tarot cards within the text, McMillan explained that the cards can help bring something to the surface that you feel but cannot put into words.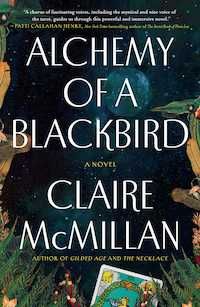 While the book is mostly told from the point of view of Varo, McMillan ends almost every other chapter from the perspective of a different character in that chapter. Each one is represented with a tarot card. She wrote Varo's chapter first and then went back to think about what type of card related to the character or energy of the scene. Creating her own definitions for the cards was one of the hardest parts of the book for her.
In Calvino's work, the tarot cards are the essence of self-expression. Without the ability of speech, the travelers must find and use tarot cards to tell and share their stories. Gretchen Busl, in an article for the Modern Language Review (2012) called "Rewriting the Fiaba: Collective Signification in Italo Calvino's Il Castello Dei Destini Incrociati," explained, "using the tarot deck as a combinatorial device to create a text that explores the capacity of literary language to express those experiences which may be considered unspeakable." Echoing McMillan's words, tarot cards become the means of expression when words fail.
Misconceptions
McMillan also wanted to clear up some fundamental misunderstandings of the cards. Notably, she decided to include the tarot card of Death. People outside of tarot have a fear that the death card foretells their death or a loved ones, but within the tarot community, the card signifies a cycle of death within a life, something that is falling or needs to fall away, like a bad relationship or a friendship. Rebirth is part of it. She wanted to put out more "insightful or useful ways to look at the cards."
Message is the Medium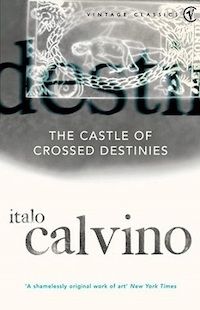 Particularly in Calvino's work, tarot cards are both the medium and the message. Busl wrote: "The tarot desk functions not only as an inspiration for the individual stories narrated within the book's framing device, but as a metaphorical 'literature machine' that offers unlimited possibilities of meaning." The literature machine refers to Calvino's disbelief that tarot cards are "a machine for telling stories."
Busl explains that not only were cards used to construct the stories themselves but referred to the process of meaning-making. Busl wrote, "the fact that any given one of the countless combinations of words and sounds that will have its own significance means that we arrive at new meaning through the imaginative use of existing signs." In other words, tarot cards, like the very stuff of language, can be combined in seemingly countless ways to derive significance. Meaning derives from the combinations of elements.
For McMillan, tarot cards not only provided the structure of the book and a continuing plot line, it also served to support other themes of the book of creativity, women's work, and friendship. Notably, McMillan included a chapter segment from the point of view of Pamela Colman Smith, years before Varo and Carrington's stories begin. She is the illustrator of the best known tarot cards Rider-Waite-Smith deck, but for many years, her contributions were diminished in favor of the man who commissioned her, Arthur Edward Waite. (Until recently, the deck was simply known as the Rider-Waite deck).
The story aptly parallels Varo's own story as an artist. Varo is constantly diminished by the surrealists who see her as a groupie or hanger-on of French poet Benjamin Peret, who even reuses her own words in his work without crediting her. Even her interest in tarot cards is scorned, simultaneously a woman's concern and a silly deck. But it is Carrington who believes in her genius and supports her throughout.
And it may go without saying that the spiritual/alchemical aspects of Varo's work (as well as Carrington) goes hand in hand with tarot cards. She even named a painting "Tarot Card."
The Future of Tarot Cards in Fiction
It's fascinating how both authors have explored tarot cards as a means of self-expression and a medium of meaning making, but the texts are so different. Calvino's book feels allegorical and out of folkloric traditions while McMillan's is more of a narrative of Remedios Varo's life from WWII.
While working on this article, I came across this apt quotation from Sasha Graham in Tarot Fundamentals: "Books are like Tarot decks. They provide answers and guidance but more importantly, they are doorways and portals to the otherworld and the imagination. They leave their imprint and keep whispering to us long after we close the pages or shuffle the deck."
---
I know that there are several fantasy series who also use tarot cards in different ways, which I look forward to reading and seeing how they use the decks in both the form and function of the story. Want more on tarot cards? Here's a list of books to get started. And here's an article exploring authors as tarot cards.