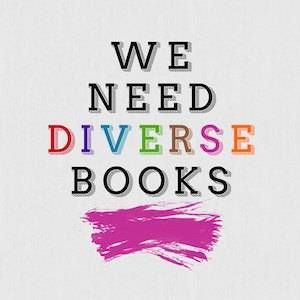 News
Talking With the Voices of #WeNeedDiverseBooks
This content contains affiliate links. When you buy through these links, we may earn an affiliate commission.
Yesterday here at Book Riot, Jill told you about #WeNeedDiverseBooks. To recap, this campaign wants you to take a picture of yourself holding a sign saying why diversity in literature matters to you. Release of these photos starts today in an effort to demonstrate the number of people impacted by the whiteness of events like BookCon and the world of publishing more generally. All the details are available here, but I was lucky enough to catch up with one of the organizers, Ellen Oh, to find out more (and you can meet the rest of the fantastic #WeNeedDiverseBooks team here).
Tell me a little bit about the #WeNeedDiverseBooks project. How can people get involved?
This project came about from a twitter conversation I was having with Malinda Lo and Cindy Pon, Lee and Low Books, and Megan O'Sullivan of Braun Books. Malinda and Cindy have done such an awesome job with Diversity in YA so it was no surprise that they would start tweeting about the lack of diversity at BookCon. I was just so angry and disappointed so I joined the conversation as did the others. I couldn't get over the fact that here we were in 2014 and we still aren't invited up to the big boy's table. And then more and more people began to chime in on the conversation. At one point I think I was having multiple conversations with a lot of very indignant people. And something just snapped inside of me and I said – we have to do something big. I don't know what it is, but it has to be big and it has to make people take notice. I kept thinking about Dr. Seuss's Horton Hears a Who. We are all out here shouting "We Are Here" and nobody can hear us. But if more and more people joined us, we could finally break through the barrier that is keeping us from being heard. The whole idea of #WeNeedDiverseBooks campaign is about the need for people to get involved. We need every single person who cares to do something and let their voice join with ours because their one voice might be the one that makes the difference.
If we can get as many photo submissions as possible, we want to unleash our pictures and our words out on to the world and let them know just how important diversity in books really is. It doesn't have to stop on May 1. Photo submissions can be ongoing because this fight is not ending any time soon. Also, people can join us for our twitter chat on May 2 at 2pm EST and help us make #WeNeedDiverseBooks a trending topic. Then the most important part comes on May 3, where we will do a Diversify Your Shelves chat at 2pm EST about how we can really make a difference – by buying diverse books, requesting our libraries to order them, and providing tangible support to all of our diverse authors! Because we need to break the belief that "diverse books don't sell" once and for all!
What motivated you to take this on?
I'm Korean American and I have 3 daughters. The importance of diversity started when I was a little girl and couldn't find anything I could relate to in all the books that I loved so much. But when I had my kids, this became an ache inside of me that wouldn't go away. So I wrote a book with an Asian girl hero. But it wasn't enough. And as I met other authors who, like me, were writing diverse stories, it became clear that this was not an easy road for us. Just getting published was not enough. Getting our books out into the hands of readers seemed far harder for us. And yet when I'm at an event and I get talking to young readers, it is amazing to see how eager they are for the new and different. They want diversity, they just don't know how to ask for it. When events like BookCon completely ignore diversity, it's not just a slap in the face to minority and underrepresented authors, it's harmful to all our kids because diversity is good for everyone. But it is most harmful for kids from marginalized groups who are looking to see themselves represented.
Our readers are very familiar with the controversy at BookCon. Can you speak more about your reaction to that situation?
To be honest, the whole controversy about BookCon was a huge outrage because of the all white male kid lit panel. Because there are so many wonderful women authors in kid lit and YA, the response was swift and furious. But let's be honest, there have been many festivals and conferences where there have been no minority authors at all, and there hasn't been this type of outrage. It took the voices of outraged white women to raise the lack of diversity issue to another level, past where we minority voices have and had already been expressing our frustrations. But I'm grateful. I'm not going to complain because I'm more focused on change and we need everyone's help if we are going to make that happen. I want what is happening to BookCon to raise the scrutiny on all events moving forward. I don't want everyone to go back to complacency. Because this is an ongoing issue with most marketing events. For example, not that long ago, I attended a big conference that had a panel on the need for diversity in kid lit. But the entire panel was made up of white men and women. Just consider the irony of that and see how bad our representation is.
The biggest push-back I see from resistant readers to the idea of diversity is that reading is somehow apolitical or blind. Can you respond to that perspective?
I know I'm going to raise the issue of privilege and these same readers are going to just stop reading. But I would ask them not to take it as a negative. We all have some privilege whether it is gender, race, social status, financial, ableism, etc. Having privilege is not a bad thing. It is how you apply it to others that becomes problematic. That's why you always hear people saying "Check your privilege." It's about respect and empathy. Check your privilege is saying let's have a little respect for other person who doesn't have your privilege. If a reader doesn't think diversity is an important issue, that ideal comes from a place of privilege where they have never had to wish for a hero that looked like them. They have never walked into a bookstore, and been overwhelmed and depressed or angry at seeing row upon row of pretty white girls on covers and not one person of color. They have never believed that they couldn't grow up to be a writer simply because they were the wrong color. So I say to them, please try and put yourself in another person's shoes and understand that your view of the world is very different from ours.
And because we're all here because we love books: hit me with five must-read titles.
Oh boy, just 5? That's pretty much impossible for me. Well, we are talking diverse books so I pretty much recommend anything written by Cindy Pon, Malinda Lo and Marie Lu! But recent books I've fallen in love with include Pointe by Brandy Colbert, Fake ID by Lamar Giles, The Living by Matt de la Pena, Yaqui Delgado Wants to Kick Your Ass by Meg Medina and I just read an ARC for The Walled City by Ryan Graudin who is a white author who wrote an amazing book with Asian main characters set in Hong Kong's Kowloon walled city. Whenever a white author complains about being afraid about writing diversely, I'm going to point them to this book because it is AMAZING! And I have to also include some middle grade titles like Mike Jung's hysterical Geeks, Girls, and Secret Identities, Grace Lin's sublime When the Mountains Meet the Moon, Danette Vigilante's beautiful The Trouble with Half a Moon, and Soman Chainani's fantastic fantasy series The School for Good and Evil. Told you I couldn't do just 5.
Originally from NYC, Ellen Oh is an adjunct college instructor and former entertainment lawyer with an insatiable curiosity for ancient Asian history. She also loves martial arts films, K-pop, K-dramas, cooking shows, and is a rabid fan of The Last Airbender and the Legend of Korra series. Ellen lives in Bethesda, Maryland with her husband and three daughters and has yet to satisfy her quest for a decent bagel.