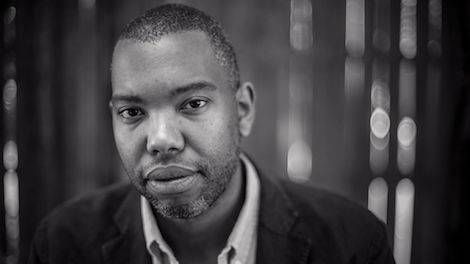 Critical Linking
Ta-Nehisi Coates Talks to Jesmyn Ward About Writing Fiction, Reparations, and the Legacy of Slavery: Critical Linking, August 8, 2019
Critical Linking, a daily roundup of the most interesting bookish links from around the web is sponsored by William Morrow.
---
"This [slavery] is the thing they try to avoid, but it defines everything. We're just getting to the moment where people are.… I don't know if it was too painful before for black writers, for us, to go there. Maybe there's enough distance at this point for us where we can talk about it in certain ways." He notes that writers during the Harlem Renaissance were working at a time when former slaves were alive, so it would have been tough. That writers can go there now, this is the thing that gives him more hope, more than any bit of politics. Once we can go there, "then people will understand they have different myths, and different ideas, and different stories."
A profile on Ta-Nehisi Coates written by Jesmyn Ward with photographs from Annie Leibovitz?! I don't know that we deserve such excellence, but I sure am glad that we got it.
---
"The books are a series of spooky, keep-the-lights-on-forever stories born out of folklore and legends that we all have likely heard throughout the years in varying forms even if we've never read the books. Schwartz did a lot of research through the Library of Congress and American Folklore Society and consulted folklore books like American Folk Tales when coming up with scary stories. The movie adapts several scary tales from Scary Stories to Tell in the Dark (1981), More Scary Stories to Tell in the Dark (1984), and Scary Stories 3: More Tales to Chill Your Bones (1991). What is particularly noteworthy about this trilogy is that it was often challenged between 1990 and 1999 due to its graphic and violent content. Many parents complained that the books were too scary for their children and tried their best to ban them from schools and libraries…"
I never read these books because I was (and am) a giant weenie! For the non-weenie folk, check out this roundup of the stories you can expect to see in Guillermo del Toro's upcoming adaptation.
---
"We all feel love in different ways. It's true—love is a language and we all speak it differently. Maybe you feel love by receiving meaningful, thoughtful gifts? Or feeling your partner's tender, physical touch? How about hearing them verbalize their love and affection? Spending quality, uninterrupted time with your partner? Maybe witnessing positive, affirming acts of service?
No matter how you feel love, you deserve to see it reflected in your books—that way, you can fall in love alongside our protagonists and connect in a whole new way. And friends, after much shelf-diving and heart-searching, I've got the perfect book recommendations for your love language."
What if I have more than one love language? Oh, more books? Cool cool cool.