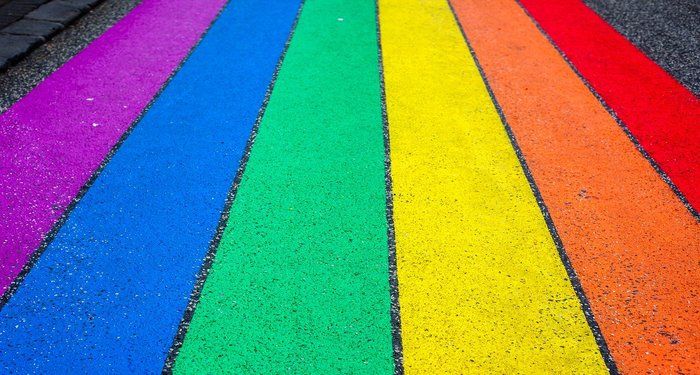 LGBTQ
Sydney Libraries Celebrate WorldPride 2023
Sydney, as a city, LOVES to party – especially during Sydney's Gay and Lesbian Mardi Gras. This year, the party is even bigger as Sydney hosts WorldPride 2023. I honestly don't know how the city is going to contain itself. Official celebrations began on 17 February, with theatre performances, storytelling sessions, art workshops, and photographic exhibitions. Some of the best events are available at our local libraries, often for free or heavily subsidised prices. That's no surprise. Our local libraries have always been a treasure trove of communal knowledge and support, providing safe spaces for everyone in our community. #LoveLibraries
WorldPride 2023 also brings a few more serious events to Sydney's party atmosphere. From 1 March, Sydney WorldPride will host the largest LGBTQIA+ Human Rights Conference ever held in the Southern Hemisphere. There is a special highlight for First Nations queer culture, presenting a First Nations Gathering Space at Carriageworks in Eveleigh. Marri Madung Butbut will promote First Nations creativity, with workshops and events for everyone. On the closing day of WorldPride 2023, over 50,000 people will join the Pride March across Sydney Harbour Bridge. It's a helluva way to end the party, but safe in the knowledge we are walking together into the future.
Wait…What is WorldPride 2023? And Why Sydney?
The first WorldPride celebrations were hosted by Rome, Italy, in 2000. The idea came from InterPride as an event to bring together international Pride communities through parades, festivals, and cultural activities. Subsequent WorldPride events have been held in Jerusalem, London, Toronto, Madrid, and New York City. The last WorldPride event was in 2021, shared across twin cities Copenhagen and Malmö.
Sydney is the perfect venue for WorldPride in 2023. This year marks the 50th anniversary of the first Australian Gay Pride Week, the 45th anniversary of the first Sydney Gay and Lesbian Mardi Gras, and the 5th anniversary of same-sex marriage in Australia. Plenty of reasons to party.
It is important to note Sydney's…colourful history with its Gay and Lesbian Mardi Gras. The big party you see today started in 1978 with the first-ever Gay and Lesbian Mardi Gras Protest. Back then, the Gay Solidarity Group held a day of events in Sydney, with the intent to promote gay and lesbian culture and show their support for the community. It was meant to be a traditional march and public meeting, culminating in a festive street parade at night. Unfortunately, it was met with violence from the NSW Police. Fifty-three people were arrested and many of them were badly beaten inside the police cells. It was a horribly violent and abusive situation, aggravated by the homophobic environment found in Sydney at the time. Through determination and support from the wider community, the NSW Department of Prosecutions was convinced to do the right thing and drop all charges. Eventually, the Mardi Gras march continued in 1979 without incident or violence.
Today, Sydney's Gay and Lesbian Mardi Gras Parade has become one of the biggest events in the world. It is a celebration of love and recognition, embracing the entire LGBTQIA+ community and welcoming all allies. Events usually stretch over weeks (if not the whole month), with many available in our local libraries and public spaces. The main event is always the parade, taking place this year on Saturday 25 February and returning to our famous Oxford Street (after a COVID Hiatus). Leading up to the party, the street will be decorated with living colourful floral art and a bright Pride theme on Taylor Square fountain. The Pride flag will also fly high on George Street in the Sydney CBD and a rainbow crossing will be installed in Prince Alfred Park.
Where to Start Your WorldPride Party in Sydney
Learn about the Pride History of Paddington with Pride Amplified, presented by Scott McKinnon, VP of Pride History Group. It's a fascinating opportunity to share the LGBTQIA+ history of Paddington Town Hall. It is the heart of queer celebrations and key activist events, like the start of Sydney's first Gay and Lesbian Mardi Gras Protest (as mentioned above). Pride Amplified starts at 11 a.m. on Wednesday 22 February 2023 at the Paddington Library. It's a free event with pre-booked tickets available on the website here.
There are more historical exhibitions available in Sydney's Northern Beaches. On Saturday 18 February, Manly Library will present multiple screenings on the documentary, Witches and Faggots, Dykes and Poofters (One in Seven Collective, produced by Digby Duncan, 1980). The documentary has recently been digitally restored by the National Film and Sound Archive, and tells the story of the first Sydney Gay and Lesbian Mardi Gras protest in 1978. Once again, it's a free event made available by the library, with details found on the website here.
Manly Library also has a fantastic photography exhibition, opening with a presentation for the public on Wednesday 22 February. So many gorgeous images, capturing the beauty of Australia's iconic beach lifestyle and the powerful people who watch over it. My family is closely connected with Surf Lifesaving here in Sydney, and it is quite emotional to see the pride and diversity of our members on display. It really highlights the inclusivity of our Surf Life Saving community and I genuinely couldn't be prouder. For details, check the library website here.
Colour Your World With Pride
My absolute fave event on the list for WorldPride 2023 is going to be the Drag Makeup Tutorial with Ruby Royale at Waverley Library. Now, I will be honest: I hate makeup and rarely ever wear it. But I'm willing to learn from the professionals. I love how Drag Queens use colour and decoration to celebrate their beauty. I have never truly understood how long it takes to put on the makeup, nor the huge amount of skill to do so. What better way to learn than with a tutorial at the local library? At the time of publication, there were still tickets available for $15 on 28 February (details here). Take notes or bring your own makeup and brushes to practice along with Ruby.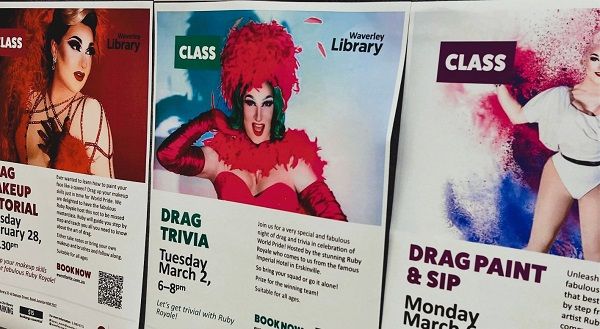 If you're looking for a bigger canvas, Ruby is also running a Paint-and-Sip session at Waverley Library. All art supplies are provided while Ruby guides you through the process to create your own Drag persona. This event is also $15, with details available on the website here.
Share in WorldPride 2023 Online
Libraries are traditionally known for the books, so naturally they will have a few events that are literature-related, too. The best part is you can join online from anywhere in the world. Right across the City of Sydney, libraries are hosting Pride Amplified Storytime. These fun-filled storytelling sessions are perfect for pre-schoolers AND they are available ONLINE!! Kids all around the world can enjoy the reading sessions! Each story is presented by LGBTQIA+ individuals, along with an AUSLAN interpreter. Follow the links on the official Pride Amplified website here. Or if you're looking for a grown-up book session, you can also join the Online Book Club, celebrating Pride month with their zoom session on 30 March 2023.
Take Your Learning Outside the Library
Okay, I have one more special event for WorldPride 2023 and Sydney's Gay and Lesbian Mardi Gras. It's not held at the library, but it's so awesome that I had to include it on my list: Sydney Roller Derby Pride Fight 2023. Beginning in 2013 as "The Battle of the Bent Track", Pride Fight is a Sydney Roller Derby League tradition specifically for celebrating the LGBTQIA+ community. Queer skaters from around Australia will join the 'potluck' teams of Butch and Femme in a fun exhibition battle celebrating LGBTQIA+ culture in roller derby madness. Buy your tickets on the website here. It's going to be AWESOME!!
---
For more information on Sydney WorldPride 2023 and its events, head to the official website here. If Sydney WorldPride 2023 isn't enough for you (to which I express a very exhausted "WHUT?!"), check out our Literary Tourism special on Sydney here. It includes a list of great cafes, libraries, and bookshops to guide you around the Emerald City. Or if you're looking for more reading material before the Online Book Club meet, fellow Book Rioter Laura has curated Your Queer TBR for February here.
Happy WorldPride, everybody!!