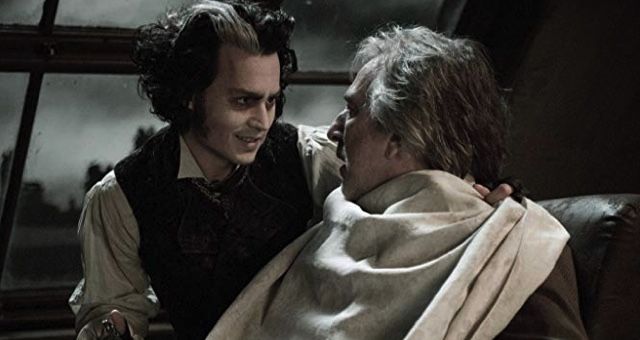 Fiction
Sweeney Todd: Attend the (Completely Fictional!) Tale
This content contains affiliate links. When you buy through these links, we may earn an affiliate commission.
Content notice: this article and its links describe cannibalism and murder.
Being a former musical theater kid will always be a part of me. Around Halloween, I like to watch or listen to Stephen Sondheim's 1979 stage musical, Sweeney Todd: The Demon Barber of Fleet Street. The movie has good performances, but I prefer the play. Johnny Depp and Helena Bonham Carter are talented actors but the wrong voice types for the roles, in my opinion. Mrs. Lovett and Mr. Todd should be, respectively, a powerful alto and baritone.
The Musical's Literary Sources
The character of Sweeney Todd originated in The String of Pearls, a penny dreadful by an unknown author, first published in England in 1846–47. The basic plot will be familiar to fans of the musical and movie: a barber and a baker collude to murder people and bake their remains into pies. Later adaptations changed the story significantly. The original story contains a young woman named Johanna, who has no relation to Sweeney Todd. In the musical, she's his daughter. Also, unlike in the musical, the original Sweeney Todd and Mrs. Lovett are business partners only, never lovers. They're thieves motivated by evil and greed, but not revenge.
A few years before The String of Pearls, a much more famous serialized writer, Charles Dickens, referenced "those preparers of cannibalistic pastry, who are represented in many country legends as doing a lively retail business in the metropolis" in his novel Martin Chuzzlewit (Dickens 495). Dickens and other popular writers mentioned mysterious urban legends, which were probably familiar to their readers.
In 1973, Christopher Bond premiered his play Sweeney Todd, The Demon Barber of Fleet Street. The story had already been adapted into films several times. Bond tried to make Todd a more sympathetic villain by adding a tragic backstory. After being exiled to Australia for 15 years on bogus charges, Todd returns to London, seeking a reunion with his family—and then revenge. This is the basis for Stephen Sondheim and Hugh Wheeler's stage musical, which Tim Burton made into a movie in 2007.
Fact vs Fiction
Some fans of the movie or musical might not know that the story originated from a book and has had many adaptations since. In this section, I'll refute a couple of myths and misconceptions about Sweeney Todd.
It's not based on a true story. Within a year or two of its publication, other writers began adapting The String of Pearls, claiming it was based on fact.
However, there's never been any historical evidence for Sweeney Todd's existence or his crimes. Similar urban legends, from London to Paris, conflated fact and fiction and got exaggerated quickly, with vague sources. A newspaper publisher served jail time for libel for publishing an unsubstantiated rumor about cannibalism.
In 1993, controversial author Peter Haining published Sweeney Todd: The Real Story of the Demon Barber of Fleet Street. Historians have debunked Haining's research, saying what he called nonfiction is a hoax with made-up sources.
It's not set in the Victorian era. Queen Victoria reigned from 1837 until 1901, but some people call any story set a century or two ago "Victorian." This is an easy mistake to make, especially if you never majored in English lit or European history. Although it was first published in 1846, during the Victorian era, the original Sweeney Todd story takes place in the earlier Georgian era: 1785. I remember at least one character having a photo in the 2007 movie, which would have been impossible in 1785. So, scriptwriters either didn't know the year in the original version, or they changed it.
Maybe I'm being pedantic about one of my many obsessions. Like other historical fiction, though, The String of Pearls uses an earlier time to explore current fears. The Industrial Revolution in England started in the 18th century. Many Europeans moved from small villages or towns to huge cities, like London and Paris. They shifted from growing their own food or knowing local farmers, bakers, and butchers to being unsure where their food came from. Some people interpret Sweeney Todd as symbolizing fears of industrialization: literally or figuratively becoming an anonymous cog in a machine.
In 18th century England, property crimes like theft were capital offenses, punishable by hanging. To modern historians, this seems like a classist attempt to criminalize poor people. Ironically, these strict laws ended up unintentionally incentivizing murder. Obviously, some robbers and rapists still murder their victims. When thieves knew they'd be executed anyway, even petty theft could easily escalate to murder.
With reforms in the 19th century, fewer crimes were classed as capital offenses. There were still infamous, anonymous serial killers in major cities, such as Jack the Ripper in London. Like Sweeney Todd and Mrs. Lovett, they often chose vulnerable victims, like sex workers or lone travelers, who might be isolated or estranged from friends or family.
Although it's fictional, the Sweeney Todd story has endured for over 250 years because it draws on primal fears and taboos. There's cannibalism, being forced to participate in it unknowingly, and the desecration of bodies. It also amplifies fears about public health: the food we eat might not be safe or lawful. In modern versions, Mrs. Lovett's chimney even makes London more polluted. The idea of being attacked or murdered, with no one to help or even notice, helps make this a timeless horror story.
Further Reading
10 Musicals You Probably Didn't Know Were Books First
50 Must-Read Books for Musicals