Interviews
SANTA CRUZ NOIR: The Susie Bright Interview
This content contains affiliate links. When you buy through these links, we may earn an affiliate commission.
"What makes Santa Cruz different from other California seaside towns? We have serious bragging rights. The Hawaiian princes brought surfing to the mainland, when they first paddled out on our San Lorenzo River mouth in 1885. Their aloha is one of the best things to happen to us." – Susie Bright, from the introduction to Santa Cruz Noir
June 5th will be a good day. It is the day when Akashic Books will release Santa Cruz Noir, edited by the esteemed anthologist and writer Susie Bright.
Santa Cruz Noir is the latest addition to the literary travelogue series from the Akashic Books Noir – a series of brilliant anthologies that explores the hearts of darkness among the cities examined.
I am a compulsive noir reader: it is my way of perceiving the world. The world experienced without any illusion or pretense. Where bad things happen to good people and we are left without easy answers as to why.
"Noir is the literary equivalent of the blues," writes David Ulin, editor of Cape Cod Noir. "[T]hat air of desolate clarity, of a character staring into the abyss as the abyss stares back, is still the form's defining sensibility, a cry in the darkness of a world that is, at best, apathetic, and at worst, in violent disarray."
Santa Cruz Noir delivers on noir sensibilities with an extra twist: it's that California mythology. "Ray was still trying to be a good family man," writes Santa Cruz Noir author Seana Graham in her story "Safe Harbor." "But he felt that there had been a divine dispensation that had allowed him to reach California, that somehow he'd been absolved of everything in advance."
"All the strict rules of childhood, the black-and-white way of seeing things that had followed him into adulthood, had simply dropped along the roadside on the way west."
It is this noir ethos that defines Santa Cruz Noir. After arriving at California's golden shores, life surely will be better. There is no place further to go.
I had the great good fortune to ask Susie Bright about how she compiled Santa Cruz Noir.
NS: Tell us about the process used for collecting these great stories; did you send out a call for submissions? Were some of the contributors' friends and colleagues in Santa Cruz? What details can you share with us?
SB: My associate editor, Willow Pennell and I, reached out to all the authors we knew who either currently live in Santa Cruz, or spent a significant time of their life here. I've edited forty anthologies, and one really gets to know the working writers in force today. Within that group, you need to know WHO, can whip out a brilliant original short story on a deadline.g favorite. The best folks for the Noir series are writers who are keeping their chops intact, writing short stories regularly. Frankly, there aren't enough venues to keep people practicing, but that is the case of all American writing today – we're being starved to extinction.
Willow and I also brainstormed a list of all the neighborhoods, geographic touchpoint, historical highlights that we might want to include. We bothered everyone we knew for months, but that was fun. I'm very proud to have four newcomers here: Dillon Kaiser, Tommy Moore, Jon Baliff, and Sean Graham.
For ourselves, and for Akashic's mission, there's a focus on seeking non-traditional noir interpreters, where the protagonist isn't by definition "Humphrey Bogart in Maltese Falcon," as lovely as he is. We stay awake to the POV of unconventional women authors, and people of color who aren't the tragic mulattos, etc. – but rather the eyes that take us everywhere. I think we ended up with a nice mix of many recognizable Santa Cruz archetypes.
In Santa Cruz County, that reflects regional Mexican nationalists, Hispanic 1st, 2nd and 3rd generation, our Ohlone roots, the white working class diaspora – which is as diverse as anything in Southern Ohio – the Portuguese, Filipino, Japanese, Polynesian communities, the Silicon Valley arrivals – and how everyone intermarried! Then, you have the international culture from the university, the hippie/psychedelic/music scene, the crushing surf legacies.
One thing leads to another. I must give a shout out to Ariel Gore, one of our authors, who drilled me on the genre, and introduced me to writers Margaret Elysia Garcia and Maceo Montoya. Ariel is currently editing New Mexico Noir.
Our local indie bookstore, Bookshop Santa Cruz, was a huge resource. We have two authors from the bookstore who are beloved ex-staffers. The Bookshop's support for us was a gateway to the entire writers' community. That makes me so proud.
NS: Did you send out a call for submissions?
SB: In my social media and emails, yes. I didn't take out a public ad. I knew I could only have a limited number of people, so I wanted to ask my favorite sure-bets first, then expand by referral.
Honestly, I have enough great material for a sequel. It nearly killed me to trim the group.
NS: Were most of the contributors friends and colleagues?
SB: Six were my longtime friends – from my history in literature, arts and politics. I'm lucky so many jumped on it; it's a hard thing to ask for. No one does this for money or mainstream fame!
Two were colleagues I know from the local writing scene who I admired and knew would be ideal.
The other twelve are all new to me, although I certainly have become friends with several of them now. That is the best benefit of editing!
NS: As with other Noir collections in the series. some of the stories deal with the dislocation of communities, generations routed from their homes because of gentrification. A few of the stories in Santa Cruz Noir take this thread on, especially "First Peak," with that surfer placing the magic talisman in strategic places and that nasty unhinged property owner in "Flaming Arrows."
SB: No SHIT! I could easily do a collection of a hundred stories called "Gentrification Noir" and they would all be set in my neighborhoods!
Class war, with its race-resentment overtones, is alive and driving our noir. It is our tragedy. I'm sure you noticed how often the murderer's hubris and errors were driven by their prejudicial blindness.
The parts that made me laugh, and cry, the most, were those moments. What a miserable species we are! We don't take care of each other.
NS: Noir mirrors the social anxieties of our times; so, the question is: did you notice any other connecting themes?
SB: I always do, every anthology has its zeitgeist. I edited Best American Erotica, for fifteen years at Simon & Schuster. The most gripping plots focussed on something that was tearing society apart. For example, the AIDS epidemic literally triggered the contemporary vampire genre, which you saw emerge from Anne Rice, and the TV series True Blood. It all started with short stories ripped from theheadlines.
NS: Did you and Willow see how these stories reflected some of the harshest aspects of today's society?
SB: Of course. "It's funny because it's true," and it's heartbreaking because it's the truest.
With one of my authors, I made him laugh, because in his first draft, he allowed his lovers to be happy in the end. I called him up and said, "Would you rewrite the ending? Tragedy! You have to stomp on my heart and slice it in two. I want to be on the floor, sobbing." And he did, of course.
No one submitted a story that wasn't timely – all grim or satiric or commentary on how life falls apart, and the nostalgia we carry for what might have been, if people and nature mattered instead of money and ego. I loved editing a book about a "beautiful" place that hides a multitude of sins. But it doesn't hide them very well!
NS: What hooked you on the genre; any particular books or films?
SB: Cinema, for sure. Studying surrealism, cinema, erotic history. I have my late dad, Bill Bright, to thank for endless movie dates and the great conversations we had about them all. My old homestown, Los Angeles, used to have many repertory theaters with classic films (The Nuart, the Venice Fox, the Los Feliz, and countless others in Hollywood) and we practically LIVED there.
I inhaled Dashiell Hammett's novels and regularly teach writing skills I learned from his Red Harvest. That title will teach you how to write violence, how to write the visceral.
I've produced about fifty Akashic Noir editions for Audible Studios, so I've had the pleasure of casting and pouring over hundreds of these superb contemporary stories. I loved casting Cheech Marin in Reed Farrel Coleman's "Another Role," (from Indian Country Noir); Will Patton in Wade Krueger's "Bums" (from Twin Cities Noir); and Ice-T in C.K. Williams' "Newark Black: 1940-1954." (from New Jersey Noir).
____________________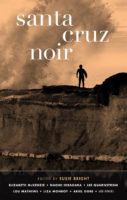 On June 5 visit your local bookstore or your local library and check out Santa Cruz Noir. It will slay you with its beautiful secrets exposed or, as Susie Bright writes in her Santa Cruz Noir introduction, "There's no beauty like a merciless beauty-and like every crepuscular predator, she thrives at dawn and dusk. You're just the innocent we've been waiting for, and with your big paper cone of sugar-shark cotton, whipped out of pure nothing. We have just the ride for you, the longest tunnel ever. Santa Cruz is everything you ever dreamed, and everything you ever screamed, in one long drop you'll never forget."
Also In This Story Stream