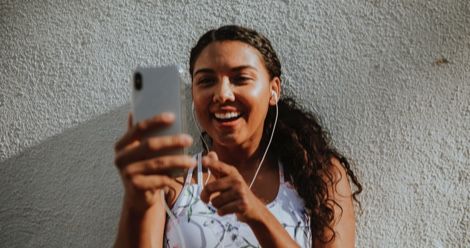 Critical Linking
Survey Finds Audiobook Listens Continue To Rise! Critical Linking, May 1, 2019
Sponsored by our giveaway of $100 to spend on YA lit!
---
Half of all Americans over the age of 12 have listened to an audiobook in the past year, according to a new consumer survey and research report from Edison Research and Triton Media, conducted on behalf of the Audio Publishers Association. This is up from 44% of in 2018. The further penetration can be attributed to more users listening in cars. According to the new report, 74% of audiobook consumers listen in their car, up from 69% in 2018, and 19% percent of Americans age 12 and older have access to an in-dash information and entertainment system in their (or their family's) vehicle, up from 15% last year — of those, 62% who have in-dash systems have listened to an audiobook.
Home listening is second most popular way of listening to audiobooks, with 68% of respondents saying they listen at home, down from 71% in 2018. The survey revealed that 42% of audiobook listeners age 18 and older own a smart speaker (Alexa or Google Home device, for example) and of those, nearly one-third are using them to listen to audiobooks.
Becoming an audiobook listener changed my reading life and I love seeing it growing in popularity.
---
"Readers are speaking up about what they want to see in the world," said Mia Sosa, author of the Latinx and African-American love story "Crashing Into Her: Love on Cue."
"I've seen calls for stories where the main characters are older, stories where one or more of the characters are divorced. You wouldn't think that that's out of the box — because in my mind, it's not out of the box — but for romance publishing, it is," she said.
Marissa Backlin and her mother, Roseann, are slated to open a romance bookstore in Tinley Park in June. As a special education teacher, Marissa Backlin said she would love to see more stories featuring people with disabilities that aren't all about pain, tragedy and ableism.
"Everyone deserves a happily ever after, regardless of race, cultural background, sexual identity or physical ability." Could not agree more!
---
https://twitter.com/justinaireland/status/1121399963852918791