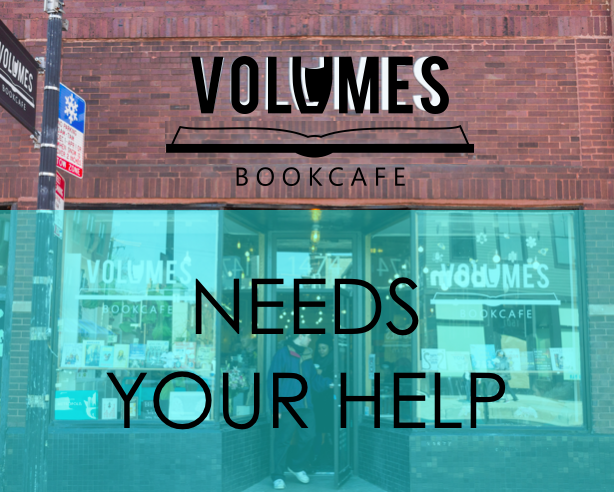 A beautiful bookstore in Chicago is in debt. Volumes Bookcafe, only two years old, needs your help. It's an important place in the city — in Wicker Park, to be exact — with books (yes), coffee (yes), and kickass community events (yes yes YES!).
It also has this wall of naked hardcovers, and I just love it so much:
The IndieGoGo campaign is about halfway funded with two weeks to go. They have great perks set up, like handmade literary buttons, tote bags, subscription services, author book club events, and more. Authors like Roxane Gay and Audrey Niffenegger have donated signed copies of their books as perks, too.
There's also an anthology called Bookstore Erotica in the works?? I don't even need any more information — I need to get my hands on that. And what better way than to support an important Chicago indie bookstore on my way to getting a copy?
We at the Riot love Volumes. When a herd of Chicago Rioters met up for a bookstore crawl, we made Volumes the highlight of the trip. It's cute and cozy. It's welcoming. The staff is friendly. If I lived in the city instead of the suburbs, I would probably come there frequently to hang out and buy too many books.
But Volumes is more than just a bookstore with a coffeeshop inside of it. It's a community center. It's the host of fabulous author events and readings. It's the place for children's storytimes. It's a safe space for readers and writers.
Heidi Stevens at the Chicago Tribune wrote of Volumes: "I like 'You've Got Mail' as much as the next guy, but I've always believed it would have a different ending were it set in Chicago — a city that names its streets for writers, a city where stories and those who tell them are woven into our soul. We'll see…"
I'd hate to see this lovely bookstore fall to a similar fate. Volumes needs us. And we need it.