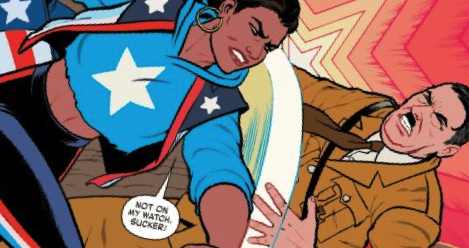 This content contains affiliate links. When you buy through these links, we may earn an affiliate commission.
Between Wonder Woman, Supergirl, and the ladies of Agents of S.H.I.E.L.D. and Legends of Tomorrow, it's starting to feel like the dawn of the age of superheroines. And about time, too!
But unfortunately, there's still a lot of catching up to do. Women remain vastly underrepresented, both in comics and behind the scenes. According to some stats on gender makeup in comics, as of January 2017 less than 20% of credited creators at Marvel and DC were women. And female representation in the comics is only a little better at around 35%.
Marvel and DC clearly need to step up their game, but there are quite a few badass ladies to get excited about in the meantime. So if you, like me, are always looking for another great superhero, then here are fifteen superpowered ladies to fangirl (or fanboy or fanperson!) over. You're welcome.
America Chavez aka Ms. America
Ms. America is finally getting her own solo run, and America Vol. 1: The Life and Times of America Chavez is coming out this October! It's well deserved and long overdue. And it's being written by Gabby Rivera who wrote Juliet Takes a Breath. America is invulnerable, can fly, has super speed and super strength, and can punch interdimensional portals into existence. And she punches Hitler in the first issue. A Latina lesbian punching Nazis? That sounds like my kind of comic.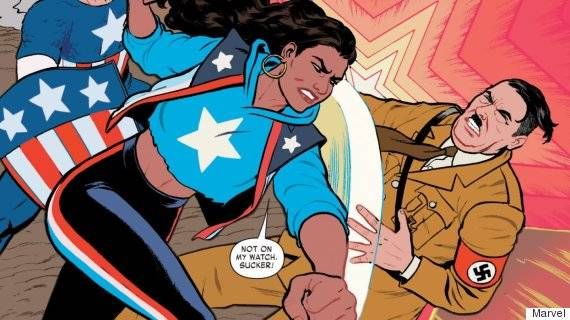 Carol Danvers aka Captain Marvel
This former Air Force Colonel and NASA head of security got her superpowers in a freak accident, becoming first Ms. Marvel and eventually Captain Marvel. And you might want to brush up on your Carol Danvers lore before the Captain Marvel movie with Brie Larson comes out in 2019. Check out her most recent butt-kicking adventures in The Mighty Captain Marvel by YA novelist Margaret Stohl and Ramon Rosanas.
Diana aka Wonder Woman
The classic. The original. The one you saw in Wonder Woman (2017) and fell completely and entirely in love with. It's Diana, everybody's favorite Amazon! Seriously, don't pretend you can ever have too much of her. There are more comic runs than you can hope to read, a tv show, several books, and a movie. It's pretty much all Wonder Woman all the time. And if you're looking for a good place to dive in, you might start with Gail Simone's Wonder Woman: The Circle.
Lunella aka Moon Girl
Lunella Lafayette is a nine-year old genius and inventor. She's also the smartest person in the world according to a test created by Bruce Banner and performed by Amadeus Cho, the current Hulk. Plus, she's an inhuman with the ability to swap consciousness with her dinosaur companion. She teams up with Devil Dinosaur for some wild adventures in Moon Girl and Devil Dinosaur.
Natasha Romanov aka Black Widow
If spy movies are your thing, then Natasha Romanov is your girl. This former KGB agent turned S.H.I.E.L.D. agent and Avenger is still a spy at heart, and when she's not helping her teammates, she trying to atone for her past. And Black Widow: The Finely Woven Thread really does feel like a spy movie in comic book form.
Barbara Gordon aka Batgirl
This Gotham crime fighter is the adopted daughter of Commissioner Gordon—you know, that Commissioner Gordon—but she's got the martial art skills and the gadgets to make her every bit a bat-eared vigilante. You can find her traveling Asia and fighting crime in Batgirl: Beyond Burnside by Hope Larson and Rafael Albuquerque.
Kate Bishop aka Hawkeye
Hawkeye has her own solo comic! No, not that Hawkeye, the other Hawkeye—you know, Kate Bishop. She a PI—sort of—and yes, there are a lot of Hawkeye jokes. Catch her kicking butt and taking names in Hawkeye: Kate Bishop Vol. 1: Anchor Points.
Korra aka The Avatar
The avatar controls all four elements: water, earth, fire, and air. Despite a rocky start, Korra has become an accomplished Avatar and a force to be reckoned with. You've probably never heard of this awesome hero if you aren't familiar with the Nickelodeon shows Avatar the Last Airbender and Legend of Korra, but trust me: she is amazing. And now her story is being continued in comic book form in Legend of Korra: Turf Wars. Even if you're usually just a Marvel or DC fan, this is a hero worth branching out for.
Kamala Khan aka Ms. Marvel
She's the biggest suphereo superfan and now she's working alongside her idols! Of course, playing it cool is easy compared to juggling her superhero gig with school and being a good Pakistani-American daughter. And I've gotta say, it's pretty refreshing to see a superhero who is all about the compassion and tends to use violence as a last resort. G. Willow Wilson does a spectacular job helming this comic. And since it's still a relatively new run, the best place to start is the beginning: Ms. Marvel Vol 1: No Normal.
Kara Zor-El aka Supergirl
You've seen the TV show, now meet the character who inspired it—and then the comic that show re-inspired. It's an endless loop, really. Kara Zor-El, last daughter of Krypton, cousin of Kal-El, and now, Supergirl! There are several new runs of this comic including Supergirl: Rebirth, which features a sixteen-year old Kara and a number of familiar faces. Fans of the CW's Supergirl will get a kick out of seeing characters they know and love in comic book form!
Thor
I don't know if you've heard, but Thor is a lady now. An awesome lady. I mean, I'm pretty sure "awesome" is a baseline requirement to wield Mjolnir and possess the power of Thor. But this Goddess of Thunder is definitely one to check out in The Mighty Thor Vol. 1: Thunder in Her Veins.
Riri WILLIAMS aka Ironheart
15-year old Riri Williams is not only a certified genius attending MIT, she's also taking over from Tony Stark as Ironheart (with a little help from Stark's holographic AI). Check her out in Invincible Iron Man: Ironheart Vol. 1.
The Dora Milaje
Not one superhero so much as a team of superheros, but the more the merrier, right? These badass ladies are tasked with protecting Prince T'Challa. World of Wakanda, the new spin off of the popular Black Panther run by Ta-Nehisi Coates, follows the lives of some of the Dora Milaje. The comic is about Ayo and Aneka, who have doubts about the rule of Prince T'Challa, the man they are sworn to protect. The run is helmed by Roxane Gay, the author of Bad Feminist, Difficult Women, and a number of other spectacular books.
Doreen Green aka Squirrel Girl
Don't be fooled by the name or the costume or the fact that she can talk to squirrels…Doreen Green is one awesome crime-fighting machine! (And really, if we're going to start picking apart superhero names, there are some weirder ones to start with. I'm looking at you, Ant-Man.) The Unbeatable Squirrel Girl is an incredibly fun and funny comic that everyone is sure to love.
Gwen Stacy aka Spider-Gwen
This character, who was originally meant to be an amusing one-off in Edge of Spider-Verse, turned into a fan favorite with her own killer comic. You can read all about the alternate universe where she becomes a spider-y superhero and Matt Murdock is a bad guy in Spider-Gwen Vol. 1: Greater Power. And trust me, it's awesome.
If you just can't get enough about ladies in comics, check out these awesome posts by other Rioters about girl gang comics and the importance of Wonder Woman.