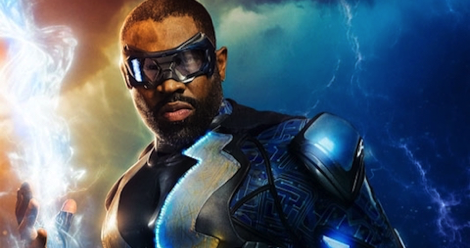 We're currently experiencing a glut of superhero television, which is pretty thrilling for those of us who still remember when our only option on the small screen was watching Tom Welling moodily fail to fly. And just in case the dozen or so flights 'n' tights sagas already airing aren't enough for you, network execs seem to be frantically greenlighting everything DC or Marvel that crosses their desk.
But which ones should you plan to watch? Join me as I speculate wildly based on the little information we have on the next crop of live action superhero shows:
Black Lightning (CW)
We've already got a pretty great trailer for this one, which stars Cress Williams as electric-powered Jefferson Pierce, who debuted in 1977's Black Lightning #1 as the first black headliner in a DC comic. The show, which has been given a series pickup by the CW and is already filming in Atlanta, focuses on Jefferson's relationship with his daughters Anissa and Jennifer (the heroes Thunder and Lightning in the comics, respectively). According to producer Greg Berlanti, it won't be in the same universe as his other CW shows, but he said that about Supergirl too, so we might get some fun multiverse crossovers anyway. Good signs: two of the showrunners are black (Mara Brock Akil and Salim Akil), two are female (Brock Akil and Sarah Schechter), Anissa is canonically queer, and Williams looks good in the suit. Reasons for concern: Berlanti superhero vehicles tend to have breathtakingly toxic father-daughter relationships and I don't think I can take a whole show of Quentin Lance Redux.
Premiere Date: Fall 2017
Anticipation Level: 7 out of 10 volts
Cloak and Dagger (Freeform)
Cloak and Dagger are characters who've always kind of made me go "…Huh." A sweet white girl with light powers and an angsty black guy with scary darkness powers? Plus there's the matter of Dagger's ludicrous costume. But Aubrey Joseph and Olivia Holt, the two stars, are cute as buttons, and the trailer looks fantastic. Hopefully there'll be black writers and directors working behind the scenes to avoid or subvert the potential racist subtext of the concept.
Premiere Date: 2018
Anticipation Level: 8 out of 10 mystical cloaks
Defenders (Netflix)
Daredevil, Jessica Jones, and Luke Cage have been hailed as some of the best in live action super heroics ever, and Iron Fist…also happened, and now, after three years of anticipation, we finally get to see these heroes come together. Luke and Danny and Misty and Colleen, together again for the first time! Matt and Elektra and Jessica and Luke, together again for the excruciatingly awkward third time! Sigourney Weaver! Plus we've been promised at least a cameo from Foggy, and y'all know how I feel about him. Is it August yet?
Premiere Date: August 18th, 2017
Anticipation Level: 20 out of 10 mysterious pits in Hell's Kitchen
Dreadstar
We still don't know much about the series adapting this 80s Marvel property aside from the fact that creator Jim Starlin is involved – it's still in development and there's no network or release year announced. Considering that I've never read a Dreadstar comic and that many shows die in Development Hell (where are you, long-awaited Booster Gold Syfy show of my heart?), I can't get too excited about it.
Premiere Date: unknown
Anticipation Level: 0 out of 10 stars. Or dreads. Look, you guys, I don't know anything about Dreadstar.
The Gifted (Fox)
Like the recently debuted Legion, Bryan Singer's The Gifted fits into the X-Men cinematic universe – or, it might be more accurate to say, alongside it, since it focuses more on mutanthood at the fringes. Though it boasts a couple of codenamed characters like Blink and Polaris (plus Amy Acker, Buffyverse fans!), it looks like it plans to stay far away from Xavier Academy, as the seemingly ordinary Strucker family is forced to go on the run when their children are revealed to be mutants. I've never been an X-person, but I'm intrigued by the opportunities this show has to engage with our current political climate the way Logan did, so I'm willing to give this one a shot.
Premiere Date: Fall 2017
Anticipation Level: 4 out of 10 DNA strands
Krypton (SyFy)
"A TV show about Superman's biological grandfather" kind of sounds like a joke about how much superhero television there is these days, but apparently that's the world we live in now. I'm a huge Super fan, but I've never found Krypton or Jor-El particularly compelling, so a show about a character who is even less relevant than Jor-El, set in a world where everyone will die relatively shortly, and coming to us from the team responsible for the so far utterly joyless DCEU, has very little appeal for me – especially since we're unlikely to get any nods to Krypton's sillier Silver Age aspects.
Premiere Date: 2018
Anticipation Level: 1 out of 10 sun crystals
The New Warriors (Freeform)
Let's be honest: we're all going to call this "the Squirrel Girl show." Though Doreen's never been a part of this team in the comics, her current (and deserved) popularity is giving her the headline spot in Marvel's first foray into sitcom-ville. Considering the list of also-rans filling up the New Warriors' ranks – Mister Immortal, Night Thrasher, Speedball, Microbe, and Debrii – it looks like the showrunners are going goofy with this one, and I for one am delighted. Let's just hope this sitcom hangs on longer than DC's Powerless.
Premiere Date: 2018
Anticipation Level: 8 out of 10 nuts; also butts
Punisher (Netflix)
Jon Bernthal's turn as Frank Castle in Season 2 of Netflix's Daredevil was nuanced and moving, despite occasionally clunky writing. But the story of why a man might choose to walk a path of vengeance is a little more interesting than him just…walking it, and besides, we've seen these guns a-blazing before. I'll watch it, sure, but I'll be wishing it was an Elektra show the whole time.
Premiere Date: 2017 (I'm guessing November)
Anticipation Level: 2 out of 10 bullets
Runaways (Hulu)
Runaways is one of those properties that fans have been clamoring for an adaptation of pretty much since it hit the stands, and their patience is finally being rewarded. The comic, which revolves around a group of teens who – wait for it – run away when they discover that their parents are supervillains, was more diverse than many early 2000s teen books and actually managed to capture a genuine teen following, which is sadly a rarity for comics. The teen cast is adorable (and the adult cast features another Buffyverse alum in James Marsters), but it remains to be seen whether they'll live up to fans' astronomical hopes.
Premiere Date: early 2018
Anticipation Level: 5 out of 10 dinosaurs
Titans (as-yet-unnamed DC streaming service)
Warner Brothers recently announced their plan for a new streaming service, which will include not just the long-awaited third season of cult hit Young Justice, but the equally long-rumored live action Titans, which presumably will feature many of the same characters. With over a dozen superhero shows available through broadcast TV and Netflix, I'm not sure who besides Dick Grayson superfans will be willing to spring for yet another subscription, but I must confess to being intrigued by what live action Starfire, Beast Boy, and Cyborg might look like on a small screen budget.
Premiere Date: unknown
Anticipation Level: 3 out of 10 domino masks
Did I miss any? Which show are you looking forward to the most? Let us know!