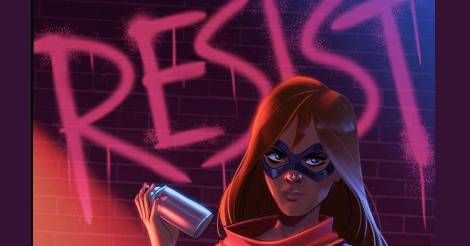 Superhero Art: Let's Get Political
If the pen is mightier than the sword than certainly the paintbrush–physical or digital–is too. Superheroes have always been political so it is no surprise that with Trump taking office and people fighting for their civil rights and lives that artist have taken to using superhero art (along with one villain) to show resistance. In a time when silence is not an option–
–here is some impactful superhero art fitting of the #resistance.
Mike McCain
Prints available at https://t.co/rUNLketdjO – all proceeds go to @ACLU, over $5k raised 😲 and still going! #Superman #immigrants #Liberty pic.twitter.com/ODY43yOjLl

— Mike McCain (@mmccain) March 1, 2017
"For as long as the current immigration ban exists, I'll be donating 100% of proceeds from all sales to the ACLU." Prints available here.

Stephen Byrne
https://twitter.com/philnoto/status/825484459814313985
I'm over the anthropomorphism of the Statue of Liberty as a trope, but I've exactly one indulgent Nazi punching statue painting left in me. pic.twitter.com/jwkar49NcU

— shing yin khor (@sawdustbear) February 7, 2017
(It's a nod to this Wonder Woman panel. Because I am absolutely not over the trope of Nazi punching.) pic.twitter.com/yinFCIhS3p

— shing yin khor (@sawdustbear) February 7, 2017
Wow! The orders are pouring in for @davidmackkabuki art print to fight #MuslimBan keep it up https://t.co/0ujz8OPAoK pic.twitter.com/pJaZVuTmXX

— Golden Apple Comics (@GAppleComics) February 2, 2017
.@DCComics Our heroes defend the oppressed against the powerful, dismantle the #muslimban. pic.twitter.com/TdBwuy4prB

— Yusef Abonamah (@YusefAbonamah) January 29, 2017
Anonymous (As far as I could find the original image seems to have been added anonymously to imgur.)
Seen in Philly. pic.twitter.com/gticOQ4Xvg

— Dan Tabor (@danthefan) January 27, 2017
Herr Nilsson
Bushwick Collective Mural Is Wynwood's Latest Anti-Trump Artwork https://t.co/R23OUJrJMf via @NewTimesArts pic.twitter.com/40vD0pQflZ

— AFI (@artistic_AFI) October 5, 2016
UnkSave
Save
Save
Save
Save
Save
Save
Save
Save
Save
Save