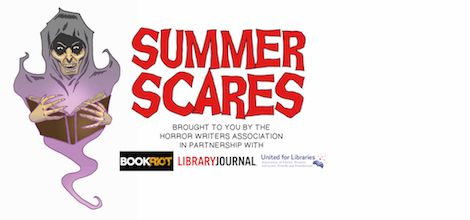 Horror
Summer Scares First Annual Reading List Announced
This content contains affiliate links. When you buy through these links, we may earn an affiliate commission.
In celebration of National Library Lover's Day, the Horror Writers Association (HWA), in partnership with United for Libraries, Book Riot, and Library Journal/School Library Journal, is delighted to announce the first annual Summer Scares Reading List, which includes titles selected by a panel of authors and librarians and is designed to promote horror as a great reading option for all ages, during any time of the year.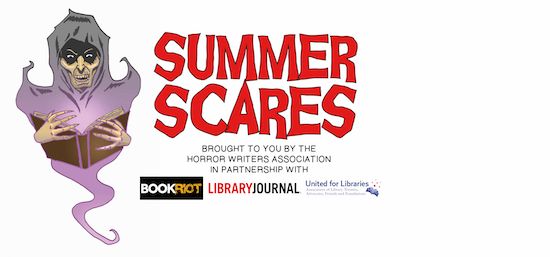 Each year, three titles will be chosen in the Adult, Young Adult, and Middle Grade categories, and for 2019 they are:
ADULT
Mongrels by Stephen Graham Jones (William Morrow Paperbacks, 2017)
My Soul to Keep by Tananarive Due (Harper Voyager, 1998)
Earthworm Gods by Brian Keene (Deadite Press, 2012)
YOUNG ADULT
Rotters by Daniel Kraus (Ember, 2012)
Slasher Girls and Monster Boys, edited by April Genevieve Tucholke (Speak, 2016)
Devil and Winnie Flynn by Micol Ostow (Penguin Random House Publisher Services, 2015)
MIDDLE GRADE
Doll Bones Holly Black (Margaret K. McElderry Books, 2015)
Through the Woods by Emily Carroll (Margaret K. McElderry Books, 2014)
The Jumbies by Tracey Baptiste (Algonquin Young Readers, 2016)
The goal of the Summer Scares program is to introduce horror titles to school and public library workers in order to help them start conversations with readers that will extend beyond the books from each list and promote reading for years to come. Along with the annual list of recommended titles for readers of all ages, the Summer Scares committee will also release themed lists of even more "read-alike" titles for libraries to use when suggesting books to readers this summer and all year long. And, in order to help libraries forge stronger connections between books and readers, the Summer Scares committee will be working with both the recommended list authors and horror authors from all over the country, to provide free programming to libraries. From author visits (both in person and virtual) to book discussions to horror themed events, Summer Scares is focused on connecting horror creators with libraries and readers all year long.
The Horror Writers Association (HWA) will also be hosting special Library Day programming at its annual StokerCon event, which will be held May 9-12 in Grand Rapids, Michigan. Several of the authors from the Summer Scares reading list, as well as the committee members, will be in attendance. Authors and committee members will also be available throughout the year for on-site and/or remote appearances to libraries and schools to promote the Summer Scares program and discuss the use of horror fiction as a tool to increase readership and nurture a love of reading.
The Summer Scares program committee consists of award-winning author Grady Hendrix (We Sold Our Souls, Paperbacks from Hell), Becky Spratford (library consultant, author of The Readers Advisory Guide to Horror, 2nd Ed.), Carolyn Ciesla (library director, academic dean, book reviewer), Kiera Parrott (reviews director for Library Journal and School Library Journal), Kelly Jensen (editor, Book Riot, author of [Don't] Call Me Crazy: 33 Voices Start the Conversation about Mental Health), and JG Faherty (HWA Library Program director, author of The Cure and Carnival of Fear).
The HWA is a non-profit organization of writers and publishing professionals, and the oldest organization dedicated to the horror/dark fiction genre. One of the HWA's missions is to foster an appreciation of reading through extensive programming and partnerships with libraries, schools, and literacy-based organizations.
For more information about the Summer Scares reading program, including how to obtain promotional materials and schedule events with the authors/committee members, visit the HWA's Libraries web page (www.horror.org/libraries), Becky Spratford's Reader's Advisory Horror Blog RA for All: Horror (https://raforallhorror.blogspot.com/p/summer-scares.html), or the Book Riot, School Library Journal, Library Journal, or United for Libraries websites and social media sites.
You can also contact JG Faherty, HWA Library Program Director (libraries [at] horror [dot] org) or Becky Spratford, HWA Secretary (bspratford [at] hotmail [dot] com).