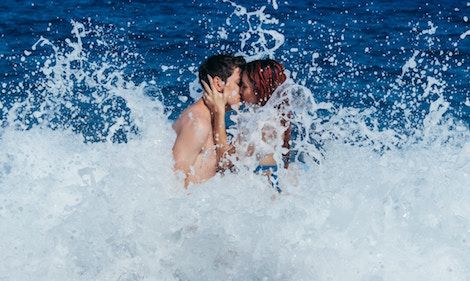 This content contains affiliate links. When you buy through these links, we may earn an affiliate commission.
Silvana Reyes is a Mexican book blogger. She enjoys all types of sub-genres, but loves a good love story. Romance fiction is her heart and joy and you might find her screaming about book releases on her Twitter account.
---
Put on your sunscreen and grab a book, because summer is finally here. The sun is out and here to stay; you might experience some light rain, but the summer weather inspires romances and stories and happily ever afters even in the darkest days.
Sometimes it's great to live in a place where the weather pretty much never changes. Some cities have ice-y winters, some other cities have 24/7 showers. We all know the weather will never be consistent. But somehow whenever summer arrives, we know it's the season for the sea, the sand, and some frozen margaritas.
If you are going on holidays or spending some time on the beach close to home this summer, this list of books will make you enjoy it even more. Take out your sunglasses, find a comfortable position to read and open your book. You will want summer to never end so the aesthetic of these books will continue all year long.
Summer Crush by Jay E. Tria, Tara Frejas and Six de los Reyes
An anthology of three love stories inspired by the summer, with sand-y encounters and a rock and roll soundtrack. These three Filipino authors had such a great idea to write romance stories following a music festival called Summer Crush.
Hot days are so not my thing and whenever I see a stand of ice cream, raspados or cold drinks, I don't walk, I run! Enter Ameenah Porter, the owner of a smoothie shop, and Wade Marshall, a music producer. Their love might start in the summer, but both of them might want to do it for the longer ride…
This is for the historical romance fans. Why not read a book about a suffragist heroine who writes an erotic serial under a pseudonym, an author who is a secret critic for a gossip paper, two people that really don't like each other and an unforgettable romance? The constant encounters between Emilia and Ruben will make you laugh out loud at all times!
The newest Priscilla Oliveras is the third book in the Paradise Key series, each of the books a stand-alone, written by different authors. Paradise Key Resort is where Sofia and Nathan's love story began and ended. Their story was sung for every summer. But like many people know, summer ends and life continues. Years later, Nathan wants to win the girl back for good.
Summer is for musical festivals at the beach. And if you're into that, this book is a perfect fit for you. Add some awesome bandmates, a five-minute girlfriend request and a three month trial for dating. What's going to happen next?
Summer romances always entail a due date. It might be a summer fling or characters agreeing on casual dating, no strings attached. When it comes to romance fiction, we know feelings get involved and someone always falls in love. Boracay Vows has something like that: Krista Lopez wants to give in to her attraction to her boss while both are on vacation at the same resort in Boracay.