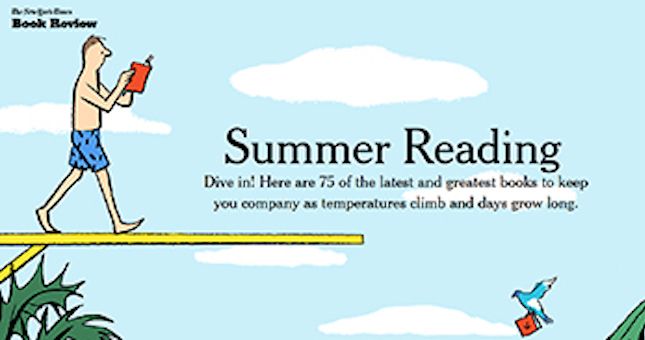 Critical Linking
Summer Reading From The New York Times: Critical Linking, May 30, 2019
Critical Linking, a daily roundup of the most interesting bookish links from around the web is sponsored by The Plus One from HarperCollins 360.
---
"We're finally here.
The season of beach days and barbecues, kayaking and catnapping, hammocks and homemade popsicles. Maybe you'll be headed to the lake or a tucked-away cottage, even a tent pitched in the backyard.
Wherever you go, go prepared. Sunscreen is a must. Bottles of water essential.
And never, ever forget to bring a book.
We've rounded up some glorious new titles to keep any reader happy, hydrated and cool: pulse-pounding thrillers, delectable cookbooks, eerie true-crime stories to stand your hair on end. Historical fiction and travel books will help you dream of faraway eras and places. Sports and music fans will find reasons to cheer. New thrillers turn the genre on its head, and books on the great outdoors will satisfy even the most nature-averse.
So here's your chance to get away from it all by getting into a book."
The NYT offers up a pile of summer reading suggestions in a variety of interesting categories.
---
"In the early 1990s, when Martin was in graduate school, she wrote papers about wilderness-survival stories for kids. Over time, Martin began to notice something: Of all the picture books about children exploring the wild outdoors for fun, only a scarce few feature African American kids as protagonists."
It's always amazing to me just how poorly the reality of the world is reflected in books for young people. When pieces like this one come out highlighting a specific lack, it rings even more clearly.
---
"Pottermore officially announced the new collection of e-books, dubbed the Harry Potter: A Journey Through……collection, are on the way. There is going to be four in total, with two books within each book. Each one of them is a short story, and are adapted from Harry Potter: A History of Magic. Which is available as an audiobook."
More Potter reads in e-format are coming this June.