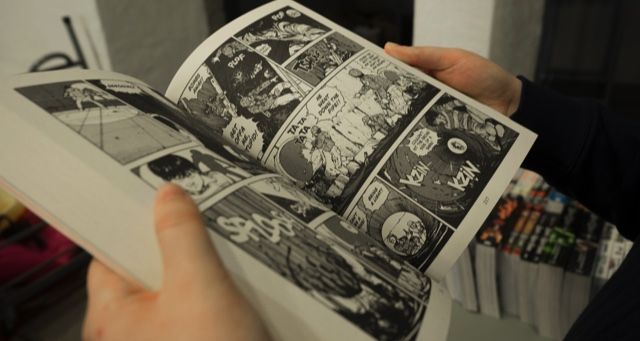 This content contains affiliate links. When you buy through these links, we may earn an affiliate commission.
Welcome to your quarterly round up of YA comics coming out in the next three months! July–September is looking great for YA graphic novels, memoirs, and comics! We have a nice mix of original novels, new work from the DC franchise, comics sequels, and even some exciting graphic nonfiction to look forward to! Open up your library catalog website in the next tab, and buckle up! After a terrible accident, Raven moves to New Orleans in order to finish her senior year. But her memory has gaping holes—she remembers how to do certain things, but can't remember the details that made up her personality. If she wants to recover those memories, she'll have to face the terrifying truth about what happened, and who she's lost.
Out July 2
Hawking by Jim Ottaviana and Leland Myrick
Starting with his early years, Ottaviana and Myrick recount the extraordinary life of Stephen Hawking, who was a lively and brilliant student at Oxford when he was diagnosed with ALS at age 21. But Hawking didn't let his physical limitations determine what his mind could accomplish, and he went on to become a brilliant physicist who gained celebrity status. This is the only graphic biography of the visionary thinker.
Out July 2
If you've been eagerly awaiting the sequel to Scott Westerfeld's Spill Zone, the wait is over! After the events of the first book, Addison meets Don Jae, a Korean teen who experienced his own adventure with a spill zone. Now the two are mysteriously connected and the two have uncanny powers.
Out July 10
They Called Us Enemy by George Takei, Justin Eisinger, Steven Scott, and Harmony Becker
When George Takei, the Star Trek actor and LGBTQ advocate, was a child, he and his Japanese American family were forced to leave their homes and live in an internment camp during World War II. This is a firsthand account of his early years, how his family coped, and the lasting effects of their imprisonment on Takei as he grew up.
Out July 16
Grimoire Noir by Vera Greentea and Yan Bogatch
Bucky is 15, and his friends have just abandoned him for someone cooler—someone whose dad isn't the sheriff. When his younger sister, who is a witch, is kidnapped because of her incredible power, he'll have to investigate where she's gone and uncover a huge conspiracy about his small town along the way.
Out July 23
Lumberjanes Vol. 12: Jackalope Springs Eternal by Shannon Watters, Kate Leyh, and Ayme Sotuyo
After the disconcerting events of the last volume, the Roanoke campers are unsettled and on edge. Naturally, camp counselor Jen takes this opportunity as her moment to shine, and convinces the campers that a quest is just what they need! She proposes they seek out the jackalope—with surprising results!
Out July 30
Fence Vol. 3 by C.S. Pacat and Johanna the Mad
Nicholas's mission to prove himself worthy to his distant father comes to a head as he must finally face off his fencing nemesis, Seiji, at King's Row. But they aren't the only ones facing off—the entire team will be changed by the final competitions.
Out August 14
In this graphic memoir, Hazel Newlevant looks back at the summer they were 17 and took a job clearing ivy from a forest near their home in Portland, Oregon. The experience was transformative for Hazel, who lived an insular life of homeschooled privilege and whose views of race and equality were challenged.
Out August 20
Sparrowhawk by Delilah S. Dawson, Matias Basla and Rebecca Nalty
Artemisia has never fit in with her father's high class family, but home looks pretty nice when she's kidnapped by the Faerie Queen and trapped in a teen Victorian fight club. She'll have to fight—literally and figuratively—for her way out, but finding allies in this strange faerie world may be much more difficult than it initially appears.
Out August 20
Pumpkinheads by Rainbow Rowell and Faith Erin Hicks
Rowell and Hicks have teamed up in this highly anticipated graphic novel about two seasonal best friends named Josiah and Deja who have been working at the same pumpkin patch for ages. Now they're seniors in high school and this is their last season together, and Deja is determined to make sure they go out with a bang.
Out August 27
Charlie thought she left competitive sports behind when she transferred to Georgia O'Keefe School of the Arts, but she struggles to find her place until Liv, the captain of the school's truly terrible basketball team, recruits her. Even though they aren't about to win any tournaments, Charlie feels like she might have finally found her place.
Out September 3