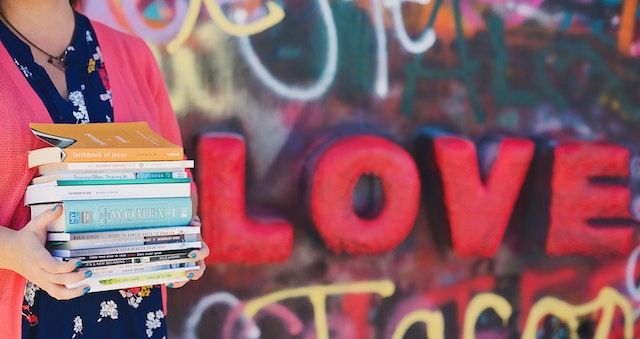 This content contains affiliate links. When you buy through these links, we may earn an affiliate commission.
The mercury is rising in the northern hemisphere, which means one thing: summer 2019 YA books are hitting shelves. We've got so many exciting new YA books coming out between now and the end of September that we'll need to give ourselves a whole extra summer off just to start catching up. Because that's how it works, right?
The titles here include stand alone titles, series books (marked in a *), books from well-known YA authors, debut authors, and books that'll be blockbuster books as well as quieter titles. Both fiction and nonfiction are represented.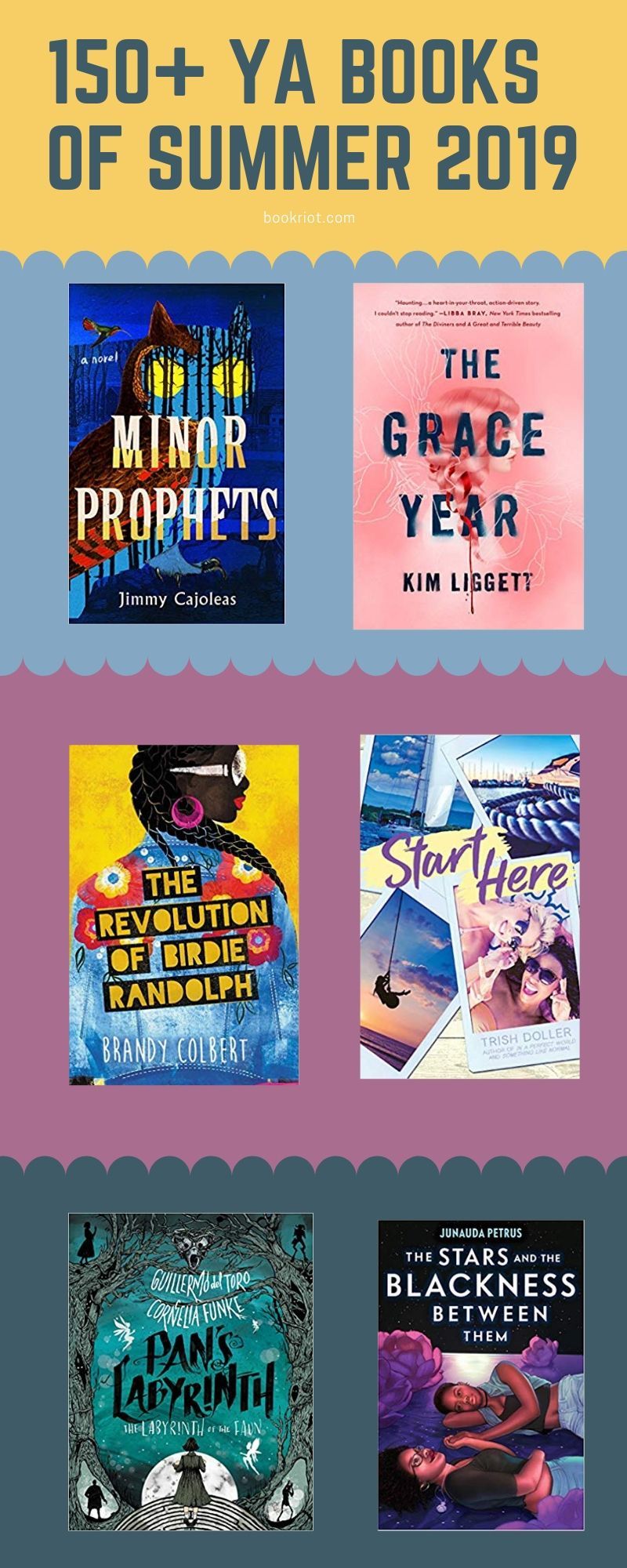 This collection of summer 2019 YA books isn't comprehensive, but it's pretty darn close. Like always, these titles were pulled from a variety of publisher catalogs, and publication dates could shift slightly from what's been listed.
Grab your TBR and be prepared to spend this summer—and beyond!—with your nose in an outstanding book. Descriptions come from Amazon. And if you haven't already, make sure you've got plenty of spring 2019 YA books on your radar, too.
Summer 2019 YA Books
July
2
Vesper Montgomery can summon your worst fear and turn it into a reality—but she's learned the hard way that it's an addicting and dangerous power. One wrong move and you could hurt someone you love.
But when she earns a spot in the Tournament of the Unraveling, where competitors battle it out for a chance to rewrite the past, Vesper finally has a shot to reverse the mistakes that have changed her forever.
She turns to Sam Hardy, a former MMA fighter who's also carrying a tragedy he desperately wants to undo. However, helping heal Sam's heart will mean breaking her own, and the competition forces her to master her powers—powers she has been terrified of since they destroyed her life.
Remy Tsai used to know how her story would turn out. But now, she doesn't even know what tomorrow will look like.
She was happy once. Remy had her boyfriend Jack, and Elise, her best friend—her soul mate—who understood her better than anyone else in the world.
But now Jack is dead, shot through the chest…
And it was Elise who pulled the trigger.
Was it self-defense? Or something darker than anything Remy could have imagined? As the police investigate, Remy does the same, sifting through her own memories, looking for a scrap of truth that could save the friendship that means everything to her.
Told in alternating timelines, this twisted psychological thriller explores the dark side of obsessive friendship.
Solomon and Ash both experienced a traumatic event when they were twelve.
Ash lost all memory of that event when she fell from Solomon's treehouse. Since then, Solomon has retreated further and further into a world he seems to have created in his own mind. One that insulates him from reality, but crawls with foes and monsters . . . in both animal and human form.
As Solomon slips further into the place he calls Darkside, Ash realizes her only chance to free her best friend from his pain is to recall exactly what happened that day in his backyard and face the truth—together.
Elon Musk is the visionary behind SpaceX and CEO of the electric car company Tesla. He is working on unique and daring improvements to both public transit and solar energy. And then, there's his highly-publicized plans for colonizing Mars…
But behind the mind-blowing headlines and legendary drive is the story of a bullied and beaten school boy, who through creativity and determination decided to rewrite his story and find his own way to make the world a better place. And to do so with a sense of fun and style.
From hosting raves to pay for college to re-writing the rules on space travel, Elon Musk has always gone his own way. And now, award-winning investigative journalist, Anna Crowley Redding takes readers on a well-researched trip through Elon's life and accomplishments.
Thea, Coen, and Nova have escaped from Achlys, only to find themselves imprisoned on a ship they thought was their ticket to safety. Now the nightmare they thought they'd left behind is about to be unleashed as an act of political warfare, putting the entire galaxy at risk.
To prevent an interstellar catastrophe, they'll have to harness the evil of the deadly Achlys contagion and deploy the only weapons they have left: themselves.
Music is Simon's life—which is why he is devastated when a stroke destroys his hearing. He resists attempts to help him adjust to his new state, refusing to be counseled, refusing to learn sign-language, refusing to have anything to do with Deaf culture. Refusing, that is, until he meets G, a tough-as-nails girl dealing with her own newly-experienced deafness.
I'll be honest: junior year has been a disaster.
My horrible mom is back from Mexico.
My dad's girlfriend is living in our house.
Did I mention my parents aren't divorced yet?
On the plus side, I lost my virginity!…and then the whole school found out and I got slut-shamed.
Then, somehow, I got popular! But according to some people, it turned me into a monster, and I'm pretty sure everyone hates me now.
Oh, and there was the Thanksgiving fiasco, and the prom queen debacle, and the illegal middle-of-the-night drive to the hospital.
Want to hear the whole wild story? You'll have to read my notes.
Throughout the Villains series, the Odd Sisters have meddled in the lives of the Wicked Queen, The Beast, Ursula, Maleficent, and Mother Gothel, changing the course of fate for the greatest villains ever known. Now, it's time for their reckoning.
This latest novel by the author of the wildly popular Villains series goes deeper into the lives of the twisted, diabolical Odd Sisters, finally revealing the dark truth about who they are and where they're from. The Odd Sisters will appeal to fans who can't get enough of the mischievous sisters, as well as draw new readers to Serena Valentino's darkly fascinating take on the Disney Villains.
Pan's Labyrinth by
Guillermo del Toro and Cornelia Funke
Oscar winning writer-director Guillermo del Toro and New York Times bestselling author Cornelia Funke have come together to transform del Toro's hit movie Pan's Labyrinth into an epic and dark fantasy novel for readers of all ages, complete with haunting illustrations and enchanting short stories that flesh out the folklore of this fascinating world.
This spellbinding tale takes readers to a sinister, magical, and war-torn world filled with richly drawn characters like trickster fauns, murderous soldiers, child-eating monsters, courageous rebels, and a long-lost princess hoping to be reunited with her family.
Ava and Gen are best friends. Ava knows what she wants and has plans to achieve her goals. Gen…not so much. But no matter how annoying, dramatic, or utterly bananas a 2 a.m. rant might get — Ava has always been there for Gen and Gen for Ava. But then they graduated high school.
Now, they're in the same time zone (although over a thousand miles apart), and in the real world, and it's the worst, but they still have each other's support. For relationships. Questionable roommates. Internships. And whether or not it's a good idea to take in a feral cat. Through their hilarious, sometimes emotional, conversations, Ava and Gen help each other navigate. But as the two of them start to change, will their friendship survive the distance?
Warhead by
Jeff Henigson
It's 1986, and Jeff is an average fifteen-year-old: he thinks a lot about dating, he bounces around with his friends, and he's trying his hardest to get a car. Conversely, the world around him feels crazy: the United States and the Soviet Union are at glaring odds, with their leaders in a standoff, and that awful word, "nuclear," is on everyone's mind. Then, boom–Jeff learns that he has brain cancer and it's likely terminal. Well, that puts a damper on his summer plans and romantic prospects, doesn't it?
Jeff's family rallies around him, but they are fiercely complicated–especially Jeff's father, a man who can't say "I love you" even during the worst of Jeff's treatment. So when the Starlight Children's Foundation offers to grant Jeff a wish, he makes one certain to earn his father's respect: he asks to travel to Moscow and meet with Mikhail Gorbachev to discuss nuclear disarmament and ending the Cold War. Nothing like achieving world peace to impress a distant father, right? Jeff has always been one to aim high.
In 1965 seventeen-year-old Victoria, having just escaped an unstable home, flees to the ultimate place for dreamers and runaways–the circus. Specifically, the VanDrexel Family Circus where, among the lion tamers, roustabouts, and trapeze artists, Victoria hopes to start a better life.
Fifty years later, Victoria's sixteen-year-old granddaughter Callie is thriving. A gifted and focused tightrope walker with dreams of being a VanDrexel high wire legend just like her grandmother, Callie can't imagine herself anywhere but the circus. But when Callie's mother accepts her dream job at an animal sanctuary in Florida just months after Victoria's death, Callie is forced to leave her lifelong home behind.
Feeling unmoored and out of her element, Callie pores over memorabilia from her family's days on the road, including a box that belonged to Victoria when she was Callie's age. In the box, Callie finds notes that Victoria wrote to herself with tips and tricks for navigating her new world. Inspired by this piece of her grandmother's life, Callie decides to use Victoria's circus prowess to navigate the uncharted waters of public high school.
Across generations, Victoria and Callie embrace the challenges of starting over, letting go, and finding new families in unexpected places.
9
Billy Sloat and Lydia Lemon don't have much in common, unless you count growing up on the same (wrong) side of the tracks, the lack of a mother, and a persistent loneliness that has inspired creative coping mechanisms.
When the lives of these two loners are thrust together, Lydia's cynicism is met with Billy's sincere optimism, and both begin to question their own outlook on life. On top of that, weird happenings including an impossible tornado and an all-consuming fog are cropping up around them—maybe even because of them. And as the two grow closer and confront bigger truths about their pasts, they must also deal with such inconveniences as a narcissistic rock star, a war between unicorns and dragons, and eventually, of course, the apocalypse.
With a unique mix of raw emotion, humor, and heart, the surreal plotline pulls readers through an epic exploration of how caring for others makes us vulnerable—and how utterly pointless life would be if we didn't.
*Contagion by
Teri Terry
Young teen Callie might have been one of the first to survive the disease, but unfortunately she didn't survive the so-called treatment. She was kidnapped and experimented upon at a secret lab, one that works with antimatter. When she breaks free of her prison, she unleashes a wave of destruction. Meanwhile her older brother Kai is looking for her, along with his smart new friend Shay, who was the last to see Callie alive.
Amid the chaos of the spreading epidemic, the teens must find the source of disease. Could Callie have been part of an experiment in biological warfare? Who is behind the research? And more importantly, is there a cure?
When Araceli Flores Harper is sent to stay with her great-aunt Ottilie in her ramshackle Victorian home, the plan is simple. She'll buckle down and get ready for college. Life won't be exciting, but she'll cope, right?
Wrong. From the start, things are very, very wrong. Her great-aunt still leaves food for the husband who went missing twenty years ago, and local businesses are plastered with MISSING posters. There are unexplained lights in the woods and a mysterious lab just beyond the city limits that the locals don't talk about. Ever. When she starts receiving mysterious letters that seem to be coming from the past, she suspects someone of pranking her or trying to drive her out of her mind.
To solve these riddles and bring the lost home again, Araceli must delve into a truly diabolical conspiracy, but some secrets fight to stay buried…
Where one story ends, another begins.
1861. Miss Lucinda Leavitt is shocked when she learns the author of her favorite serialized novel has died before completing the story. Determined to learn how it ends, Lucinda reluctantly enlists the help of her father's young business partner, Mr. David Randall, to track down the reclusive author's former whereabouts.
David is a successful young businessman, but is overwhelmed by his workload. He wants to prove himself to his late father, as well as to himself. He doesn't have the time, nor the interest, for this endeavor, but Lucinda is not the type to take no for an answer.
Their search for the elusive Mrs. Smith and the rightful ending to her novel leads Lucinda and David around the country, but the truths they discover about themselves―and each other―are anything but fictional.
One year. Nine events. Nine chances to . . . fall in love?
Weddings. Funerals. Barbecues. New Year's Eve parties. Name the occasion, and Sophie Evans will be there. Well, she has to be there. Sophie works for the local florist, so she can be found at every big event in her small hometown, arranging bouquets and managing family dramas.
Enter Andrew Hart. The son of the fancy new chef in town, Andrew is suddenly required to attend all the same events as Sophie. Entitled, arrogant, preppy Andrew. Sophie just wants to get her job done and finish up her sketches so she can apply to design school. But every time she turns around, there is Andrew, getting in her way and making her life more complicated. Until one day she wonders if maybe complicated isn't so bad after all . . .
Told over the course of one year and following Sophie from event to event, this delightful novel from master of romantic comedy Kasie West shows how love can blossom in unexpected places.
When Chris Schweitzer takes a hit of whippets and passes out face first on the cement, his nose isn't the only thing that changes forever. Instead of staying home with his friends for the last summer after high school, he's shipped off to live with his famous physicist but royal jerk of a father to prove he can "play by the rules" before Dad will pay for college.
Or . . . not.
In an alternate time line, Chris's parents remain blissfully ignorant about the accident, and life at home goes back to normal–until it doesn't. A new spark between his two best (straight) friends quickly turns Chris into a (gay) third wheel, and even worse, the truth about the whippets incident starts to unravel. As his summer explodes into a million messy pieces, Chris wonders how else things might have gone. Is it possible to be jealous of another version of yourself in an alternate reality that doesn't even exist?
With musings on fate, religion, parallel universes, and the best way to eat a cinnamon roll, Me Myself & Him examines how what we consider to be true is really just one part of the much (much) bigger picture.
Small-town Wisconsin high school senior Allison Smith loves her life the way it is–spending quality time with her widowed father and her tight-knit circle of friends, including best friend Marian and maybe-more-than-friends Neil. Sure she is stressed out about college applications . . . who wouldn't be? In a few short months, everything's going to change, big time.
But when Ally files her applications, they send up a red flag . . . because she's not Allison Smith. And Ally's–make that Amanda's–ordinary life is suddenly blown apart. Was everything before a lie? Who will she be after? And what will she do as now comes crashing down around her?
Paisley is really looking forward to college. She is ready to take charge of her destiny and embrace some new experiences! Finding a hot guy to make out with at her first ever college party seems like a great start…until her best friend informs her that mystery guy is actually Carter Schmitt, Paisley's sworn enemy who basically ruined their lives in middle school.
So much for new people and exciting new experiences. Oh well. Paisley will just pretend he doesn't exist. Of course that would be easier if Carter, AKA her super-hot-sworn-enemy, hadn't ended up in three of her classes AND the same work study. Is it too late to rethink this college thing?
Maia Tamarin dreams of becoming the greatest tailor in the land, but as a girl, the best she can hope for is to marry well. When a royal messenger summons her ailing father, once a tailor of renown, to court, Maia poses as a boy and takes his place. She knows her life is forfeit if her secret is discovered, but she'll take that risk to achieve her dream and save her family from ruin. There's just one catch: Maia is one of twelve tailors vying for the job.
Backstabbing and lies run rampant as the tailors compete in challenges to prove their artistry and skill. Maia's task is further complicated when she draws the attention of the court enchanter, Edan, whose piercing eyes seem to see straight through her disguise.
And nothing could have prepared her for the final challenge: to sew three magic gowns for the emperor's reluctant bride-to-be, from the laughter of the sun, the tears of the moon, and the blood of stars. With this impossible task before her, she embarks on a journey to the far reaches of the kingdom, seeking the sun, the moon, and the stars, and finding more than she ever could have imagined.
Ryan Russell has life perfectly planned. She's going to take over her family's team, the Buckley Beavers, and become one of the only female General Managers in minor league baseball.
Then Sawyer Campbell shows up, and Ryan's carefully laid plans are thrown a major curveball. Sawyer is far more charming than the arrogant jocks she usually manages, though fraternizing is against every rule in the Beaver's handbook.
But after figuring out the desperate state of the team's finances, Ryan will have to take risks in order to save her future. She teams up with Sawyer, using his star power to draw in sponsors. But the more time she spends with him, the harder it becomes to play by the rules. Is his partnership the key to saving the Beavers, or a distraction she can't afford?
A new queen under threat.
An ambassador with a desperate scheme.
Two kingdoms with everything to lose.
Once a spy and counselor to the throne, Sage Fowler has secured victory for her kingdom at a terrible cost. Now an ambassador representing Demora, Sage is about to face her greatest challenge to avoid a war with a rival kingdom.
After an assassination attempt destroys the chance for peace, Sage and her fiancé Major Alex Quinn risk a dangerous plot to reveal the culprit. But the stakes are higher than ever, and in the game of traitors, betrayal is the only certainty.
It's been eighteen months since the Raxter School for Girls was put under quarantine. Since the Tox hit and pulled Hetty's life out from under her.
It started slow. First the teachers died one by one. Then it began to infect the students, turning their bodies strange and foreign. Now, cut off from the rest of the world and left to fend for themselves on their island home, the girls don't dare wander outside the school's fence, where the Tox has made the woods wild and dangerous. They wait for the cure they were promised as the Tox seeps into everything.
But when Byatt goes missing, Hetty will do anything to find her, even if it means breaking quarantine and braving the horrors that lie beyond the fence. And when she does, Hetty learns that there's more to their story, to their life at Raxter, than she could have ever thought true.
16
F. C. Yee's The Rise of Kyoshi delves into the story of Kyoshi, the Earth Kingdom–born Avatar. The longest-living Avatar in this beloved world's history, Kyoshi established the brave and respected Kyoshi Warriors, but also founded the secretive Dai Li, which led to the corruption, decline, and fall of her own nation. The first of two novels based on Kyoshi, The Rise of Kyoshimaps her journey from a girl of humble origins to the merciless pursuer of justice who is still feared and admired centuries after she became the Avatar.
In The Woods by
Carrie Jones and Steven E. Wedel
It should have been just another quiet night on the farm when Logan witnessed the attack, but it wasn't.
Something is in the woods.
Something unexplainable.
Something deadly.
Hundreds of miles away, Chrystal's plans for summer in Manhattan are abruptly upended when her dad reads tabloid coverage of some kind of grisly incident in Oklahoma. When they arrive to investigate, they find a witness: a surprisingly good-looking farm boy.
As townsfolk start disappearing and the attacks get ever closer, Logan and Chrystal will have to find out the truth about whatever's hiding in the woods…before they become targets themselves.
Marty has terrible luck and she knows exactly why. While working as a housekeeper at the ritzy Grand Palms hotel in Maui, Marty made it a habit to steal small items from the guests. What better way to stick it to the rich snobs they have to clean up after? Marty knows how to turn her luck around―she just has to return all of the items she stole.
When Marty meets Will, a new guest who is staying for the summer, she does the one thing she always promised herself she'd never do―fall for an out-of-towner. But Will's special, different from the other guests at the hotel. Maybe Marty's luck is finally turning around.
After a string of misunderstandings and accidents threaten Will and Marty's relationship, Marty has to find a way to fix her luck for good―or say goodbye to Will forever.
It's a food diary. I have to tell the truth. That's the point.
Sixteen-year-old Bluebelle, also known as BB or Big Bones, lives her life unapologetically. She loves life! She loves food!
When BB has a worse-than-usual asthma attack, her mom insists she go to the doctor. There, she is told that she is overweight (no surprise) and prediabetic (big surprise) and must lose weight, move more, and keep a food diary. To get out of this immediate health crisis, she agrees to make an effort.
Then a tragedy occurs in the family, and things get seriously complicated. Suddenly, losing weight and moving more are the least of her worries. As for the food diary, though, BB doesn't just document what she's eating, she documents what she's feeling–and she has a lot to say!
Author Nicola Morgan is an international expert on teen development and mental health. During her talks to parents of pre-teens, she immediately sensed two overriding emotions: fear and pessimism. Parents were worried about their children becoming teenagers, assuming that it would be a negative experience. Not only is that a sad outlook on the teenage experience–it doesn't have to be true!
Breezy and compassionate, Positively Teen teaches teens how to approach their adolescent years with optimism and understanding, giving them the skills they need to develop long-term well-being. Full of practical, proven strategies, it includes advice on how to flourish both physically and mentally–from learning to do things you enjoy, to understanding how to look after your diet, exercise and attitude, to understanding your personality. With these strengths and skills in hand, teens will learn to weather any storm and thrive on the challenges of this time in their lives.
On Earth, Delaney is a normal teenager who recently graduated high school with a fantastic best friend and a loving boyfriend.
But Delaney isn't on Earth. She's on Xenith, a war-torn planet half a galaxy away. Originally mistaken for an alien princess, Delaney has gone from kidnapped imposter to the recognized heir to an alien throne. Oh, and she's engaged to the prince of an enemy nation whose ruthless father is on the warpath.
Torn between two planets, two fates, and two loves, Delaney is finally ready to choose her own destiny in Within Ash and Stardust, the stunning conclusion to Chani Lynn Feener's Xenith Trilogy.
23
Hard-charging and irrepressible, eighteen-year-old Amelia Linehan could see a roller derby opponent a mile away—and that's while crouched down, bent over skates, and zooming around a track at the speed of light.
What she couldn't see coming, however, was the flare-up of the rare liver disorder she was born with. But now it's the only thing she—and everyone around her—can think about.
With no guarantee of a viable organ transplant, everything Amelia's been sure of—like college plans or the possibility of one day falling in love—has become a huge question mark, threatening to drag her down into a sea of what-ifs she's desperate to avoid.
Then a friend from the past shows up. With Will, it's easy to forget about what's lurking between the lightness of their time together. She feels alive when all signs point elsewhere.
But with the odds decidedly not in her favor, Amelia knows this feeling can't last forever. After all, what can?
Rose Montgomery parks her family's trailer in Fort Glory, Oregon with one goal: to carve out a new life for herself and her little brother, Charlie. They need a fresh start for their family, and she thinks she's finally found it in a town where nobody knows them.
But Rose's plans come crashing down when, in an instant, Fort Glory disappears and every person in town vanishes into thin air―including Charlie.
Rose and four other teens become trapped in the Fold, a patch of woods caught halfway between the real world and the lost town. In the Fold, a mysterious force suspends the laws of physics, and everyone's inner darkness has the power to kill.
To survive the Fold, Rose must unravel the clues Charlie sends her from the missing town. And Rose has to find Charlie soon―or he'll be gone forever.
A plague, called Wickedness, is pulsing through the world; and in its wake, it's dividing the population into thirds:
The WICKED: Already infected by the droves of Singers, the ultraviolet mosquito-like insects who carry the plague, the Wicked roam the world freely. They don't want for much—only to maim and dismember you. But don't worry: They always ask politely first.
The TRUE: The True live in contained, isolated communities. They're the lucky ones; they found safety from the Singers. And while the threat of the Wicked may not be eliminated, for the True, the threat has certainly been contained…
The VEXED: The Vexed are the truly fortunate ones—they survived the sting of the Singers, leaving them immune. But they're far from safe. The Vexed hold the key to a cure, and there are those who will do anything to get it.
In this brilliantly realized novel, three teens—Astrid, Hank, and Natalie—start to realize that the divisions of their world aren't as clear as they seem, and are forced to question what being wicked truly means.
Once Ana was an orphaned space outlaw. Then she was the Empress of the Iron Kingdom. Now, thought dead by most of the galaxy after she escaped from the dark AI program called the HIVE, Ana is desperate for a way to save Di from the HIVE's evil clutches and take back her kingdom.
Ana's only option is to find Starbright, the one person who hacked into the HIVE and lived to tell the tale. But when Ana's desperation costs the crew of the Dossier a terrible price, Ana and her friends are sent spiraling through the most perilous reaches of the Iron Kingdom to stop the true arbiter of evil in her world: an ancient world-ending deity called the Great Dark.
Their journey will take their sharp-witted pilot, Jax, to the home he never wanted to return to and the dangerous fate he left behind. And when Robb finds out who Jax really is, he must contend with his own feelings for the boy he barely knows, and question whether he truly belongs with this group of outcasts.
When facing the worst odds, can Ana and her crew of misfits find a way to stop the Great Dark once and for all?
Serena Velasco and her best (and only) friend, Melody Grimshaw, are dying to get out of Colchis. Until now they've both been coasting, keeping a safe distance from the bleakness of home and the banality of high school. To make things more interesting Serena fixates on communism, eager to get a rise out of their conservative small town. Her Western Civ teacher catches on and challenges her with an independent study of class and upward mobility―what creates the spaces between us. Meanwhile, Grimshaw takes on a mission of her own: to make it onto the cheerleading squad, find a job, and escape the weight of her family's hopeless reputation.
But sometimes the biggest obstacles are the ones you don't see coming; Grimshaw's quest for success becomes a fight for survival, and Serena's independent study gets a little too real. With the future of their friendship and their lives on the line, the stakes have never been so high.
30
One way or another, we always feed the crows.
A future chieftain
Fie abides by one rule: look after your own. Her Crow caste of undertakers and mercy-killers takes more abuse than coin, but when they're called to collect royal dead, she's hoping they'll find the payout of a lifetime.
A fugitive prince
When Crown Prince Jasimir turns out to have faked his death, Fie's ready to cut her losses―and perhaps his throat. But he offers a wager that she can't refuse: protect him from a ruthless queen, and he'll protect the Crows when he reigns.
A too-cunning bodyguard
Hawk warrior Tavin has always put Jas's life before his, magically assuming the prince's appearance and shadowing his every step. But what happens when Tavin begins to want something to call his own?
Raised among the ruins of a conquered mountain nation, Maren dreams only of sharing a quiet life with her girlfriend Kaia—until the day Kaia is abducted by the Aurati, prophetic agents of the emperor, and forced to join their ranks. Desperate to save her, Maren hatches a plan to steal one of the emperor's coveted dragons and storm the Aurati stronghold.
If Maren is to have any hope of succeeding, she must become an apprentice to the Aromatory—the emperor's mysterious dragon trainer. But Maren is unprepared for the dangerous secrets she uncovers: rumors of a lost prince, a brewing rebellion, and a prophecy that threatens to shatter the empire itself. Not to mention the strange dreams she's been having about a beast deep underground…
With time running out, can Maren survive long enough to rescue Kaia from impending death? Or could it be that Maren is destined for something greater than she could have ever imagined?
Think you know the story of the Little Mermaid? Think again… Deep beneath the sea, off the cold Irish coast, Gaia is a young mermaid who dreams of freedom from her controlling father. On her first swim to the surface, she is drawn towards a human boy. She longs to join his carefree world, but how much will she have to sacrifice? What will it take for the little mermaid to find her voice? Hans Christian Andersen's original fairy tale is reimagined through a searing feminist lens, with the stunning, scalpel-sharp writing and world building that has won Louise her legions of devoted fans. A book with the darkest of undercurrents, full of rage and rallying cries: storytelling at its most spellbinding.
Josie, Jack, Archie, Harrison, and Dayana were inseparable as preschoolers. But that was before high school, before parties and football and getting into the right college. Now, as senior year approaches, they're basically strangers to each other.
Until they're pulled back together when their parents die in a plane crash. These former friends are suddenly on their own. And they're the only people who can really understand how that feels.
To survive, the group must face the issues that drove them apart, reveal secrets they've kept since childhood, and discover who they're meant to be. And in the face of public scrutiny, they'll confront mysteries their parents left behind―betrayals that threaten to break the friendships apart again.
A new family is forged in this heartbreaking, funny, and surprising book from award-winning storyteller David Kreizman. It's a deeply felt, complex journey into adulthood, exploring issues of grief, sexual assault, racism, and trauma.
August
6
They may have escaped Sanctuary, but Kenzie and her friends are far from safe.
Ex-Omnistellar prison guard Kenzie and her superpowered friends barely made it off Sanctuary alive. Now they're stuck in a stolen alien ship with nowhere to go and no one to help them. Kenzie is desperate for a plan, but she doesn't know who to trust anymore. Everyone has their own dark secrets: Omnistellar, her parents, even Cage. Worse still, she's haunted by memories of the aliens who nearly tore her to shreds—and forced her to accidentally kill one of the Sanctuary prisoners, Matt.
When Kenzie intercepts a radio communication suggesting that more aliens are on their way, she knows there's only one choice: They must destroy the ship before the aliens follow the signal straight to them. Because if the monstrous creatures who attacked Sanctuary reach Earth, then it's game over for humanity.
What Kenzie doesn't know is that the aliens aren't the only ones on the hunt. Omnistellar has put a bounty on Kenzie's head—and the question is whether the aliens or Omnistellar get to her first.
The epic, magical saga of royalty, romance, and violence continues.
A princess. A soldier. A servant. A demon hunter. A thief. When we last saw them, this unlikely group was heading into the Northern Territory of the kingdom of Pitoria, on the run from the sadistic and power-hungry King Aloysius of Brigant. The Smoke Thieves have discovered that demon smoke is not only an illegal drug used for pleasure, but in fact, when taken by children, demon smoke briefly gives its users super-human strength. Aloysius' plan is simple and brutal: kill the demons for their smoke, and use that smoke to build an unstoppable army of children to take over Pitoria, Calidor, and then the rest of the world. The Smoke Thieves are the only ones who understand this plan–but can they stop it? Catherine, Aloysius' daughter, is seen as a traitor from all sides; Tash is heartbroken after the loss of her one friend and sees nothing left for her in the human world; Edyon is wanted for murder; March is carrying the secret of his betrayal of his new love; Ambrose is out for revenge–and all the while, the demons have plans of their own…
True to its name, the sleepy town of Shy in Avon-upon-Kynt is a place where nothing much happens. And for eighteen years, Emmaline Watkins has feared that her future held just that: nothing.
But when the head of the most admired fashion house in the country opens her prestigious design competition to girls from outside the stylish capital city, Emmy's dreams seem closer than they ever have before.
As the first "country girl" to compete, Emmy knows she'll encounter extra hurdles on her way to the top. But as she navigates the twisted world of high fashion, she starts to wonder: Will she be able to tailor herself to fit into this dark, corrupted race? And at what cost?
Hello Girls by
Brittany Cavallaro and Emily Henry
Winona has been starving for life in the seemingly perfect home that she shares with her seemingly perfect father, celebrity weatherman Stormy Olsen. No one knows that he locks the pantry door to control her eating and leaves bruises where no one can see them.
Lucille has been suffocating beneath the needs of her mother and her drug-dealing brother, wondering if there's more out there for her than disappearing waitress tips and a lifetime of barely getting by.
One harrowing night, Winona and Lucille realize they can't wait until graduation to start their new lives. They need out. Now. One hour later, they're armed with a plan that will take them from their small Michigan town to Chicago.
All they need is three grand, fast. And really, a stolen convertible can't hurt.
Chased by the oppression, toxicity, and powerlessness that has held them down, Winona and Lucille must reclaim their strength if they are going to make their daring escape—and get away with it.
In a manor by the sea, twelve sisters are cursed.
Annaleigh lives a sheltered life at Highmoor with her sisters and their father and stepmother. Once there were twelve, but loneliness fills the grand halls now that four of the girls' lives have been cut short. Each death was more tragic than the last–the plague, a plummeting fall, a drowning, a slippery plunge–and there are whispers throughout the surrounding villages that the family is cursed by the gods.
Disturbed by a series of ghostly visions, Annaleigh becomes increasingly suspicious that her sister's deaths were no accidents. The girls have been sneaking out every night to attend glittering balls, dancing until dawn in silk gowns and shimmering slippers, and Annaleigh isn't sure whether to try to stop them or to join their forbidden trysts. Because who–or what–are they really dancing with?
When Annaleigh's involvement with a mysterious stranger who has secrets of his own intensifies, it's a race to unravel the darkness that has fallen over her family–before it claims her next. House of Salt and Sorrows is a spellbinding novel filled with magic and the rustle of gossamer skirts down long, dark hallways. Get ready to be swept away.
Since her sister's tragic death, seventeen-year-old Callie Ryan has basically given up. Her grades have plummeted, she's quit her swim team, and she barely recognizes the people her parents once were.
When she returns to her aunt's run-down coastal Victorian one year after Chloe's death, Callie resigns herself to a summer of guilt and home renovations. She doesn't expect to be charmed by the tiny coastal town or by Tucker Morgan, a local boy brimming with sunshine.
But even as her days begin to brighten, Callie's nights are crowded with chilling dreams, unanswered questions, and eerie phenomenon that have her convinced she's being haunted. Will Callie be able to figure out what her sister is trying to communicate before it's too late?
There are many ways the world could end. A fire. A catastrophic flood. A super eruption that spews lakes of lava. Ellis Kimball has made note of all possible scenarios, and she is prepared for each one.
What she doesn't expect is meeting Hannah Marks in her therapist's waiting room. Hannah calls their meeting fate. After all, Ellis is scared about the end of the world; Hannah knows when it's going to happen.
Despite Ellis's anxiety—about what others think of her, about what she's doing wrong, about the safety of her loved ones—the two girls become friends. But time is ticking down, and as Ellis tries to help Hannah decipher the details of her doomsday premonition, their search for answers only raises more questions.
When does it happen? Who will believe them? And how do you prepare for the end of the world when it feels like your life is just getting started?
WELCOME TO WHO WANTS TO BE A PAINIAC?, the latest reality TV show on the hunt for the next big-hit serial killer. But don't worry-no one is actually going to murder anyone, as real as the fake gore and pretend murder may appear . . . uh, right?
Seventeen-year-old Becca Martinello is about to find out. When her perfectly normal soccer mom dies in a car crash, a strange girl named Stef appears and lets Becca know that her deceased mom was none other than one of Alcatraz 2.0's most popular serial killers-Molly Mauler. Soon, Becca ends up on Who Wants to Be a Painiac? to learn the truth about her mom's connection to Molly, but things turn sinister when people are murdered IRL. Will Becca uncover dark secrets and make it out of the deadly reality show alive? Or will she get cut?
Kazi and Jase have survived, stronger and more in love than ever. Their new life now lies before them―the Ballengers will be outlaws no longer, Tor's Watch will be a kingdom, and Kazi and Jase will meet all challenges side by side, together at last.
But an ominous warning mars their journey back, and they soon find themselves captured in a tangled web of deceit woven by their greatest enemies and unlikeliest allies, a place where betrayals run deeper and more deadly than either had thought possible, and where timeless ambitions threaten to destroy them both.
The year is 1973. The Watergate hearings are in full swing. The Vietnam War is still raging. And homosexuality is still officially considered a mental illness. In the midst of these trying times is sixteen-year-old Jonathan Collins, a bullied, anxious, asthmatic kid, who aside from an alcoholic father and his sympathetic neighbor and friend Starla, is completely alone. To cope, Jonathan escapes to the safe haven of his imagination, where his hero David Bowie's Ziggy Stardust and dead relatives, including his mother, guide him through the rough terrain of his life. In his alternate reality, Jonathan can be anything: a superhero, an astronaut, Ziggy Stardust, himself, or completely "normal" and not a boy who likes other boys. When he completes his treatments, he will be normal–at least he hopes. But before that can happen, Web stumbles into his life. Web is everything Jonathan wishes he could be: fearless, fearsome and, most importantly, not ashamed of being gay.
Jonathan doesn't want to like brooding Web, who has secrets all his own. Jonathan wants nothing more than to be "fixed" once and for all. But he's drawn to Web anyway. Web is the first person in the real world to see Jonathan completely and think he's perfect. Web is a kind of escape Jonathan has never known. For the first time in his life, he may finally feel free enough to love and accept himself as he is.
13
Paerolia has been at peace for two centuries, and all is well in the land―or so it seems. Beneath the surface, a tyrant is rising to power.
A traumatic experience in Andra's childhood has left her mute and subdued, a servant in the Chief Judge's manor. But when an assassination team, led by the secretive and alluring Kael, infiltrates the manor and makes a quick escape, she takes her chance and flees with them.
Andra is thrust into the ranks of a secret rebellion―a group of outcasts and believers seeking to overthrow the Chief Judge and replace the corrupt government with new members, ones who will restore and preserve the land they love. Now, the girl who was once an outcast must somehow become the leader Paerolia needs. But she is stronger than she believes―and with the help of a fiercely loyal dragon, she may just be the one to lead them all to victory.
After sending the evil librarian, Mr. Gabriel, back to the demon world once and for all at theater camp last summer, Cynthia is ready to enjoy a completely demon-free senior year of high school, especially once she learns the fall musical will be Les Misérables. She can't wait to create the most incredible barricade set design in all of high-school theater. And her boyfriend, Ryan, is sure to land his dream role of Javert. But down in the demon realm, an epic mishandling of Mr. Gabriel's essence leads to his escape — and soon he's gathering strength, bent once again on revenge against Cyn and everyone she loves. Best-selling author Michelle Knudsen's Evil Librarian series overflows with horror, humor, and hot guys — and it looks like this show's got a third act.
By day, seventeen-year-old Jo Kuan works as a lady's maid for the cruel daughter of one of the wealthiest men in Atlanta. But by night, Jo moonlights as the pseudonymous author of a newspaper advice column for the genteel Southern lady, "Dear Miss Sweetie." When her column becomes wildly popular, she uses the power of the pen to address some of society's ills, but she's not prepared for the backlash that follows when her column challenges fixed ideas about race and gender. While her opponents clamor to uncover the secret identity of Miss Sweetie, a mysterious letter sets Jo off on a search for her own past and the parents who abandoned her as a baby. But when her efforts put her in the crosshairs of Atlanta's most notorious criminal, Jo must decide whether she, a girl used to living in the shadows, is ready to step into the light. With prose that is witty, insightful, and at times heartbreaking, Stacey Lee masterfully crafts an extraordinary social drama set in the New South.
Wyatt has wanted nothing more than to play football on Grayport's championship-winning team. But not for the fame, glory, or girls. It's his last chance to build a relationship with his older brother Brett, the star quarterback, before he leaves for college. Now that their team has gained national attention, a big win could be just what the small town needs in order to rebound from a fishing season that has been devastated by Red Tide. But when Brett suffers a terrible concussion, Wyatt must decide if keeping his brother's secret is worth risking his scholarship future.
Told with irreverent humor reminiscent of Carl Hiaasen, and a stark honesty about brotherhood and masculinity for fans of Andrew Smith, Gut Check explores the struggle of grappling with uncomfortable truths.
Words have always been more than enough for Ken Z, but when he meets Ran at the mall food court, everything changes. Beautiful, mysterious Ran opens the door to a number of firsts for Ken: first kiss, first love. But as quickly as he enters Ken's life, Ran disappears, and Ken Z is left wondering: Why love at all, if this is where it leads?
Letting it end there would be tragic. So, with the help of his best friends, the comfort of his haikus and lists, and even strange, surreal appearances by his hero, Oscar Wilde, Ken will find that love is worth more than the price of heartbreak.
The Last Hope by
Krista Ritchie and Becca Ritchie
Sacrifice all you have to survive.
Imprisoned for weeks on an enemy starcraft, Franny, Court, and Mykal have sat with an unfathomable revelation. But as they fight to stay alive, escaping prison means trusting a young mysterious stranger. He knows everything about their lost histories, and when answers aren't given freely, the bonded trio are forced to join a mission. One that will determine the fate of humanity.
Legend says, a baby―the first of her species―has the power to cloak and teleport planets. Tasked with retrieving the infant, Court fears the baby is just a myth, and if they fail, they'll never find the truth about their origins.
As Court and Mykal grow closer, their linked bond becomes harder to hide, and dynamics change when Franny begins to fall for someone new. Vulnerable and with no choice, the hunt for the baby sends the trio on a dangerous path to Saltare-1: a water world where their enemies can't die and survival comes at a high cost.
The witches, beasties, goblins, and Royals return in this spellbinding conclusion to New York Times best-selling author Megan Shepherd's Grim Lovelies duology.
On the day she brings her sweet little sister, Nika, to school for the first time, eighteen-year-old Darya has already been taking care of her family for years. But a joyous September morning shifts in an instant when Darya's rural Russian town is attacked by terrorists. While Darya manages to escape, Nika is one of hundreds of children taken hostage in the school in what stretches to a three-day siege and ends in violence. In the confusion and horror that follow, Darya and her family frantically scour hospitals and survivor lists in hopes that Nika has somehow survived. And as journalists and foreign aid workers descend on her small town, Darya is caught in the grip of grief and trauma, trying to recover her life and wondering if there is any hope for her future. From acclaimed author Julie Mayhew comes a difficult but powerful narrative about pain, purpose, and healing in the wake of senseless terror.
Princesses Denna and Mare are in love and together at last—only to face a new set of dangers.
Mare just wants to settle down with the girl she loves, which would be easier if Denna weren't gifted with forbidden and volatile fire magic. Denna must learn to control her powers, which means traveling in secret to the kingdom of Zumorda, where she can seek training without fear of persecution. Determined to help, Mare has agreed to serve as an ambassador as a cover for their journey.
But just as Mare and Denna arrive in Zumorda, an attack on a border town in Mynaria changes everything. Mare's diplomatic mission is now urgent: she must quickly broker an alliance with the queen of Zumorda to protect her homeland. However, the queen has no interest in allying with other kingdoms; it's Denna's untamed but powerful magic that catches her eye. The queen offers Denna a place among her elite trainees—an opportunity that would force her to choose between her magic and Mare.
As Denna's powers grow stronger, Mare struggles to be the ambassador her kingdom needs. By making unconventional friends, her knowledge of Zumorda and its people grow, and so too do her suspicions about who is truly behind the attacks on Zumorda and her homeland.
As rising tensions and unexpected betrayals put Mare and Denna in jeopardy and dangerous enemies emerge on all sides, can they protect their love and save their kingdoms?
Willa and Taylor were supposed to spend the summer after high school sailing from Ohio to Key West with their best friend, Finley. But Finley died before graduation, leaving them with a twenty-five-foot sailboat, a list of clues leading them to destinations along the way, and a friendship that's hanging by a thread.
Now, Willa and Taylor have two months and two thousand miles to discover how life works without Finley—and to decide if their own friendship is worth saving.
Brothers Marcus and Julian Sedgwick team up to pen this haunting tale of another pair of brothers, caught between life and death in World War II. Harry Black, a conscientious objector, artist, and firefighter battling the blazes of German bombing in London in 1944, wakes in the hospital to news that his soldier brother, Ellis, has been killed. In the delirium of his wounded state, Harry's mind begins to blur the distinctions between the reality of war-torn London, the fiction of his unpublished sci-fi novel, and the myth of Orpheus and Eurydice. Driven by visions of Ellis still alive and a sense of poetic inevitability, Harry sets off on a search for his brother that will lead him deep into the city's Underworld. With otherworldly paintings by Alexis Deacon depicting Harry's surreal descent further into the depths of hell, this eerily beautiful blend of prose, verse, and illustration delves into love, loyalty, and the unbreakable bonds of brotherhood as it builds to a fierce indictment of mechanized warfare.
When Ellie's estranged brother, Luke, dies in a car accident, she's not sure whether to be devastated that she lost the person who was once her best friend or enraged, still, that he left without a word a year ago. Now, the only people who seem to understand what she's going through are Luke's best friend and his ex-girlfriend, who she bonds with over their desire to figure out where Luke went when he walked out of their lives.
As she gets closer to them, and closer to Cade, a boy who seems determined to get to know her better, she realizes that she's not the only one with reasons to be angry at Luke. And when Ellie makes a discovery that changes everything, she and her new friends hit the road, hoping that following Luke's trail will bring them answers about the life Luke was living away from them.
20
In one impulsive moment the summer before they leave for college, overachievers Scarlett and David plunge into an irresistible swirl of romance, particle physics, and questionable decisions.
Scarlett and David have known each other all their lives in small-town Graceville, Colorado, where David is just another mountain in the background, until, one day, he is suddenly so much more than part of the landscape. Magnetic, spontaneous, David is a gravitational force. And Scarlett, pragmatic, wry, eye on the future, welcomes the whirlwind he brings even as she resists it.
Moving between the present and the past, this is the story of a seemingly grounded girl who's pulled into a lightning-strike romance with an electric-charged boy, and the enormity of the aftermath. Smart, bold, and unconventionally romantic, Shana Youngdahl's debut explores grief, guilt, and reconciling who you think you need to be with the person you've been all along. It's an aching, transporting reminder that between the past that shapes us and the unknowable future, we have only the present to forgive ourselves and forge ahead.
Who is Nevaeh Levitz?
Growing up in an affluent suburb of New York City, sixteen-year-old Nevaeh Levitz never thought much about her biracial roots. When her Black mom and Jewish dad split up, she relocates to her mom's family home in Harlem and is forced to confront her identity for the first time.
Nevaeh wants to get to know her extended family, but one of her cousins can't stand that Nevaeh, who inadvertently passes as white, is too privileged, pampered, and selfish to relate to the injustices they face on a daily basis as African Americans. In the midst of attempting to blend their families, Nevaeh's dad decides that she should have a belated bat mitzvah instead of a sweet sixteen, which guarantees social humiliation at her posh private school. Even with the push and pull of her two cultures, Nevaeh does what she's always done when life gets complicated: she stays silent.
It's only when Nevaeh stumbles upon a secret from her mom's past, finds herself falling in love, and sees firsthand the prejudice her family faces that she begins to realize she has a voice. And she has choices. Will she continue to let circumstances dictate her path? Or will she find power in herself and decide once and for all who and where she is meant to be?
Lainey wouldn't mind lugging a camera around a video game convention for her mega-famous brother, aka YouTube streamer Codemeister, except for one big problem. He's funny and charming online, but behind closed doors, Cody is a sexist jerk.
SamTheBrave came to this year's con with one mission: meeting Codemeister—because getting his idol's attention could be the big break Sam needs.
ShadowWillow is already a successful streamer. But when her fans start shipping her with Code, Shadow concocts a plan to turn the rumors to her advantage.
The three teens' paths collide when Lainey records one of Cody's hateful rants on video and decides to spill the truth to her brother's fans—even if that means putting Sam and Shadow in the crosshairs.
Ernesto and Raúl Flores are identical twins, used to being mistaken for each other. As seventeen-year-olds living in rural El Salvador, they think the United States is just a far-off dream–it's too risky, too expensive to start a life there. But when Ernesto ends up on the wrong side of MS-13, one of El Salvador's brutal gangs, he flees the country for his own safety. Raúl, fearing that he will be mistaken for his brother, follows close behind.
Running from one danger to the next, the Flores twins make the harrowing journey north, crossing the Rio Grande and the Texas desert only to fall into the hands of immigration authorities. When they finally make it to the custody of their older brother in Oakland, California, the difficulties don't end.
While navigating a new school in a new language, struggling to pay off their mounting coyote debt, and anxiously waiting for their day in immigration court, Raul and Ernesto are also trying to lead normal teenage lives–dealing with girls, social media, and fitting in. With only each other for support, they begin the process of carving out a life for themselves, one full of hope and possibility.
Adapted for young adults from the award-winning adult edition, The Far Away Brothers is the inspiring true story of two teens making their way in America, a personal look at U.S. immigration policy, and a powerful account of contemporary immigration.
Holly's mom is a hoarder, and Holly is fed up with being picked on at school for being weird . . . and having the wrong clothes . . . and sticking out. All she wants is to fit in. She loves swimming, because in the water everyone is the same.
Ed goes to the swimming pool because everything else in his life has changed. In his old life, he had money, was on the swim team, knew who he was and what he wanted. In his old life, his dad hit his mom.
Holly is swimming in one direction and Ed's swimming in the other. As their worlds collide they find a window into each other's lives―and learn how to meet in the middle.
Dove "Birdie" Randolph works hard to be the perfect daughter and follow the path her parents have laid out for her: She quit playing her beloved soccer, she keeps her nose buried in textbooks, and she's on track to finish high school at the top of her class. But then Birdie falls hard for Booker, a sweet boy with a troubled past…whom she knows her parents will never approve of.
When her estranged aunt Carlene returns to Chicago and moves into the family's apartment above their hair salon, Birdie notices the tension building at home. Carlene is sweet, friendly, and open-minded–she's also spent decades in and out of treatment facilities for addiction. As Birdie becomes closer to both Booker and Carlene, she yearns to spread her wings. But when long-buried secrets rise to the surface, everything she's known to be true is turned upside down.
27
When Deena's wild older sister Mandy goes missing, presumed dead, Deena refuses to believe it's true. Especially when letters start arriving–letters from Mandy–which proclaim that their family's blighted history is not just bad luck or bad decisions but a curse, handed down to women from generation to generation. Mandy's gone to find the root of the curse before it's too late for Deena. But is the curse even real? And is Mandy still alive? Deena's desperate, cross-country search for her beloved sister–guided only by the notes that mysteriously appear at each destination, leading her to former Magdalene laundry sites and more–is a love letter to women and a heartbreaking cathartic journey.
Nor once dreamed of seeing the wondrous wealth and beauty of Ilara, the kingdom that's ruled her village for as long as anyone can remember. But when a childhood accident left her with a permanent scar, it became clear that her identical twin sister, Zadie, would likely be chosen to marry the Crown Prince—while Nor remained behind, unable to ever set foot on land.
Then Zadie is gravely injured, and Nor is sent to Ilara in her place. To Nor's dismay, her future husband, Prince Ceren, is as forbidding and cold as his home—a castle carved into a mountain and devoid of sunlight. And as she grows closer to Ceren's brother, the charming Prince Talin, Nor uncovers startling truths about a failing royal bloodline, a murdered queen…and a plot to destroy the home she was once so eager to leave.
In order to save her people, Nor must learn to negotiate the treacherous protocols of a court where lies reign and obsession rules. But discovering her own formidable strength may be the one move that costs her everything: the crown, Varenia and Zadie.
There are worse things than death.
The Harbinger is lost, sunk to the bottom of an otherworldly sea. Every soul that ever died and was protected within its hold has been lost along with it. But at least that precious cargo is out of reach of the demon Urcena and her army of soul-devouring monsters.
For now.
The soul keepers are broken, scattered, and barely clinging to existence without their ship or any way to collect or protect the souls of the newly dead. If they are to have any hope of stopping Urcena's horrifying plans to destroy the fragile balance between living and dead, they will first have to survive long enough to locate the ghost of one of their own, who sacrificed himself to save the rest of the crew.
Arden sells memories. Whether it's becoming homecoming queen or studying for that all important test, Arden can hack into a classmate's memories and upload the experience for you just as if you'd lived it yourself. Business is great, right up until the day Arden whites out, losing fifteen minutes of her life and all her memories of the boy across the school yard. The boy her friends assure her she's had a crush on for years.
Arden realizes that her own memories have been hacked, but they haven't just been stolen and shared… they've been removed. And she's not the only one: her mysterious crush, Sebastian, has lost ALL of his memories. But how can they find someone who has the power to make them forget everything they've learned?
When the Dionne Quintuplets were born on May 28, 1934, weighing a grand total of just over 13 pounds, no one expected them to live so much as an hour. Overnight, Yvonne, Annette, Cécile, Émilie, and Marie Dionne mesmerized the globe, defying medical history with every breath they took. In an effort to protect them from hucksters and showmen, the Ontario government took custody of the five identical babies, sequestering them in a private, custom-built hospital across the road from their family–and then, in a stunning act of hypocrisy, proceeded to exploit them for the next nine years. The Dionne Quintuplets became a more popular attraction than Niagara Falls, ogled through one-way screens by sightseers as they splashed in their wading pool at the center of a tourist hotspot known as Quintland. Here, Sarah Miller reconstructs their unprecedented upbringing with fresh depth and subtlety, bringing to new light their resilience and the indelible bond of their unique sisterhood.
When a deadly shooting breaks out in a Portland shopping mall, a diverse group of teens ends up trapped behind a store's security shutter. To her own surprise, seventeen-year-old Miranda finds the others looking to her as their leader. But she's hiding a big secret―and she's not the only one. The group has only three choices: Run, hide, or fight back. The wrong decision will have fatal consequences.
In her masterful style, April Henry crafts an unrelenting thriller with empowering teen heroes. For fans of the breakout YA mysteries This Is Where It Ends and One of Us Is Lying.
They came in the night as she dreamt, in her berth, on a ship sailing home to del Mar. After, they would be all Reyna thought about: two carracks painted scorpion black. No emblem on either forecastle, no pennants flying above the mainmasts to hint at a kingdom of origin.
Never a good sign.
As the granddaughter of a famed navigator, seventeen-year-old Reyna has always lived life on her own terms, despite those who say a girl could never be an explorer for the royal house of St. John del Mar. She is determined to prove them wrong, and as she returns home after a year-long expedition, she knows her dream is within reach. No longer an apprentice, instead: Reyna, Master Explorer.
But when menacing raiders attack her ship, those dreams are pushed aside. Reyna's escape is both desperate and dangerous, and when next she sees her ship, a mystery rises from the deep. The sailors–her captain, her countrymen–have vanished. To find them, Reyna must use every resource at her disposal . . . including placing her trust in a handsome prince from a rival kingdom.
Together they uncover a disturbing truth. The attack was no isolated incident. Troubling signs point to a shadowy kingdom in the north, and for once, the rulers of the Sea of Magdalen agree: something must be done. But can Reyna be brave enough to find a way?
As a child, she committed unforgivable acts to free Grace Loray from King Elazar of Argrid. Now Elazar's plan to retake the island has surpassed Lu's darkest fears: He's holding her and his son, Ben, captive in an endlessly shifting prison, forcing them to make a weapon that will guarantee Elazar's success.
Escape is impossible—unless Lu becomes the ruthless soldier she hoped never to be again.
Vex failed to save Lu and Ben—and that torments him as much as his Shaking Sickness. With the disease worsening, Vex throws himself into the rebellion against Argrid. The remaining free armies are allied with the stream raider syndicates—and getting them to cooperate will take a strength Vex thought burned on a pyre six years ago.
Imprisoned, betrayed, and heartbroken, Ben is determined to end his father's rampage. Watching Elazar sway the minds of Grace Loray as he did those of Argrid, Ben knows he has to play his father's game of devotion to win this war. But how can a heretic prince defeat the Pious God?
As armies clash and magic rises, Lu, Vex, and Ben will confront their pasts . . . or lose their futures forever.
Branwen has a secret powerful enough to destroy two kingdoms.
Her ancient magic led to a terrible betrayal by both her best friend, the princess Essy, and her first love, Tristan. Now this same magic is changing Branwen. Adrift in a rival court, Branwen must hide the truth from the enemy king by protecting the lovers who broke her heart―and finds herself considering a darker path.
Not everyone wants the alliance with Branwen's kingdom to succeed―peace is balanced on a knife's edge, and her only chance may be to embrace the darkness within…
September
3
Two princesses vying for the ultimate crown.
Two girls vying for the prince's heart.
This is the story of the American royals.
When America won the Revolutionary War, its people offered General George Washington a crown. Two and a half centuries later, the House of Washington still sits on the throne. Like most royal families, the Washingtons have an heir and a spare. A future monarch and a backup battery. Each child knows exactly what is expected of them. But these aren't just any royals. They're American.
As Princess Beatrice gets closer to becoming America's first queen regnant, the duty she has embraced her entire life suddenly feels stifling. Nobody cares about the spare except when she's breaking the rules, so Princess Samantha doesn't care much about anything, either . . . except the one boy who is distinctly off-limits to her. And then there's Samantha's twin, Prince Jefferson. If he'd been born a generation earlier, he would have stood first in line for the throne, but the new laws of succession make him third. Most of America adores their devastatingly handsome prince . . . but two very different girls are vying to capture his heart.
In the final days of the Việt Nam War, Hằng takes her little brother, Linh, to the airport, determined to find a way to safety in America. In a split second, Linh is ripped from her arms—and Hằng is left behind in the war-torn country.
Six years later, Hằng has made the brutal journey from Việt Nam and is now in Texas as a refugee. She doesn't know how she will find the little brother who was taken from her until she meets LeeRoy, a city boy with big rodeo dreams, who decides to help her.
Hằng is overjoyed when she reunites with Linh. But when she realizes he doesn't remember her, their family, or Việt Nam, her heart is crushed. Though the distance between them feels greater than ever, Hằng has come so far that she will do anything to bridge the gap.
You might ask the obvious question: What do I, a seventeen-year-old Haitian American from Miami with way too little life experience, have to say about anything?
Actually, a lot.
Thanks to "the incident" (don't ask), I'm spending the next two months doing what my school is calling a "spring volunteer immersion project." It's definitely no vacation. I'm toiling away under the ever-watchful eyes of Tati Estelle at her new nonprofit. And my lean-in queen of a mother is even here to make sure I do things right. Or she might just be lying low to dodge the media sharks after a much more public incident of her own…and to hide a rather devastating secret.
All things considered, there are some pretty nice perks…like flirting with Tati's distractingly cute intern, getting actual face time with my mom and experiencing Haiti for the first time. I'm even exploring my family's history—which happens to be loaded with betrayals, superstitions and possibly even a family curse.
You know, typical drama. But it's nothing I can't handle.
Seventeen-year-old Buddy has spent most of his life trying to escape the Lower East Side slums of New York City. Working as a delivery boy to support his family, Buddy wants to become an artist, a dream he's sure will never be realized. But that all changes when a delivery job puts him face-to-face with Mister Joey Drew, the eccentric owner of an animation studio.
Mister Drew takes Buddy under his wing as an apprentice, thrusting him into a world unlike anything Buddy has ever seen before. There's the colorful cast of the studio, from the cranky, yet driven composer Sammy Lawrence to Dot, the writing intern and Buddy's counterpart. Working for Mister Drew, Buddy starts to think that maybe it's really as simple as Mister Drew says: Dreams do come true. But not everything at the studio is as picture-perfect as it seems . . .
Something is going bump in the night at Joey Drew Studios, something that leaves behind trails of thick, dark ink. While the studio frantically works toward their latest deadline, Buddy and Dot team up to find out just what is tormenting the studio after-hours, even if it means tracking the trail to Mister Drew himself.
After the grim confrontation with Queen Katharine, the rebellion lies in tatters. Jules's legion curse has been unbound, and it is up to Arsinoe to find a cure, even as the responsibility of stopping the ravaging mist lies heavy on her shoulders, and her shoulders alone. Mirabella has disappeared.
Katharine's reign remains intact—for now. When Mirabella arrives, seemingly under a banner of truce, Katharine begins to yearn for the closeness that Mirabella and Arsinoe share. But as the two circle each other, the dead queens hiss caution—Mirabella is not to be trusted.
In this conclusion to the Three Dark Crowns series, three sisters will rise to fight as the secrets of Fennbirn's history are laid bare. Allegiances will shift. Bonds will be tested. But the fate of the island lies in the hands of its queens. It always has.
For as long as she can remember, Tova has lived among the Svell, the people who found her washed ashore as a child and use her for her gift as a Truthtongue. Her own home and clan are long-faded memories, but the sacred symbols and staves inked over every inch of her skin mark her as one who can cast the rune stones and see into the future. She has found a fragile place among those who fear her, but when two clans to the east bury their age-old blood feud and join together as one, her world is dangerously close to collapse.
For the first time in generations, the leaders of the Svell are divided. Should they maintain peace or go to war with the allied clans to protect their newfound power? And when their chieftain looks to Tova to cast the stones, she sets into motion a series of events that will not only change the landscape of the mainland forever but will give her something she believed she could never have again―a home.
When CeCe's born-again ex-boyfriend dumps her after they have sex, she follows him to Jesus camp in order to win him back. Problem: She knows nothing about Jesus. But her best friend Paul does. He accompanies CeCe to camp, and the plan―God's or CeCe's―goes immediately awry when her ex shows up with a new girlfriend, a True Believer at that.
Scrambling to save face, CeCe ropes Paul into faking a relationship. But as deceptions stack up, she questions whether her ex is really the nice guy he seemed. And what about her strange new feelings for Paul―is this love, lust, or an illusion born of heartbreak? To figure it out, she'll have to confront the reasons she chased her ex to camp in the first place, including the truth about the night she lost her virginity.
Born into a family of powerful witchdoctors, Arrah yearns for magic of her own. But each year she fails to call forth her ancestral powers, while her ambitious mother watches with growing disapproval.
There's only one thing Arrah hasn't tried, a deadly last resort: trading years of her own life for scraps of magic. Until the Kingdom's children begin to disappear, and Arrah is desperate to find the culprit.
She uncovers something worse. The long-imprisoned Demon King is stirring. And if he rises, his hunger for souls will bring the world to its knees… unless Arrah pays the price for the magic to stop him.
Some legends never die…
Traveling with her treasure-hunting father has always been a dream for Theodora. She's read every book in his library, has an impressive knowledge of the world's most sought-after relics, and has all the ambition in the world. What she doesn't have is her father's permission. That honor goes to her father's nineteen-year-old protégé—and once-upon-a-time love of Theodora's life—Huck Gallagher, while Theodora is left to sit alone in her hotel in Istanbul.
Until Huck arrives from an expedition without her father and enlists Theodora's help in rescuing him. Armed with her father's travel journal, the reluctant duo learns that her father had been digging up information on a legendary and magical ring that once belonged to Vlad the Impaler—more widely known as Dracula—and that it just might be the key to finding him.
Journeying into Romania, Theodora and Huck embark on a captivating adventure through Gothic villages and dark castles in the misty Carpathian Mountains to recover the notorious ring. But they aren't the only ones who are searching for it. A secretive and dangerous occult society with a powerful link to Vlad the Impaler himself is hunting for it, too. And they will go to any lengths—including murder—to possess it.
Before the days of going toe-to-toe with the Avengers, a younger Loki is desperate to prove himself heroic and capable, while it seems everyone around him suspects him of inevitable villainy and depravity . . . except for Amora. Asgard's resident sorceress-in-training feels like a kindred spirit-someone who values magic and knowledge, who might even see the best in him.
But when Loki and Amora cause the destruction of one of Asgard's most prized possessions, Amora is banished to Earth, where her powers will slowly and excruciatingly fade to nothing. Without the only person who ever looked at his magic as a gift instead of a threat, Loki slips further into anguish and the shadow of his universally adored brother, Thor.
When Asgardian magic is detected in relation to a string of mysterious murders on Earth, Odin sends Loki to investigate. As he descends upon nineteenth-century London, Loki embarks on a journey that leads him to more than just a murder suspect, putting him on a path to discover the source of his power-and who he's meant to be.
After escaping her kidnappers and destroying the black market where she was held captive, all Nita wants is to find a way to live her life without looking over her shoulder. But with a video of her ability to self-heal all over the dark web, Nita knows she's still a prime target on the black market. There's only one way to keep herself safe. Nita must make herself so feared that no one would ever dare come after her again. And the best way to start building her reputation? Take her revenge on Fabricio, the boy who sold Nita to her kidnappers. But killing Fabricio is harder than Nita thought it would be, even with Kovit by her side. Now caught in a game of kill or be killed, Nita will do whatever it takes to win.
On paper, college dropout Pablo Rind doesn't have a whole lot going for him. His graveyard shift at a twenty-four-hour deli in Brooklyn is a struggle. Plus, he's up to his eyeballs in credit card debt. Never mind the state of his student loans.
Pop juggernaut Leanna Smart has enough social media followers to populate whole continents. The brand is unstoppable. She graduated from child stardom to become an international icon and her adult life is a queasy blur of private planes, step-and-repeats, aspirational hotel rooms, and strangers screaming for her just to notice them.
When Leanna and Pablo meet at 5:00 a.m. at the bodega in the dead of winter it's absurd to think they'd be A Thing. But as they discover who they are, who they want to be, and how to defy the deafening expectations of everyone else, Lee and Pab turn to each other. Which, of course, is when things get properly complicated.
Kylee is ensconsed in the Sky Castle, training with Mem Uku to master the Hollow Tongue and the Ghost Eagle. But political intrigue abounds and court drama seems to seep through the castle's stones like blood from a broken feather. Meanwhile, Brysen is still in the Six Villages, preparing for an attack by the Kartami. The Villages have become Uztar's first line of defense, and refugees are flooding in from the plains. But their arrival lays bare the villagers' darkest instincts. As Brysen navigates the growing turmoil, he must also grapple with a newfound gift, a burgeoning crush on a mysterious boy, and a shocking betrayal.
The two will meet again on the battlefield, fighting the same war from different sides. But the Ghost Eagle has its own plans.
Two years ago, Louise le Blanc fled her coven and took shelter in the city of Cesarine, forsaking all magic and living off whatever she could steal. There, witches like Lou are hunted. They are feared. And they are burned.
As a huntsman of the Church, Reid Diggory has lived his life by one principle: Thou shalt not suffer a witch to live. But when Lou pulls a wicked stunt, the two are forced into an impossible situation—marriage.
Lou, unable to ignore her growing feelings, yet powerless to change what she is, must make a choice. And love makes fools of us all.
Set in a world of powerful women, dark magic, and off-the-charts romance, book one of this stunning fantasy duology will leave readers burning for more.
Sisters April and Jenn haven't been close in years. Jenn's too busy with school, the family antique shop, and her boyfriend, and April would rather play soccer and hang out with the boy next door.
But when April notices her older sister is sad about staying home for college, she decides to do something about it. The girls set off to revive a pact they made as kids: spend an epic day exploring the greatest hits of their childhood and all that Los Angeles has to offer.
Then April learns that Jenn has been keeping a secret that could rip their family—and their feuding parents—apart. With only one day to set things right, the sisters must decide if their relationship is worth saving, or if the truth will tear them apart for good.
The Age of Darkness approaches.
Five lives stand in its way.
Who will stop it . . . or unleash it?
For generations, the Seven Prophets guided humanity. Using their visions of the future, they ended wars and united nations―until the day, one hundred years ago, when the Prophets disappeared.
All they left behind was one final, secret prophecy, foretelling an Age of Darkness and the birth of a new Prophet who could be the world's salvation . . . or the cause of its destruction. With chaos on the horizon, five souls are set on a collision course:
A prince exiled from his kingdom.
A ruthless killer known as the Pale Hand.
A once-faithful leader torn between his duty and his heart.
A reckless gambler with the power to find anything or anyone.
And a dying girl on the verge of giving up.
One of them―or all of them―could break the world. Will they be savior or destroyer? Perfect for fans of Throne of Glass, Children of Blood and Bone, and An Ember in the Ashes.
It's been more than 50 years since a tornado tore through a drive-in movie theater in tiny Mercer, Illinois, leaving dozens of teens — a whole generation of Mercerites — dead in its wake. So when another tornado touches down in the exact same spot on the anniversary of this small-town tragedy, the town is shaken. For Brenna Ortiz, Joshua Calloway, and Callie Keller, the apprehension is more than just a feeling. Though they seem to share nothing more than a struggle to belong, the teens' paths continue to intersect, bringing them together when they least expect it, and perhaps, when they need it most. Both the living and the dead have secrets and unresolved problems, but they may be able to find peace and move forward–if only they work together.
10
One hot summer morning, only weeks after his father's death, Davie steps out his front door into the familiar streets of the Tyneside town that has always been his home. But this seemingly ordinary day takes on an air of mystery and tragedy as the residents learn that a boy has been killed. Despite the threat of a murderer on the loose, Davie turns away from the gossip and sets off toward the sunlit hill above town, where the real and imaginary worlds begin to blur around him. As he winds his way up the hillside, Davie sees things that seem impossible but feel utterly right, that renew his wonder and instill him with hope. Full of the intense excitement of growing up, David Almond's tale leaves both the reader and Davie astonished at the world and eager to explore it.
Isaiah loves football. In fact, football saved Isaiah's life, giving him structure and discipline after his sister's death tore his family apart. But when Isaiah gets knocked out cold on the field, he learns there's a lot more to lose than football.
While recovering from a concussion, Isaiah wonders what his life would look like without the game. All his friends are on the team, and Isaiah knows they can't win without him. The scholarship offer from Cornell is only on the table if he keeps playing.
And without football, what would keep his family together? What would prevent him from sliding back into the habits that nearly destroyed him?
Isaiah must decide how much he's willing to sacrifice for the sport that gave him everything, even if playing football threatens to take away his future.
Two friends. One fake dating scheme. What could possibly go wrong?
Frank Li has two names. There's Frank Li, his American name. Then there's Sung-Min Li, his Korean name. No one uses his Korean name, not even his parents. Frank barely speaks any Korean. He was born and raised in Southern California.
Even so, his parents still expect him to end up with a nice Korean girl–which is a problem, since Frank is finally dating the girl of his dreams: Brit Means. Brit, who is funny and nerdy just like him. Brit, who makes him laugh like no one else. Brit . . . who is white.
As Frank falls in love for the very first time, he's forced to confront the fact that while his parents sacrificed everything to raise him in the land of opportunity, their traditional expectations don't leave a lot of room for him to be a regular American teen. Desperate to be with Brit without his parents finding out, Frank turns to family friend Joy Song, who is in a similar bind. Together, they come up with a plan to help each other and keep their parents off their backs. Frank thinks he's found the solution to all his problems, but when life throws him a curveball, he's left wondering whether he ever really knew anything about love—or himself—at all.
In this moving novel, debut author David Yoon takes on the question of who am I? with a result that is humorous, heartfelt, and ultimately unforgettable.
Edgar Allan Poe may be a hundred and fifty years beyond this world, but the themes of his beloved works have much in common with modern young adult fiction. Whether the stories are familiar to readers or discovered for the first time, readers will revel in Edgar Allan Poe's classic tales, and how they've been brought to life in 13 unique and unforgettable ways.
Contributors include Dahlia Adler (reimagining "Ligeia), Kendare Blake ("Metzengerstein"), Rin Chupeco ("The Murders in the Rue Morgue"), Lamar Giles ("The Oval Portrait"), Tessa Gratton ("Annabel Lee"), Tiffany D. Jackson ("The Cask of Amontillado"), Stephanie Kuehn ("The Tell-Tale Heart"), Emily Lloyd-Jones ("The Purloined Letter"), Amanda Lovelace ("The Raven"), Hillary Monahan ("The Masque of the Red Death"), Marieke Nijkamp ("Hop-Frog"), Caleb Roehrig ("The Pit and the Pendulum"), and Fran Wilde ("The Fall of the House of Usher").
For fifteen-year-old Shamiso, hope is a futile leap into darkness. Grief-stricken and bewildered after her father's death in a mysterious car crash, she's shipped off from her home in the UK to a Zimbabwe boarding school. For Tanyaradzwa, a classmate whose life has been turned upside down by a cancer diagnosis, hope is the only reason to keep fighting.
As an unexpected friendship blossoms between them, Tanyaradzwa helps Shamiso confront her fear of loss. In opening herself to someone with a potentially fatal illness, Shamiso knows that she might be opening herself to more pain. Yet Tanyaradzwa is the only one who gives her the strength to ask the burning question: What really happened to her father?
Piper was raised in a cult.
She just doesn't know it.
Seventeen-year-old Piper knows that Father is a Prophet. Infallible. The chosen one.
She would do anything for Father. That's why she takes care of all her little sisters. That's why she runs end-of-the-world drills. That's why she never asks questions. Because Father knows best.
Until the day he doesn't. Until the day the government raids the compound and separates Piper from her siblings, from Mother, from the Aunts, from all of Father's followers–even from Caspian, the boy she loves.
Now Piper is living Outside. Among Them.
With a woman They claim is her real mother–a woman They say Father stole her from.
But Piper knows better. And Piper is going to escape.
Adolescence is a time of "firsts." First kiss. First love. First loss. First job. The first taste of adult responsibilities, and the first look at an independent life away from both the restrictions and the security of home.
And in this case, a very different type of "first": murder.
This short story collection of murder mysteries adds a sinister spin to the joy and pain of firsts that have always been a major part of life, whether it be high school cliques who take the term "backstabbing" too seriously, stumbling upon a body on the way home from school, or receiving a Snapchat message that promises something deadly.
Contributors include Barry Lyga, Caleb Roehrig, Emmy Laybourne, Jonathan Maberry, R.L. Stine, Rachel Vincent, Y.S. Lee, and more!
Janusz Korczak was more than a good doctor. He was a hero. The Dr. Spock of his day, he established orphanages run on his principle of honoring children and shared his ideas with the public in books and on the radio. He famously said that "children are not the people of tomorrow, but people today." Korczak was a man ahead of his time, whose work ultimately became the basis for the U.N. Declaration of the Rights of the Child.
Korczak was also a Polish Jew on the eve of World War II. He turned down multiple opportunities for escape, standing by the children in his orphanage as they became confined to the Warsaw Ghetto. Dressing them in their Sabbath finest, he led their march to the trains and ultimately perished with his children in Treblinka.
But this book is much more than a biography. In it, renowned nonfiction master Albert Marrin examines not just Janusz Korczak's life but his ideology of children: that children are valuable in and of themselves, as individuals. He contrasts this with Adolf Hitler's life and his ideology of children: that children are nothing more than tools of the state.
And throughout, Marrin draws readers into the Warsaw Ghetto. What it was like. How it was run. How Jews within and Poles without responded. Who worked to save lives and who tried to enrich themselves on other people's suffering. And how one man came to represent the conscience and the soul of humanity.
Filled with black-and-white photographs, this is an unforgettable portrait of a man whose compassion in even the darkest hours reminds us what is possible.
Fifteen-year-old Simran "Simi" Sangha comes from a long line of Indian vichole –– matchmakers — with a rich history for helping parents find good matches for their grown children. When Simi accidentally sets up her cousin and a soon-to-be lawyer, her family is thrilled that she has the "gift."
But Simi is an artist, and she doesn't want to have anything to do with relationships, helicopter parents, and family drama. That is, until she realizes this might be just the thing to improve her and her best friend Noah's social status. Armed with her family's ancient guide to finding love, Simi starts a matchmaking service-via an app, of course.
But when she helps connect a wallflower of a girl with the star of the boys' soccer team, she turns the high school hierarchy topsy-turvy, soon making herself public enemy number one.
Lee has always seen visions: cats that his mother promises aren't really there, a homeless man who he's convinced is out to get him, and three men who give him ominous warnings in the woods. His mother and his sister Murphy try to keep him grounded in the real world. But when his mother dies in a car accident and her horrible husband tries to adopt them, Lee and Murphy flee to their grandmother's ranch, which they've only heard about in stories. But is there a reason why their mother never brought them there? And what horrid truths lurk behind Lee's haunting visions? Thrilling, twisty, and poignant, Minor Prophets will keep readers guessing until the final page.
Pet by
Akwaeke Emezi
Pet is here to hunt a monster. Are you brave enough to look?
There are no monsters anymore, or so the children in the city of Lucille are taught. Jam and her best friend, Redemption, have grown up with this lesson all their life. But when Jam meets Pet, a creature made of horns and colors and claws, who emerges from one of her mother's paintings and a drop of Jam's blood, she must reconsider what she's been told. Pet has come to hunt a monster, and the shadow of something grim lurks in Redemption's house. Jam must fight not only to protect her best friend, but also to uncover the truth, and the answer to the question–How do you save the world from monsters if no one will admit they exist?
Prom by Saundra Mitchell
Seventeen-year-old Emma Nolan wants only one thing before she graduates: to dance with her girlfriend at the senior prom. But in her small town of Edgewater, Indiana, that's like asking for the moon.
Alyssa Greene is her high school's "it" girl: popular, head of the student council, and daughter of the PTA president. She also has a secret. She's been dating Emma for the last year and a half.
When word gets out that Emma plans to bring a girl as her date, it stirs a community-wide uproar that spirals out of control. Now, the PTA, led by Alyssa's mother, is threatening to cancel the prom altogether.
Enter Barry Glickman and Dee Dee Allen, two Broadway stars who decide to take up the cause and get a little publicity along the way. But when they arrive in Indiana to fight on Emma's behalf, their good intentions go quickly south.
Between Emma facing the fray head-on, Alyssa wavering about coming out, and Barry and Dee Dee basking in all the attention, it's the perfect prom storm. Only when this unlikely group comes together do they realize that love is always worth fighting for.
In 1992 Baton Rouge, a single rumor has the power to change a girl's life forever.
When it comes to being social, Athena Graves is far more comfortable creating a mixtape playlist than she is talking to cute boys—or anyone, for that matter. Plus her staunchly feminist views and love of punk rock aren't exactly mainstream at St. Ann's, her conservative Catholic high school.
Then a malicious rumor starts spreading through the halls…a rumor that her popular, pretty, pro-life sister had an abortion over the summer. A rumor that has the power to not only hurt Helen, but possibly see her expelled.
Despite their wildly contrasting views, Athena, Helen and their friends must find a way to convince the student body and the administration that it doesn't matter what Helen did or didn't do…even if their riot grrrl protests result in the expulsion of their entire rebel girl gang.
Four months after his best friend, Dodge, disappeared near their families' camp in a boat accident, Nate is still haunted by nightmares. He'd been planning to make the treacherous trek to the remote campsite with a friend — his first time in winter without his survival-savvy father. But when his friend gets grounded, Nate secretly decides to brave the trip solo in a journey that's half pilgrimage, half desperate hope he will find his missing friend when no one else could. What he doesn't expect to find is the door to the cabin flung open and the camp occupied by strangers: three men he's horrified to realize have escaped from a maximum-security prison. Snowed in by a blizzard and with no cell signal, Nate is confronted with troubling memories of Dodge and a stunning family secret, and realizes that his survival now depends on his wits as much as his wilderness skills. As things spiral out of control, Nate finds himself dealing with questions even bigger than who gets to leave the camp alive.
If Rain weren't a girl, she would be respected as a Neshu combat master. Instead, her gender dooms her to a colorless future. When an army of nomads invades her kingdom, and a draft forces every household to send one man to fight, Rain takes her chance to seize the life she wants.
Knowing she'll be killed if she's discovered, Rain purchases powder made from dragon magic that enables her to disguise herself as a boy. Then she hurries to the war camps, where she excels in her training―and wrestles with the voice that has taken shape inside her head. The voice of a dragon she never truly believed existed.
As war looms and Rain is enlisted into an elite, secret unit tasked with rescuing the High King, she begins to realize this dragon tincture may hold the key to her kingdom's victory. For the dragons that once guarded her land have slumbered for centuries . . . and someone must awaken them to fight once more.
Violet Sterling has spent the last seven years in exile, longing to return to Burleigh House. One of the six great houses of England, Burleigh's magic kept both the countryside and Violet happy.
That is, until her father's treason destroyed everything.
Now she's been given a chance to return home. But Burleigh isn't what she remembered. Wild with grief, Burleigh's very soul is crying out in pain. As its tormented magic ravages the countryside, Vi must decide how far she's willing to go to save her house—before her house destroys everything she's ever known.
A house left unchecked will lead to ruin.
But I will not let it ruin me.
Unpregnant by
Jenni Hendriks and Ted Caplan
Seventeen-year-old Veronica Clarke never thought she'd want to fail a test—that is, until she finds herself staring at a piece of plastic with two solid pink lines. With a promising college-bound future now disappearing before her eyes, Veronica considers a decision she never imagined she'd have to make: an abortion.
There's just one catch—the closest place to get one is over nine hundred miles away. With conservative parents, a . . . let's say less-than-optimal boyfriend, and no car, Veronica turns to the only person she believes won't judge her: Bailey Butler, a legendary misfit at Jefferson High—and Veronica's ex-best friend.
The plan is straightforward: a fourteen-hour drive to the clinic, three hours for the appointment, and a fourteen-hour drive home. What could go wrong?
Not much, apart from three days of stolen cars, shot guns, crazed ex-boyfriends, aliens, ferret napping, and the pain and betrayal of a broken friendship that can't be outrun.
Under the starlit skies of the American Southwest, Veronica and Bailey discover that sometimes the most important choice is who your friends are.
17
Seventeen-year-old Esme Pearl has a babysitters club. She knows it's kinda lame, but what else is she supposed to do? Get a job? Gross. Besides, Esme likes babysitting, and she's good at it.
And lately Esme needs all the cash she can get, because it seems like destruction follows her wherever she goes. Let's just say she owes some people a new tree.
Enter Cassandra Heaven. She's Instagram-model hot, dresses like she found her clothes in a dumpster, and has a rebellious streak as gnarly as the cafeteria cooking. So why is Cassandra willing to do anything, even take on a potty-training two-year-old, to join Esme's babysitters club?
The answer lies in a mysterious note Cassandra's mother left her: "Find the babysitters. Love, Mom."
Turns out, Esme and Cassandra have more in common than they think, and they're about to discover what being a babysitter really means: a heroic lineage of superpowers, magic rituals, and saving the innocent from seriously terrifying evil. And all before the parents get home.
Up until her fifteenth birthday, the most important thing in the world to Beatriz Mendez was her dream of becoming a professional dancer and getting herself and her family far from the gang life that defined their days–that and meeting her dance idol Debbie Allen on the set of her favorite TV show, Fame. But after the latest battle in a constant turf war leaves her brother, Junito, dead and her mother grieving, Beatriz has a new set of priorities. How is she supposed to feel the rhythm when her brother's gang needs running, when her mami can't brush her own teeth, and when the last thing she can remember of her old self is dancing with her brother, followed by running and gunshots? When the class brainiac reminds Beatriz of her love of the dance floor, her banished dreams sneak back in. Now the only question is: will the gang let her go?
Set in New Jersey in 1984, Beatriz's story is a timeless one of a teenager's navigation of romance, her brother's choices, and her own family's difficult past. A companion novel to the much-lauded Like Vanessa.
"If you see a beast, and you have the shot, don't hesitate. Kill it."
For seventeen years, fees have lived separate from beasts. The division of the sexes has kept their world peaceful. Glori Rhodes is like most other fees her age. She adores her neighborhood's abandoned Costco, can bench her body weight, and she knew twenty-seven beast counterattack moves by the time she was seven. She has never questioned the separation of the sexes or the rules that keep her post-nuclear hometown safe. But when her mother secretly gives birth to a baby beast, Glori grows to love the child and can't help wondering: What really is the difference between us and them?
When her brother, at the age of five, is snatched in a vicious raid, Glori and her best friend, Su, do the unthinkable – covertly infiltrate the City of Beasts to get him back. What's meant to be a smash-and-grab job quickly becomes the adventure of a lifetime as the fees team up with a fast-talking, T-shirt cannon-wielding beast named Sway, and Glori starts to see that there's more to males, and her own history, than she's been taught.
Glori, Sway, and a motley cohort of friends will go to the ends of the earth to find her little brother. And maybe save their divided world while they're at it.
No one speaks of the grace year. It's forbidden.
Girls are told they have the power to lure grown men from their beds, drive women mad with jealousy. They believe their very skin emits a powerful aphrodisiac, the potent essence of youth, of a girl on the edge of womanhood. That's why they're banished for their sixteenth year, to release their magic into the wild so they can return purified and ready for marriage. But not all of them will make it home alive.
Sixteen-year-old Tierney James dreams of a better life―a society that doesn't pit friend against friend or woman against woman, but as her own grace year draws near, she quickly realizes that it's not just the brutal elements they must fear. It's not even the poachers in the woods, men who are waiting for their chance to grab one of the girls in order to make their fortune on the black market. Their greatest threat may very well be each other.
With sharp prose and gritty realism, The Grace Year examines the complex and sometimes twisted relationships between girls, the women they eventually become, and the difficult decisions they make in-between.
It's A Whole Spiel edited by Katherine Locke and Laura Silverman
A Jewish boy falls in love with a fellow counselor at summer camp. A group of Jewish friends take the trip of a lifetime. A girl meets her new boyfriend's family over Shabbat dinner. Two best friends put their friendship to the test over the course of a Friday night. A Jewish girl feels pressure to date the only Jewish boy in her grade. Hilarious pranks and disaster ensue at a crush's Hanukkah party.
From stories of confronting their relationships with Judaism to rom-coms with a side of bagels and lox, It's a Whole Spiel features one story after another that says yes, we are Jewish, but we are also queer, and disabled, and creative, and political, and adventurous, and anything we want to be. You will fall in love with this insightful, funny, and romantic Jewish anthology from a collection of diverse Jewish authors.
Every year, summer begins when the Callahans arrive on Mariposa Island. That's when Elena Finney gets to escape her unstable, controlling mother by babysitting for their two children. And the summer of 1986 promises to be extra special when she meets J.C., the new boy in town, whose kisses make Elena feel like she's been transported to a new world.
Joaquin Finney can't imagine why anyone would want to come to Mariposa Island. He just graduated from high school and dreams about going to California to find his father and escape his mother's manipulation.
The Liars of Mariposa Island follows siblings Elena and Joaquin, with flashbacks to their mother's experience as a teenage refugee fleeing the Cuban revolution.
In her New York Times bestseller White Rage, Carol Anderson laid bare an insidious history of policies that have systematically impeded black progress in America, from 1865 to our combustible present. With One Person, No Vote, she chronicles a related history: the rollbacks to African American participation in the vote since the 2013 Supreme Court decision that eviscerated the Voting Rights Act of 1965. Known as the Shelby ruling, this decision effectively allowed districts with a demonstrated history of racial discrimination to change voting requirements without approval from the Department of Justice.
Focusing on the aftermath of Shelby, Anderson follows the astonishing story of government-dictated racial discrimination unfolding before our very eyes as more and more states adopt voter suppression laws. In gripping, enlightening detail she explains how voter suppression works, from photo ID requirements to gerrymandering to poll closures. And with vivid characters, she explores the resistance: the organizing, activism, and court battles to restore the basic right to vote to all Americans as the nation gears up for the 2018 midterm elections.
Trinidad. Sixteen-year-old Audre is despondent, having just found out she's going to be sent to live in America with her father because her strictly religious mother caught her with her secret girlfriend, the pastor's daughter. Audre's grandmother Queenie (a former dancer who drives a white convertible Cadillac and who has a few secrets of her own) tries to reassure her granddaughter that she won't lose her roots, not even in some place called Minneapolis. "America have dey spirits too, believe me," she tells Audre.
Minneapolis. Sixteen-year-old Mabel is lying on her bed, staring at the ceiling and trying to figure out why she feels the way she feels–about her ex Terrell, about her girl Jada and that moment they had in the woods, and about the vague feeling of illness that's plagued her all summer. Mabel's reverie is cut short when her father announces that his best friend and his just-arrived-from-Trinidad daughter are coming for dinner.
Mabel quickly falls hard for Audre and is determined to take care of her as she tries to navigate an American high school. But their romance takes a turn when test results reveal exactly why Mabel has been feeling low-key sick all summer and suddenly it's Audre who is caring for Mabel as she faces a deeply uncertain future.
*Steel Tide by
Natalie C. Parker
Caledonia may have lost her crew, but she's not done fighting yet. After nearly dying at the hand of a powerful foe, Caledonia is pulled from the sea and nursed back to health by a crew of former Bullets that call themselves Blades. The Blades escaped Aric Athair's clutches and now live a nomadic existence, ready to disappear at a moment's notice should trouble come their way.
But Caledonia wants to do more than just hide. She wants to find the Mors Navis and her beloved sisters. She wants to continue fighting Aric's fleet and to take back the Bullet seas. She'll need to do everything in her power to convince the Blades that fighting is their only option, that there has to be a life better than the one under Aric Athair's reign, and that finding the women of the Mors Navis is the first step to revolution.
Clara Evans is horrified when she discovers her principal's "prohibited media" hit list. The iconic books on the list have been pulled from the library and aren't allowed anywhere on the school's premises. Students caught with the contraband will be sternly punished.
Many of these stories have changed Clara's life, so she's not going to sit back and watch while her draconian principal abuses his power. She's going to strike back.
So Clara starts an underground library in her locker, doing a shady trade in titles like Speak and The Chocolate War. But when one of the books she loves most is connected to a tragedy she never saw coming, Clara's forced to face her role in it.
Will she be able to make peace with her conflicting feelings, or is fighting for this noble cause too tough for her to bear?
Sloane Weber is devastated when her older sister dies by suicide. Talley was a bright light who made everyone want to step closer. Why had she made that unthinkable choice?
The only clue Talley left behind for Sloane is a puzzle—a list of random places and names, along with the phone number of a boy named Adam, who lives in California and claims he didn't know Talley.
Sloane heads west, enlists Adam's help, and together they search for answers. But while Sloane is drawn to Adam, she can't shake the feeling that he's hiding something. Is Sloane ready to learn the truth—about Adam, her sister, or the secrets her family has been hiding for years?
24
Lunar Island is trying to heal. The necromantic plague that ravaged the land has been eradicated, and Emperor Auguste, the young and charming leader of the Allyrian Empire, has a plan: rid the island of necromancy once and for all. Though Greggori "Grey" Astor wants what's best for his people, he knows that allying himself with Auguste threatens the one person he loves most: necromancer Nedra Brysstain. Feeling like he already failed to save Nedra once, Grey becomes determined to help the Emperor rebuild Lunar Island while still keeping Nedra safe from harm.
Back at the quarantine hospital, Nedra's army of revenants are growing increasingly inhuman by the day. Wracked with guilt for imprisoning their souls, Nedra vows to discover a way to free the dead while still keeping her sister by her side.
But still reeling from the trauma of the plague, the people of Lunar Island are looking for someone to blame, and Grey can only protect Nedra for so long. And when Nedra and Grey are thrust into a battle with an even more terrifying adversary, Nedra will be pushed to the darkest depths of her necromantic powers. But can Grey let her go that far?
Seventeen-year-old Aderyn ("Ryn") only cares about two things: her family and her family's graveyard. And right now, both are in dire straits. Since the death of their parents, Ryn and her siblings have been scraping together a meager existence as gravediggers in the remote village of Colbren, which sits at the foot of a harsh and deadly mountain range that was once home to the fae. The problem with being a gravedigger in Colbren, though, is that the dead don't always stay dead.
The risen corpses are known as "bone houses," and legend says that they're the result of a decades-old curse. When Ellis, an apprentice mapmaker with a mysterious past, arrives in town, the bone houses attack with new ferocity. What is it that draws them near? And more importantly, how can they be stopped for good?
Together, Ellis and Ryn embark on a journey that will take them into the heart of the mountains, where they will have to face both the curse and the deeply-buried truths about themselves. Equal parts classic horror novel and original fairytale, The Bone Houses will have you spellbound from the very first page.
Still reeling from her recent battle (and grounded until she graduates high school), Alice must cross the Veil to rescue her friends and stop the Black Knight once and for all. But the deeper she ventures into Wonderland, the more topsy-turvy everything becomes. It's not until she's at her wits end that she realizes―Wonderland is trying to save her.
There's a new player on the board; a poet capable of using Nightmares to not only influence the living but raise the dead. This Poet is looking to claim the Black Queen's power―and Alice's budding abilities―as their own.
Dreams have never been so dark in Wonderland, and if there is any hope of defeating this mystery poet's magic, Alice must confront the worst in herself, in the people she loves, and in the very nature of fear itself.
Caleb Michaels is a sixteen-year-old champion running back. Other than that his life is pretty normal. But when Caleb starts experiencing mood swings that are out of the ordinary for even a teenager, his life moves beyond "typical."
Caleb is an Atypical, an individual with enhanced abilities. Which sounds pretty cool except Caleb's ability is extreme empathy―he feels the emotions of everyone around him. Being an empath in high school would be hard enough, but Caleb's life becomes even more complicated when he keeps getting pulled into the emotional orbit of one of his classmates, Adam. Adam's feelings are big and all-consuming, but they fit together with Caleb's feelings in a way that he can't quite understand.
Caleb's therapist, Dr. Bright, encourages Caleb to explore this connection by befriending Adam. As he and Adam grow closer, Caleb learns more about his ability, himself, his therapist―who seems to know a lot more than she lets on―and just how dangerous being an Atypical can be.
Chubby. Curvy. Fluffy. Plus-size. Thick. Fat. The time has come for fat people to tell their own stories. The (Other) F Word combines the voices of Renée Watson, Julie Murphy, Jes Baker, Samantha Irby, Bruce Sturgell, and more in a relatable and gift-worthy guide about body image and fat acceptance. This dazzling collection of art, poetry, essays, and fashion tips is meant for people of all sizes who desire to be seen and heard in a culture consumed by a narrow definition of beauty. By combining the talents of renowned fat YA and middle-grade authors, as well as fat influencers and creators, The (Other) F Word offers teen readers and activists of all ages a tool for navigating our world with confidence and courage.
In the faux-documentary style of The Blair Witch Project comes the campfire story of a missing girl, a vengeful ghost, and the girl who is determined to find her sister–at all costs.
Once a year, a road appears in the forest. And at the end of it, the ghost of Lucy Gallows beckons. Lucy's game isn't for the faint of heart. If you win, you escape with your life. But if you lose….
Sara's sister disappeared one year ago–and only Sara knows where she is. Becca went to find the ghost of Lucy Gallows and is trapped on the road that leads to her. In the sleepy town of Briar Glen, Lucy's road is nothing more than local lore. But Sara knows it's real, and she's going to find it.
When Sara and her skeptical friends meet in the forest to search for Becca, the mysterious road unfurls before them. All they have to do is walk down it. But the path to Lucy is not of this world, and it has its own rules. Every mistake summons new horrors. Vengeful spirits and broken, angry creatures are waiting for them to slip, and no one is guaranteed safe passage. The only certainty is this: the road has a toll and it will be paid.
Sara knows that if she steps onto the road, she might not come back. But Becca needs her.
And Lucy is waiting.
Two teens meet after tragedy and learn about love, loss, and letting go
Naima Rodriguez doesn't want your patronizing sympathy as she grieves her father, her hero―a fallen Marine. She'll hate you forever if you ask her to open up and remember him "as he was," though that's all her loving family wants her to do in order to manage her complex OCD and GAD. She'd rather everyone back the-eff off while she separates her Lucky Charms marshmallows into six, always six, Ziploc bags, while she avoids friends and people and living the life her father so desperately wanted for her.
Dew respectfully requests a little more time to process the sudden loss of his parents. It's causing an avalanche of secret anxieties, so he counts on his trusty voice recorder to convey the things he can't otherwise say aloud. He could really use a friend to navigate a life swimming with pain and loss and all the lovely moments in between. And then he meets Naima and everything's changed―just not in the way he, or she, expects.
Slay by Brittney Morris
By day, seventeen-year-old Kiera Johnson is an honors student, a math tutor, and one of the only Black kids at Jefferson Academy. But at home, she joins hundreds of thousands of Black gamers who duel worldwide as Nubian personas in the secret multiplayer online role-playing card game, SLAY. No one knows Kiera is the game developer, not her friends, her family, not even her boyfriend, Malcolm, who believes video games are partially responsible for the "downfall of the Black man."
But when a teen in Kansas City is murdered over a dispute in the SLAY world, news of the game reaches mainstream media, and SLAY is labeled a racist, exclusionist, violent hub for thugs and criminals. Even worse, an anonymous troll infiltrates the game, threatening to sue Kiera for "anti-white discrimination."
Driven to save the only world in which she can be herself, Kiera must preserve her secret identity and harness what it means to be unapologetically Black in a world intimidated by Blackness. But can she protect her game without losing herself in the process?
Simmering in Patagonian myth, The Tenth Girl is a gothic psychological thriller with a haunting twist.
At the very southern tip of South America looms an isolated finishing school. Legend has it that the land will curse those who settle there. But for Mavi―a bold Buenos Aires native fleeing the military regime that took her mother―it offers an escape to a new life as a young teacher to Argentina's elite girls.
Mavi tries to embrace the strangeness of the imposing house―despite warnings not to roam at night, threats from an enigmatic young man, and rumors of mysterious Others. But one of Mavi's ten students is missing, and when students and teachers alike begin to behave as if possessed, the forces haunting this unholy cliff will no longer be ignored.
One of these spirits holds a secret that could unravel Mavi's existence. In order to survive she must solve a cosmic mystery―and then fight for her life.
Verify by
Joelle Charbonneau
Bestselling author Joelle Charbonneau's eerily timely, high-stakes page-turner is destined to start important conversations at this particular moment in our history.
Meri Beckley lives in a world without lies. When she looks at the peaceful Chicago streets, she feels pride in the era of unprecedented hope and prosperity over which the governor presides.
But when Meri's mother is killed, Meri suddenly has questions that no one else seems to be asking. And when she tries to uncover her mother's state of mind in her last weeks, she finds herself drawn into a secret world with a history she didn't know existed.
Suddenly, Meri is faced with a choice between accepting the "truth" or embracing a world the government doesn't want anyone to see—a world where words have the power to change the course of a country and where the wrong ones can get Meri killed.
Simon Snow is back and he's coming to America!
The story is supposed to be over.
Simon Snow did everything he was supposed to do. He beat the villain. He won the war. He even fell in love. Now comes the good part, right? Now comes the happily ever after…
So why can't Simon Snow get off the couch?
What he needs, according to his best friend, is a change of scenery. He just needs to see himself in a new light…
That's how Simon and Penny and Baz end up in a vintage convertible, tearing across the American West. They find trouble, of course. (Dragons, vampires, skunk-headed things with shotguns.) And they get lost. They get so lost, they start to wonder whether they ever knew where they were headed in the first place…
With Wayward Son, Rainbow Rowell has written a book for everyone who ever wondered what happened to the Chosen One after he saved the day. And a book for everyone who was ever more curious about the second kiss than the first. It's another helping of sour cherry scones with an absolutely decadent amount of butter.
Come on, Simon Snow. Your hero's journey might be over – but your life has just begun.
Trapped in sunny, stifling, small-town suburbia, seventeen-year-old Morgan knows why she's in therapy. She can't count the number of times she's been the only non-white person at the sleepover, been teased for her "weird" outfits, and been told she's not "really" black. Also, she's spent most of her summer crying in bed. So there's that, too.
Lately, it feels like the whole world is listening to the same terrible track on repeat–and it's telling them how to feel, who to vote for, what to believe. Morgan wonders, when can she turn this song off and begin living for herself?
Life may be a never-ending hamster wheel of agony, but Morgan finds her crew of fellow outcasts, blasts music like there's no tomorrow, discovers what being black means to her, and finally puts her mental health first. She decides that, no matter what, she will always be intense, ridiculous, passionate, and sometimes hilarious. After all, darkness doesn't have to be a bad thing. Darkness is just real.
Loosely based on her own teenage life and diaries, this incredible debut by award-winning poet Morgan Parker will make readers stand up and cheer for a girl brave enough to live life on her own terms–and for themselves.
Will Byers' top-secret binder–based on the Netflix series Stranger Things!
Read notes from the Upside Down and uncover secrets from the Hawkins National Laboratory in Will Byers's personal files. Based on Netflix's Stranger Things, this book is designed to look like a vintage school binder from the '80s. Filled with photos, notes, sketches, and diary entries, this book is sure to amaze and entertain fans of all ages.