Lists
50 Must-Read Crime Titles from July and August 2019
This list of summer 2019 crime books is sponsored by Amazon Publishing.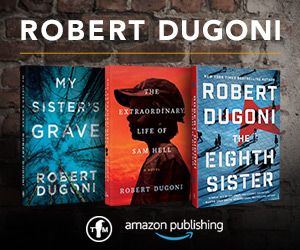 Robert Dugoni is the New York Times bestselling author of the Tracy Crosswhite series, The Extraordinary Life of Sam Hell, and new thriller The Eighth Sister. His stories have captivated more than 4 million readers with relatable characters, immersive settings, vivid detail, and fast-paced action. Follow Robert Dugoni on Amazon and never miss a new release.
---
Summertime, and the reading is good! What better way to kick back and enjoy the warm weather than with a great crime book? Crime is HOT right now, both true crime and fiction, and there are some fantastic books being released in July and August that you won't want to miss. Here's a list of 50 must-read crime titles coming out this summer. Just try not to get so wrapped up in them you forget the sunscreen!
(I've included a brief description from the publisher with each title. Tell us on Twitter about which of these you've read or other crime books that you love. There are a LOT of them. Yay, books!)
Girls Like Us by Cristina Alger
"When Martin Flynn dies in a motorcycle accident, Nell returns to the house she grew up in so that she can spread her father's ashes and close his estate. At the behest of her father's partner, Detective Lee Davis, Nell becomes involved in an investigation into the murders of two young women in Suffolk County. The further Nell digs, the more likely it seems to her that her father should be the prime suspect–and that his friends on the police force are covering his tracks."
Whisper Network by Chandler Baker
"Sloane and her colleagues' decision to take a stand sets in motion a catastrophic shift in the office. Lies will be uncovered. Secrets will be exposed. And not everyone will survive. All of their lives―as women, colleagues, mothers, wives, friends, even adversaries―will change dramatically as a result."
Tell Me Everything by Cambria Brockman
"By Senior Day, on the cusp of graduation, Malin's secrets—and those of her friends—are revealed. While she scrambles to maintain her artfully curated image, her missteps set in motion a devastating chain of events that ends in a murder. And as fragile relationships hang in the balance and close alliances shift, Malin must test the limits of what she's capable of to stop the truth from coming out."
Rule of Capture by Christopher Brown
"His newest client, young filmmaker Xelina Rocafuerte, witnessed the murder of an opposition leader and is now accused of terrorism. To save her from the only sentence worse than death, Donny has to extract justice from a system that has abandoned the rule of law. That means breaking the rules—and risking the same fate as his clients."
Speaking of Summer by Kalisha Buckhanon
"On a cold December evening, Autumn Spencer's twin sister, Summer, walks to the roof of their shared Harlem brownstone and is never seen again. The door to the roof is locked, and the snow holds only one set of footprints. Faced with authorities indifferent to another missing Black woman, Autumn must pursue the search for her sister all on her own."
A Stranger on the Beach by Michele Campbell
"Caroline Stark's beach house was supposed to be her crowning achievement: a lavish, expensive space to showcase what she thought was her perfect family. But after a very public fight with her husband, she realizes things may not be as perfect as they seem: her husband is lying to her, the money is disappearing, and there's a stranger on the beach outside her house."
Thirteen by Steve Cavanagh
"It's the murder trial of the century. And Joshua Kane has killed to get the best seat in the house – and to be sure the wrong man goes down for the crime. Because this time, the killer isn't on trial. He's on the jury."
Wonton Terror: A Noodle Shop Mystery by Vivien Chien
"Lana's boyfriend, Detective Adam Trudeau, had been planning a birthday getaway for the two of them but, lo and behold, Lana must assume the role of amateur sleuth yet again. With one proprietor of Wonton on Wheels dead, it's beginning to look more like murder and less like an unfortunate accident. And as they begin to unwrap layers of disturbing secrets, Lana's own family erupts into new drama. Will Lana be able to solve this crime―or has she jumped from the wok right into the fire?"
Second Sight by Aoife Clifford
"When the biggest legal case of her career brings Eliza Carmody back to Kinsale, the hometown she thought she had left forever, she witnesses an old friend commit a crime that sends her on a dangerous quest to uncover the mysteries of her childhood that the rest of the town seems willing to ignore."
Too Close by Natalie Daniels
"A haunting, edge-of-your-seat debut psychological thriller about a woman who has been institutionalized for a heinous crime, and the psychiatrist assigned to her case who must uncover the truth beneath the madness."
The Birthday Girl by Melissa de la Cruz
"Except everything is not quite as perfect as it looks on the outside—Ellie is keeping many secrets. And hiding those skeletons has a cost, and it all comes to a head the night of her fabulous birthday party in the desert—where everyone who matters in her life shows up, invited or not. Old and new friends and frenemies, stepdaughters and business partners, ex-wives and ex-husbands congregate, and the glittering facade of Ellie's life begins to crumble."
Careful What You Wish For by Hallie Ephron
"Luckily, Emily's got two new clients to distract herself: an elderly widow whose husband left behind a storage unit she didn't know existed, and a young wife whose husband won't allow her stuff into their house. Emily's initial meeting with the young wife takes a detour when, after too much wine, the women end up fantasizing about how much more pleasant life would be without their collecting spouses."
Temper by Layne Fargo
"Kira's convinced she can handle Malcolm, but the theater's cofounder Joanna Cuyler is another story. Joanna sees Kira as a threat—to her own thwarted artistic aspirations, her twisted relationship with Malcolm, and the shocking secret she's keeping about the upcoming production. But as opening night draws near, Kira and Joanna both start to realize that Malcolm's dangerous extremes are nothing compared to what they're capable of themselves."
Stone Cold Heart by Caz Frear
"While the team builds its case against Joseph, Cat is tasked with getting to the heart of the Maddens' marriage. Cat knows that one of them is lying—but the question of which one, and why, is far more complicated than she could have expected. As she tries to balance the demands of the investigation with a budding romance and unresolved family drama, Cat has to decide how far she'll go to keep her own past mistakes buried."
Bad Axe County by John Galligan
"Dennis Lehane meets Megan Miranda in this tense, atmospheric thriller about the first female sheriff in rural Bad Axe County, Wisconsin, as she searches for a missing girl, battles local drug dealers, and seeks the truth about the death of her parents twenty years ago—all as a winter storm rages in her embattled community."
Goodnight Stranger by Miciah Bay Gault
"To discover the truth about Cole, Lydia must finally face her anxiety about leaving the island and summon the strength to challenge Cole's grip on her family's past and her brother. A deliciously alluring read, Goodnight Stranger is a story of choices and regrets, courage and loneliness, and the ways we hold on to those we love."
Never Look Back by Alison Gaylin
"For thirteen days in 1976, teenage murderers April Cooper and Gabriel LeRoy terrorized Southern California's Inland Empire, killing a dozen victims before perishing themselves in a fire… or did they? More than 40 years later, twentysomething podcast producer Quentin Garrison blames his troubled upbringing on the murders. And after a shocking message from a source, he has reason to believe April Cooper may still be alive."
The Arrangement by Robyn Harding
"So when he abruptly ends things, Nat can't let go. She begins drinking heavily and stalking him: watching him at work, spying on his wife, even befriending his daughter, who is not much younger than she is. But Gabe's not about to let his sugar baby destroy his perfect life. What was supposed to be a mutually beneficial arrangement devolves into a nightmare of deception, obsession, and, when a body is found near Gabe's posh Upper East Side apartment, murder."
The Warehouse by Rob Hart
"Set in the confines of a corporate panopticon that's at once brilliantly imagined and terrifyingly real, The Warehouse is a near-future thriller about what happens when Big Brother meets Big Business–and who will pay the ultimate price."
Maria M. by Gilbert Hernandez
"Maria M.'s is a sordid tale of sex, drugs, violence, and power. When she comes to America for a better life, she marries a drug kingpin, whose son learns Maria's darkest secret, leading to the most violent gangland bloodbath in organized crime history."
Debian Perl: Digital Detective: The Memory Thief by Melanie Hilario (Author), Lauren Davis (Author), Katie Longua (Artist)
"Debian and Digits cross paths when they both stumble across a 100-year-old lost robot named Ray-Bot. They soon learn that Ray-Bot's CPU was suspiciously overclocked, leaving him unable to perform basic functions and commands. To find out where the robot came from, Debian must teach Digits everything she knows about computer coding and programming. Along their journey to bring Ray-Bot home, they begin piecing together the mysterious puzzle about his malfunction, and uncover some sinister secrets."
Null Set (Cas Russell) by S. L. Huang
"But Cas's own power also has a history, one she can't remember―or control. One that's creeping into her mind and fracturing her sanity…just when she's gotten herself on the hit list of every crime lord on the West Coast. And her best, only, sociopathic friend. Cas won't be able to save the world. She might not even be able to save herself."
Chase Darkness with Me: How One True-Crime Writer Started Solving Murders by Billy Jensen
"But after the sudden death of a friend, crime writer and author of I'll Be Gone in the Dark, Michelle McNamara, Billy became fed up. Following a dark night, he came up with a plan. A plan to investigate past the point when the cops had given up. A plan to solve the murders himself."
Someone We Know by Shari Lapena
"After two anonymous letters are received, whispers start to circulate, and suspicion mounts. And when a woman down the street is found murdered, the tension reaches the breaking point. Who killed her? Who knows more than they're telling? And how far will all these very nice people go to protect their own secrets?"
Jade War (The Green Bone Saga) by Fonda Lee
"On the island of Kekon, the Kaul family is locked in a violent feud for control of the capital city and the supply of magical jade that endows trained Green Bone warriors with supernatural powers they alone have possessed for hundreds of years."
The Stories You Tell (Roxane Weary) by Kristen Lepionka
"Meanwhile, a cop is found dead on the opposite side of town, leading to a swirl of questions surrounding a dance club whose staff―which includes Addison―has suddenly gone AWOL. As Roxane struggles to distinguish the truth from the stories people tell about themselves online, it's clear that the mystery of Addison's whereabouts is just the beginning."
Lady in the Lake by Laura Lippman
"The revered New York Times bestselling author returns with a novel set in 1960s Baltimore that combines modern psychological insights with elements of classic noir, about a middle-aged housewife turned aspiring reporter who pursues the murder of a forgotten young woman."
The Swallows by Lisa Lutz
"Lisa Lutz's blistering, timely tale of revenge and disruption shows us what can happen when silence wins out over decency for too long—and why the scariest threat of all might be the idea that sooner or later, girls will be girls."
The Best Lies by Sarah Lyu
"Was it self-defense? Or something darker than anything Remy could have imagined? As the police investigate, Remy does the same, sifting through her own memories, looking for a scrap of truth that could save the friendship that means everything to her."
The Doll Factory by Elizabeth Macneal
"When Iris is asked to model for Pre-Raphaelite artist Louis Frost, she agrees on the condition that he will also teach her to paint. Suddenly, her world begins to expand beyond her wildest dreams—but she has no idea that evil is waiting in the shadows. Silas has only thought of one thing since that chance meeting, and his obsession is darkening by the day."
Vindication by MD Marie (Author), Carlos Miko (Artist), Dema Jr. (Artist), Jonathan David (Artist)
"In the turbulent times when cops are portrayed as the enemy of the people, Detective Chip Christopher is maneuvering on the blurred blue line between racism and due diligence in order to do his job of investigating Turn; a young black man, with a sketchy past, who was exonerated of a similar previous murder."
The Wolf Wants In by Laura McHugh
"As more bones are found in the woods, time is running out for Sadie to uncover the truth and for Henley to make her escape. Both women are torn between family loyalties and the weight of the secrets they carry, knowing full well that while some secrets are hard to live with, others will get you killed."
The Chain by Adrian McKinty
"Your phone rings. A stranger has kidnapped your child. To free them you must abduct someone else's child. Your child will be released when your victim's parents kidnap another child. If any of these things don't happen: your child will be killed. You are now part of the chain."
Savage Appetites: Four True Stories of Women, Crime and Obsession by Rachel Monroe
"Each woman, Monroe argues, represents and identifies with a particular archetype that provides an entryway into true crime. Through these four cases, she traces the history of American crime through the growth of forensic science, the evolving role of victims, the Satanic Panic, the rise of online detectives, and the long shadow of the Columbine shooting. In a combination of personal narrative, reportage, and a sociological examination of violence and media in the twentieth and twenty-first century, Savage Appetites scrupulously explores empathy, justice, and the persistent appeal of violence."
Beijing Payback by Daniel Nieh
"Victor travels to Beijing, where he navigates his father's secret criminal life, confronting decades-old grudges, violent spats, and a shocking new enterprise that the organization wants to undertake. Standing up against it is likely what got his father killed, but Victor remains undeterred. He enlists his growing network of allies and friends to finish what his father started, no matter the costs."
The Whisper Man by Alex North
"Just as Tom and Jake settle into their new home, a young boy vanishes. His disappearance bears an unnerving resemblance to Frank Carter's crimes, reigniting old rumors that he preyed with an accomplice. Now, detectives Amanda Beck and Pete Willis must find the boy before it is too late, even if that means Pete has to revisit his great foe in prison: The Whisper Man."
A Better Man: A Chief Inspector Gamache Novel by Louise Penny
"It's Gamache's first day back as head of the homicide department, a job he temporarily shares with his previous second-in-command, Jean-Guy Beauvoir. Flood waters are rising across the province. In the middle of the turmoil a father approaches Gamache, pleading for help in finding his daughter."
The Need by Helen Phillips
"Suddenly Molly finds herself face-to-face with an intruder who knows far too much about her and her family. As she attempts to protect those she loves most, Molly must also acknowledge her own frailty. Molly slips down an existential rabbit hole where she must confront the dualities of motherhood: the ecstasy and the dread; the languor and the ferocity; the banality and the transcendence as the book hurtles toward a mind-bending conclusion."
City of Windows by Robert Pobi
"During the worst blizzard in memory, an FBI agent in a moving SUV in New York City is killed by a nearly impossible sniper shot. Unable to pinpoint where the shot came from, as the storm rapidly wipes out evidence, the agent-in-charge Brett Kehoe turns to the one man who might be able to help them―former FBI agent Lucas Page."
The Murder List: A Novel of Suspense by Hank Phillippi Ryan
"Law student Rachel North is the ultimate reliable narrator–she will tell you, without hesitation, what she knows to be true. She's smart, she's a hard worker, she does the right thing. She's successfully married to a faithful and devoted husband, a lion of Boston's defense bar. And her internship with the powerful District Attorney's office is her ticket to a successful future.
Problem is–she's wrong."
Lock Every Door by Riley Sager
"As she gets to know the residents and staff of the Bartholomew, Jules finds herself drawn to fellow apartment sitter Ingrid, who comfortingly reminds her of the sister she lost eight years ago. When Ingrid confides that the Bartholomew is not what it seems and the dark history hidden beneath its gleaming facade is starting to frighten her, Jules brushes it off as a harmless ghost story . . . until the next day, when Ingrid disappears."
Miami Midnight (Pete Fernandez) by Alex Segura
"Can Pete make peace with his complicated, haunted past to save himself and those he loves? Or will his luck finally run out? From one of the very best crime writers working today, Alex Segura crafts an epic novel of mystery, humanity, and suspense while bringing to a stunning conclusion the acclaimed series that reinvented the private eye novel for a new generation."
Hope Rides Again: An Obama Biden Mystery (Obama Biden Mysteries) by Andrew Shaffer
"The two friends barely have time to catch up before another mystery lands in their laps: Obama's prized Blackberry is stolen. When their number-one suspect winds up full of lead on the South Side, the police are content to write it off as just another gangland shooting. But Joe and Obama smell a rat…"
The Last Widow (Will Trent) by Karin Slaughter
"On a hot summer night, a scientist from the Centers for Disease Control is grabbed by unknown assailants in a shopping center parking lot. The authorities are desperate to save the doctor who's been vanished into thin air."
A Prayer for Travelers by Ruchika Tomar
"Set adrift for the first time, Cale starts waitressing at the local diner, where she reconnects with Penélope Reyes, a charismatic former classmate running mysterious side-hustles to fund her dreams. Penny exposes Cale to the reality that exists beyond their small town, and the girls become inseparable—-until one terrifying act of violence shatters their world. When Penny vanishes without a trace, Cale must set off on a dangerous quest across the desert to find her friend, and discover herself."
Theme Music by T. Marie Vandelly
"For the lucky among us, life is what you make of it; but for Dixie Wheeler, the theme music for her story was chosen by another long ago, on the day her father butchered her mother and brothers and then slashed a knife across his own throat. Only one-year-old Dixie was spared, becoming infamously known as Baby Blue for the song left playing in the aftermath of the slaughter."
The Turn of the Key by Ruth Ware
"She knows she's made mistakes. She admits that she lied to obtain the post, and that her behavior toward the children wasn't always ideal. She's not innocent, by any means. But, she maintains, she's not guilty—at least not of murder. Which means someone else is."
The Dinner Guest by Gabriela Ybarra, Natasha Wimmer (Translator)
"In 1977, three terrorists broke into Gabriela Ybarra's grandfather's home, and pointed a gun at him in the shower. This was the last time his family saw him alive, and his kidnapping played out in the press, culminating in his murder. Ybarra first heard the story when she was eight, but it was only after her mother's death, years later, that she felt the need to go deeper and discover more about her family's past."
Ryuko by Eldo Yoshimizu
"Ryuko is a hard-hitting, motorcycle-riding, high ranking member of the Japanese mafia stationed in the Middle-East. After a fierce battle with the government, she becomes embroiled with the Chinese and an unknown terrorist organisation. Everyone has their own agenda, but it becomes personal for Ryuko when her mother is kidnapped and she was forced to kill her father. What is the right thing to do in this morally complicated situation?"
The Paper Bark Tree Mystery (Crown Colony) by Ovidia Yu
"Beneath the stifling, cloudless Singaporean summer, earthquakes of chaos and political unrest are breaking out. When a tragic loss shakes Su Lin's personal world to its core, she becomes determined to find the truth. But in dark, hate-filled times, truth has a price – and Su Lin must decide how much she's willing to pay for it."