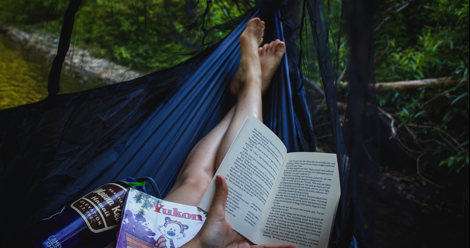 Newsletter 1
35+ Summer 2018 YA Paperbacks You'll Want To Read ASAP
This content contains affiliate links. When you buy through these links, we may earn an affiliate commission.
'Tis the season of travel, of beach bags, and of toting books along for the ride—in other words, it's the season built for paperback reads. These 35+ YA paperback reads will hit shelves between June and the end of August, and there's something here for every kind of YA reader.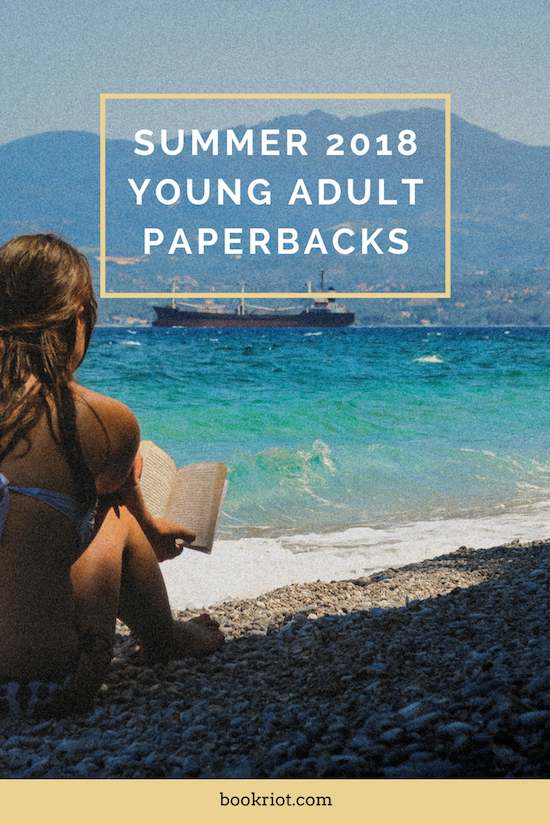 If you're looking for a solid YA read—and you want it to be paperback—this list is for you. Some of the titles below are brand new and original paperback publications, while others are moving from their hardcover publication to paperback. That means some of these titles might look familiar while others might not. This list includes both fiction and nonfiction, as well as a whole host of genres and formats within YA paperbacks. I've limited to standalone titles, as well as books which are the first in a new series. Descriptions are from Goodreads, as I've not read all of these titles, try as I might.
Of note: the summer season is certainly lacking in diverse paperback reads. This may be in part to some of the bestselling diverse YAs, like Angie Thomas's The Hate U Give, remaining in hardcover for extended periods (which is a great thing!).
YA Paperbacks For Summer 2018
June
Bad Romance by Heather Demetrios (6/12)
Grace wants out. Out of her house, where her stepfather wields fear like a weapon and her mother makes her scrub imaginary dirt off the floors. Out of her California town, too small to contain her big city dreams. Out of her life, and into the role of Parisian artist, New York director—anything but scared and alone.
Enter Gavin: charming, talented, adored. Controlling. Dangerous. When Grace and Gavin fall in love, Grace is sure it's too good to be true. She has no idea their relationship will become a prison she's unable to escape.
Balcony on the Moon follows Ibtisam Barakat through her childhood and adolescence in Palestine from 1972–1981 and chronicles her desire to be a writer. Ibtisam finds inspiration through writing letters to pen pals and from an adult who encourages her to keep at it, but the most surprising turn of all for Ibtisam happens when her mother decides that she would like to seek out an education, too. This memoir is a touching, at times funny, and enlightening look at the not often depicted daily life in a politically tumultuous area.
Mailee and Cara take care of each other. Mailee is the star of the high school plays; Cara is the stage manager. Mailee can't keep her life together; Cara has enough organizational skills for the both of them.
So when the girls are invited to visit the Haven, a commune in the mountains near their suburban Montana homes, it seems like an adventure. Until Cara starts spending every waking minute there…and Mailee thinks it's creepy, almost like a cult. When Cara decides she's going to move to the Haven permanently, Mailee knows it's a bad idea. But how far will she go to save her best friend…from herself?
When ten-year-old Daniel Tate went missing from one of California's most elite communities, he left no trace. He simply vanished.
Six years later, when he resurfaces on a snowy street in Vancouver, he's no longer the same boy. His sandy hair is darker, the freckles are gone, and he's initially too traumatized to speak, but he's alive. His overjoyed family brings him home to a world of luxury and comfort he can barely remember. In time, they assure him, he'll recover his memories; all that matters now is they're together again.
It's perfect. A miracle. Except for one thing.
He isn't Daniel Tate.
He's a petty con artist who accidentally stumbled into the scam of a lifetime, and he soon learns he's not the only one in the Tate household with something to hide. The family has as many secrets as they have millions in the bank, and one of them might be ready to kill to keep the worst one buried.
One summer will challenge everything the Garrett sisters thought they knew about themselves—and each other.
Kat lands the lead in the community theater's summer play, but the drama spills offstage when her ex and his new girlfriend are cast too. Can she get revenge by staging a new romance of her own?
Bea and her boyfriend are heading off to college together in the fall, just like they planned when they started dating. But Bea isn't sure she wants the same things as when she was thirteen…
Vi has a crush on the girl next door. It makes her happy and nervous, but Cece has a boyfriend…so it's not like her feelings could ever be reciprocated, right?
As the oldest, Des shoulders a lot of responsibility for her family and their independent bookstore. Except it's hard to dream big when she's so busy taking care of everyone else.
Nyxia by Scott Reintgen (6/19)
Emmett Atwater isn't just leaving Detroit; he's leaving Earth. Why the Babel Corporation recruited him is a mystery, but the number of zeroes on their contract has him boarding their lightship and hoping to return to Earth with enough money to take care of his family.
Forever.
Before long, Emmett discovers that he is one of ten recruits, all of whom have troubled pasts and are a long way from home. Now each recruit must earn the right to travel down to the planet of Eden—a planet that Babel has kept hidden—where they will mine a substance called Nyxia that has quietly become the most valuable material in the universe.
But Babel's ship is full of secrets. And Emmett will face the ultimate choice: win the fortune at any cost, or find a way to fight that won't forever compromise what it means to be human.
Jade believes she must get out of her neighborhood if she's ever going to succeed. Her mother says she has to take every opportunity. She has. She accepted a scholarship to a mostly-white private school and even Saturday morning test prep opportunities. But some opportunities feel more demeaning than helpful. Like an invitation to join Women to Women, a mentorship program for "at-risk" girls. Except really, it's for black girls. From "bad" neighborhoods.
But Jade doesn't need support. And just because her mentor is black doesn't mean she understands Jade. And maybe there are some things Jade could show these successful women about the real world and finding ways to make a real difference.
Friendships, race, privilege, identity—this compelling and thoughtful story explores the issues young women face.
The Possible by Tara Altebrando (6/5)
Some storms rage from within.
What if…a teenage girl could move objects with her mind?
What if…someone turns up at her door asking questions she doesn't want to answer?
Kaylee lives a normal life with her adoptive parents, and almost never thinks of her birth mother, Crystal, who is serving a life sentence in prison. But the woman at the front door is producing a podcast about Crystal that is about to blow Kaylee's forgotten past wide open.
What if strange things have been happening Kaylee's entire life, things she could not explain? What if she's more like her mother than she ever imagined?
What if the podcast is about to put her on a collision course with Crystal—and her darkest self?
How much can you tell about a person just by looking at them?
Janna Yusuf knows a lot of people can't figure out what to make of her…an Arab Indian-American hijabi teenager who is a Flannery O'Connor obsessed book nerd, aspiring photographer, and sometime graphic novelist is not exactly easy to put into a box.
And Janna suddenly finds herself caring what people think. Or at least what a certain boy named Jeremy thinks. Not that she would ever date him—Muslim girls don't date. Or they shouldn't date. Or won't? Janna is still working all this out.
While her heart might be leading her in one direction, her mind is spinning in others. She is trying to decide what kind of person she wants to be, and what it means to be a saint, a misfit, or a monster. Except she knows a monster…one who happens to be parading around as a saint…Will she be the one to call him out on it? What will people in her tightknit Muslim community think of her then?
Aubrey and Rae have been planning their trip around Europe practically from the moment they became BFFs in primary school. And, now, it ought to be the perfect way to spend their last summer together before university.
But things are more complicated at eighteen than they were at ten. There's Jonah, Aubrey's seemingly perfect boyfriend, and his best friend Gabe, the boy Aubrey may have accidentally kissed. And there's Clara, the friend Rae is crushing on, hard, even though there's no hope because Clara is definitely into guys, not girls.
Five friends. Ten days. Paris, Amsterdam, Prague, Florence, Barcelona. And a messy, complicated, can-this-really-be happening love story, or two…because how could there not be?
After a shout-out from one of the Internet's superstar vloggers, Natasha "Tash" Zelenka finds herself and her obscure, amateur web series, Unhappy Families, thrust into the limelight: She's gone viral.
Her show is a modern adaptation of Anna Karenina—written by Tash's literary love Count Lev Nikolayevich "Leo" Tolstoy. Tash is a fan of the forty thousand new subscribers, their gushing tweets, and flashy Tumblr GIFs. Not so much the pressure to deliver the best web series ever.
And when Unhappy Families is nominated for a Golden Tuba award, Tash's cyber-flirtation with Thom Causer, a fellow award nominee, suddenly has the potential to become something IRL—if she can figure out how to tell said crush that she's romantic asexual.
Tash wants to enjoy her newfound fame, but will she lose her friends in her rise to the top? What would Tolstoy do?
Warcross by Marie Lu (6/26)
For the millions who log in every day, Warcross isn't just a game—it's a way of life.
The obsession started ten years ago and its fan base now spans the globe, some eager to escape from reality and others hoping to make a profit. Struggling to make ends meet, teenage hacker Emika Chen works as a bounty hunter, tracking down Warcross players who bet on the game illegally. But the bounty hunting world is a competitive one, and survival has not been easy. To make some quick cash, Emika takes a risk and hacks into the opening game of the international Warcross Championships—only to accidentally glitch herself into the action and become an overnight sensation.
Convinced she's going to be arrested, Emika is shocked when instead she gets a call from the game's creator, the elusive young billionaire Hideo Tanaka, with an irresistible offer. He needs a spy on the inside of this year's tournament in order to uncover a security problem…and he wants Emika for the job. With no time to lose, Emika's whisked off to Tokyo and thrust into a world of fame and fortune that she's only dreamed of. But soon her investigation uncovers a sinister plot, with major consequences for the entire Warcross empire.
What I Lost by Alexandra Ballard (6/5)
What sixteen-year-old Elizabeth has lost so far: forty pounds, four jean sizes, a boyfriend, and her peace of mind. As a result, she's finally a size zero. She's also the newest resident at Wallingfield, a treatment center for girls like her—girls with eating disorders. Elizabeth is determined to endure the program so she can go back home, where she plans to start restricting her food intake again. She's pretty sure her mom, who has her own size 0 obsession, needs treatment as much as she does. Maybe even more. Then Elizabeth begins receiving mysterious packages. Are they from her ex-boyfriend, a secret admirer, or someone playing a cruel trick?
July
"Something does exist. I saw. It's a place. Like this but different."
"Okay, so let's say we do reach her, that something like that is even possible. Then what?"
"Then we ask her to come back."
Eden: As far as coma patients go, Eden's lucky. She woke up. But still, she can't shake the feeling that she might have dragged something back from the near-afterlife.
Joe: Joe visits the hospital every day, hoping that Jaz, his lifelong friend, will wake up. More than anything, he wants to hear her voice again. But he's not sure anyone can reach her.
Eden & Joe: Even though she knows it sounds crazy, Eden tells Joe that they might be able to talk to Jaz. Opening themselves up to the great unknown—and each other—Eden and Joe experience life: mysterious and scary, beautiful and bright.
What if the ordinary things in life suddenly…disappeared?
Aila Quinn's mother, Juliet, has always been a mystery: vibrant yet guarded, she keeps her secrets beyond Aila's reach. When Juliet dies, Aila and her younger brother Miles are sent to live in Sterling, a rural town far from home—and the place where Juliet grew up.
Sterling is a place with mysteries of its own. A place where the experiences that weave life together—scents of flowers and food, reflections from mirrors and lakes, even the ability to dream—vanish every seven years.
No one knows what caused these "Disappearances," or what will slip away next. But Sterling always suspected that Juliet Quinn was somehow responsible—and Aila must bear the brunt of their blame while she follows the chain of literary clues her mother left behind.
As the next Disappearance nears, Aila begins to unravel the dual mystery of why the Disappearances happen and who her mother truly was. One thing is clear: Sterling isn't going to hold on to anyone's secrets for long before it starts giving them up.
Dreamfall by Amy Plum (7/10)
Cata Cordova suffers from such debilitating insomnia that she agreed to take part in an experimental new procedure. She thought things couldn't get any worse…but she was terribly wrong.
Soon after the experiment begins, there's a malfunction with the lab equipment, and Cata and six other teen patients are plunged into a shared dreamworld with no memory of how they got there. Even worse, they come to the chilling realization that they are trapped in a place where their worst nightmares have come to life. Hunted by creatures from their darkest imaginations and tormented by secrets they'd rather keep buried, Cata and the others will be forced to band together to face their biggest fears. And if they can't find a way to defeat their dreams, they will never wake up.
When Dee Moreno makes a deal with a demon—her heart in exchange for an escape from a disastrous home life—she finds the trade may have been more than she bargained for. And becoming "heartless" is only the beginning. What lies ahead is a nightmare far bigger, far more monstrous than anything she could have ever imagined.
With reality turned on its head, Dee has only a group of other deal-making teens to keep her grounded, including the charming but secretive James Lancer. And as something grows between them amid an otherworldy ordeal, Dee begins to wonder: Can she give someone her heart when it's no longer hers to give?
If you could change your story, would you?
Jane has lived a mostly ordinary life, raised by her recently deceased aunt Magnolia, whom she counted on to turn life into an adventure. Without Aunt Magnolia, Jane is directionless. Then an old acquaintance, the glamorous and capricious Kiran Thrash, blows back into Jane's life and invites her to a gala at the Thrashes' extravagant island mansion called Tu Reviens. Jane remembers her aunt telling her: "If anyone ever invites you to Tu Reviens, promise me that you'll go."
What Jane doesn't know is that at Tu Reviens her story will change; the house will offer her five choices that could ultimately determine the course of her untethered life. But every choice comes with a price. She might fall in love, she might lose her life, she might come face-to-face with herself. At Tu Reviens, anything is possible.
When Suzette comes home to Los Angeles from her boarding school in New England, she isn't sure if she'll ever want to go back. L.A. is where her friends and family are (along with her crush, Emil). And her stepbrother, Lionel, who has been diagnosed with bipolar disorder, needs her emotional support.
But as she settles into her old life, Suzette finds herself falling for someone new…the same girl her brother is in love with. When Lionel's disorder spirals out of control, Suzette is forced to confront her past mistakes and find a way to help her brother before he hurts himself—or worse.
Kacey is the new girl in Broken Falls. When she moved in with her father, she stepped into a brand-new life. A life with a stepbrother, a stepmother, and strangest of all, an adoring younger half sister.
Kacey's new life is eerily charming compared with the wild highs and lows of the old one she lived with her volatile mother. And everyone is so nice in Broken Falls—she's even been welcomed into a tight new circle of friends. Bailey and Jade invite her to do everything with them.
Which is why it's so odd when they start acting distant. And when they don't invite her to the biggest party of the year, it doesn't exactly feel like an accident.
But Kacey will never be able to ask, because Bailey never makes it home from that party. Suddenly, Broken Falls doesn't seem so welcoming after all—especially once everyone starts looking to the new girl for answers.
Kacey is about to learn some very important lessons: Sometimes appearances can be deceiving. Sometimes when you're the new girl, you shouldn't trust anyone.
Can't buy me love…
Maddie's not impulsive. She's all about hard work and planning ahead. But one night, on a whim, she buys a lottery ticket. And then, to her astonishment—
She wins!
In a flash, Maddie's life is unrecognizable. No more stressing about college scholarships. Suddenly, she's talking about renting a yacht. And being in the spotlight at school is fun…until rumors start flying, and random people ask her for loans. Now Maddie isn't sure who she can trust.
Except for Seth Nguyen, her funny, charming coworker at the local zoo. Seth doesn't seem aware of Maddie's big news. And, for some reason, she doesn't want to tell him. But what will happen if he learns her secret?
Isabella is shocked when her parents book her passage on the incredible Titanic and inform her that she'll be sailing by herself. She is given an envelope and told the contents will explain everything, but she is forbidden from opening it until the boat reaches the U.S.
Lucille is worried over her mother's poor health, and her father is always distracted, never around. Left to her own devices, Lucille discovers some dangerous secrets that could tear her family apart.
Abby is desperate. She's all her little brother has in the world, and her only hope is start a new life in New York. But the only way to do that is to smuggle her little brother aboard the Titanic and hope they can last the week without him getting caught.
Three girls, three different classes on the ship, yet their pasts and futures are more intertwined than they know—and their lives are about to be forever changed over the course of the Titanic's maiden voyage. That is, if they don't all drown in secrets first.
Sallot Leon is a thief, and a good one at that. But gender fluid Sal wants nothing more than to escape the drudgery of life as a highway robber and get closer to the upper-class and the nobles who destroyed their home.
When Sal Leon steals a poster announcing open auditions for the Left Hand, a powerful collection of the Queen's personal assassins named for the rings she wears—Ruby, Emerald, Amethyst, and Opal—their world changes. They know it's a chance for a new life.
Except the audition is a fight to the death filled with clever circus acrobats, lethal apothecaries, and vicious ex-soldiers. A childhood as a common criminal hardly prepared Sal for the trials. But Sal must survive to put their real reason for auditioning into play: revenge.
Five high school seniors. Two different roads. One life-changing decision. For fans of Tommy Wallach and Patrick Ness comes a thoughtful, funny novel that explores what happens to five teens when they choose the road…and the road not taken.
Should Brian play in Friday's football game, even though his head really hurts?
Should Allegra commit to college now that her mother's illness has returned?
Should Cole cheat on the SATs for a chance to get into his dream school?
Should Nikki go all the way with her boyfriend?
Should Wiley tell his best friend that he loves her and risk losing her completely?
These five seniors are about to have an opportunity people only dream about: to experience two potential outcomes of a life-altering decision. When it's all over, will they still recognize their futures?
Nina was beautiful, wild & adored by her younger sister, Ellie. But, one day, Nina disappeared. Two years later, everyone has given up hope that Nina will return, but Ellie knows her sister is out there. If only Ellie had a clue where to look.Then she gets one, in the form of a mysterious drawing. Determined to find Nina, Ellie takes off on a crazy, sexy, cross-country road trip with the only person who believes she's got a chance—her hot, adventurous new crush. Along the way, Ellie finds a few things she wasn't planning on. Like love. Lies. And the most shocking thing of all: the truth.
All the women in Iris and Malina's family have the unique magical ability or "gleam" to manipulate beauty. Iris sees flowers as fractals and turns her kaleidoscope visions into glasswork, while Malina interprets moods as music. But their mother has strict rules to keep their gifts a secret, even in their secluded sea-side town. Iris and Malina are not allowed to share their magic with anyone, and above all, they are forbidden from falling in love.
But when their mother is mysteriously attacked, the sisters will have to unearth the truth behind the quiet lives their mother has built for them. They will discover a wicked curse that haunts their family line—but will they find that the very magic that bonds them together is destined to tear them apart forever?
Windfall by Jennifer E. Smith (7/31)
Alice doesn't believe in luck—at least, not the good kind. But she does believe in love, and for some time now, she's been pining for her best friend, Teddy. On his eighteenth birthday—just when it seems they might be on the brink of something—she buys him a lottery ticket on a lark. To their astonishment, he wins $140 million, and in an instant, everything changes.
At first, it seems like a dream come true, especially since the two of them are no strangers to misfortune. As a kid, Alice won the worst kind of lottery possible when her parents died just over a year apart from each other. And Teddy's father abandoned his family not long after that, leaving them to grapple with his gambling debts. Through it all, Teddy and Alice have leaned on each other. But now, as they negotiate the ripple effects of Teddy's newfound wealth, a gulf opens between them. And soon, the money starts to feel like more of a curse than a windfall.
As they try to find their way back to each other, Alice learns more about herself than she ever could have imagined…and about the unexpected ways in which luck and love sometimes intersect.
For Steffi, going to school every day is an exercise in survival. She's never fit in with any of the other groups at school, and she's viciously teased by the other girls in her class. The only way she can escape is through her music—especially jazz music.
When Steffi hears her favorite jazz song playing through an open window of a retirement home on her walk home from school, she decides to go in and introduce herself.
The old man playing her favorite song is Alvar. When Alvar was a teenager in World War II-era Sweden, he dreamt of being in a real jazz band. Then and now, Alvar's escape is music—especially jazz music.
Through their unconventional but powerful friendship, Steffi realizes that she won't always be lonely in her small town. She can go to a music school in the big city. She can be a real musician. And she can be a jitterbug, just like Alvar.
But how can Steffi convince her parents to let her go to Stockholm to audition? And how is it that Steffi's school, the retirement home, her music, and even her worst bully are somehow connected to Alvar and his story? Can it be that the people least like us are the ones we need to help us tell our own stories?
The Wood by Chelsea Bobulski (7/31)
When Winter's dad goes missing during his nightly patrol of the wood, it falls to her to patrol the time portals and protect the travelers who slip through them. Winter can't help but think there's more to her dad's disappearance than she's being told.
She soon finds a young man traveling in the wood named Henry who knows more than he should. He believes if they can work together to find his missing parents, they could discover the truth about Winter's dad.
The wood is poisoned, changing into something sinister—torturing travelers lost in it. Winter must put her trust in Henry in order to find the truth and those they've lost.
August
The Arsonist by Stephanie Oakes (8/21)
Molly Mavity is not a normal teenage girl. For one thing, her father is a convicted murderer, and his execution date is fast approaching. For another, Molly refuses to believe that her mother is dead, and she waits for the day when they'll be reunited…despite all evidence that this will never happen.
Pepper Yusef is not your average teenage boy. A Kuwaiti immigrant with epilepsy, serious girl problems, and the most useless seizure dog in existence, he has to write a series of essays over the summer…or fail out of school.
And Ava Dreyman—the brave and beautiful East German resistance fighter whose murder at seventeen led to the destruction of the Berlin Wall—is unlike anyone you've met before.
When Molly gets a package leading her to Pepper, they're tasked with solving a decades-old mystery: find out who killed Ava, back in 1989. Using Ava's diary for clues, Molly and Pepper realize there's more to her life—and death—than meets the eye. Someone is lying to them. And someone out there is guiding them along, desperate for answers.
Before
Mira Minkoba is the Hopebearer. Since the day she was born, she's been told she's special. Important. Perfect. She's known across the Fallen Isles not just for her beauty, but for the Mira Treaty named after her, a peace agreement which united the seven islands against their enemies on the mainland.
But Mira has never felt as perfect as everyone says. She counts compulsively. She struggles with crippling anxiety. And she's far too interested in dragons for a girl of her station.
After
Then Mira discovers an explosive secret that challenges everything she and the Treaty stand for. Betrayed by the very people she spent her life serving, Mira is sentenced to the Pit—the deadliest prison in the Fallen Isles. There, a cruel guard would do anything to discover the secret she would die to protect.
No longer beholden to those who betrayed her, Mira must learn to survive on her own and unearth the dark truths about the Fallen Isles—and herself—before her very world begins to collapse.
Unearthing years of buried secrets, Rilla Brae is haunted by ghostly visions tied to the tainted history of a mysterious island in this haunting novel from the author of The Girl Who Fell.
Maine-bred, independent Rilla Brae is no stranger to the deep. She knows the rhythms of hard work and harder seas. But when she experiences the sudden death of her father, the veil between the living and the dead blurs and she begins to be haunted by a girl on a nearby, uninhabited island. The girl floats a song over the waves, and it is as beautiful as it is terrifying. Familiar and distant.
Then Rilla meets Sam, a University of Southern Maine archeology student tasked with excavating the very island where the ghostly girl has appeared. Sam sifts the earth looking for the cultural remains of an island people who were forcibly evicted by the state nearly a hundred years ago. Sam tells Rilla the island has a history no locals talk about—if they know about it at all—due to the shame the events brought to the working waterfront community. All Rilla knows for sure is that the island has always been there—an eerie presence anchored in the stormy sea. Now Sam's work and the ghostly girl's song lure Rilla to the island's shores.
As Rilla helps Sam to unearth the island's many secrets, Rilla's visions grow—until the two discover a tragedy kept silent for years. And it's a tragedy that has everything to do with Rilla's past.
From the outside, the Cane family looks like they have it all. A successful military father, a loving mother and five beautiful teenage daughters. But on the inside, life isn't quite so idyllic: the Cane sisters can barely stand each other, their father is always away, and their neglectful mother struggles with addiction and depression.
When their youngest and most beloved sister, Rose, dies in a tragic accident, Mona Cane and her sisters are devastated. And when she is brought back from the dead, they are relieved. But soon they discover that Rose must eat human flesh to survive, and when their mother abandons them, the sisters will find out just how far they'll go to keep their family together.
To save her sister's life, Faris must smuggle magic into a plague-ridden neighboring kingdom in this exciting and dangerous start to a brand-new fantasy duology.
Faris grew up fighting to survive in the slums of Brindaigel while caring for her sister, Cadence. But when Cadence is caught trying to flee the kingdom and is sold into slavery, Faris reluctantly agrees to a lucrative scheme to buy her back, inadvertently binding herself to the power-hungry Princess Bryn, who wants to steal her father's throne.
Now Faris must smuggle stolen magic into neighboring Avinea to incite its prince to alliance—magic that addicts in the war-torn country can sense in her blood and can steal with a touch. She and Bryn turn to a handsome traveling magician, North, who offers protection from Avinea's many dangers, but he cannot save Faris from Bryn's cruelty as she leverages Cadence's freedom to force Faris to do anything—or kill anyone—she asks. Yet Faris is as fierce as Bryn, and even as she finds herself falling for North, she develops schemes of her own.
With the fate of kingdoms at stake, Faris, Bryn, and North maneuver through a dangerous game of magical and political machination
TRIGGER WARNING: Boys will be boys is never an excuse.
It's been two years since the night that changed Ashley's life. Two years since she was raped by her brother's teammate. And a year since she sat in a court and watched as he was given a slap-on-the-wrist sentence. But the years have done nothing to stop the pain or lessen the crippling panic attacks that make her feel like she's living a half-life.
It's been two years of hell for Derek. His family is totally messed up and he and his sister are barely speaking. He knows she partially blames him for what happened, and totally blames him for how he handled the aftermath. Now at college, he has to come to terms with what happened, and the rape culture that he was inadvertently a part of that destroyed his sister's life.
When it all comes to a head at Thanksgiving, Derek and Ashley have to decide if their relationship is able to be saved. And if their family can ever be whole again.
When Jyn Erso was five years old, her mother was murdered and her father taken from her to serve the Empire. But despite the loss of her parents she is not completely alone—Saw Gerrera, a man willing to go to any extremes necessary in order to resist Imperial tyranny, takes her in as his own, and gives her not only a home but all the abilities and resources she needs to become a rebel herself.
Jyn dedicates herself to the cause—and the man. But fighting alongside Saw and his people brings with it danger and the question of just how far Jyn is willing to go as one of Saw's soldiers. When she faces an unthinkable betrayal that shatters her world, Jyn will have to pull the pieces of herself back together and figure out what she truly believes in…and who she can really trust.
Need even more YA books for your to-read stack? Here are loads of great new YA titles that hit shelves recently.