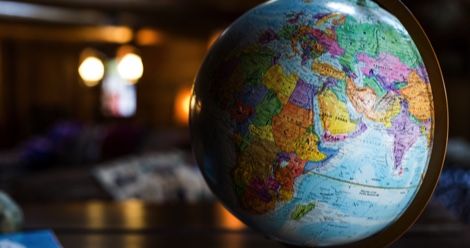 This content contains affiliate links. When you buy through these links, we may earn an affiliate commission.
Exciting English debuts, newly discovered masterpieces, and award winners—forget the weather, if we're judging this summer by its new releases by women in translation, it's a hot one. Check out these summer 2018 books by women in translation!
Summer 2018 Books by Women in Translation
A Chilean literary thriller that tells the story of three lives enmeshed in the life and death of an enigmatic and private author, based on Brazilian writer and legend Clarice Lispector. Siri Hustvedt, author of The Blazing World, writes: "Guelfenbein's elegantly structured, psychologically astute novel moves with the urgency of a detective novel, but its real mysteries turn on questions of authorship, reading, interpretation, and the strange power of fiction to enter the speechless realm of human erotic desire." Published for the first time in English, this award-winning novel couldn't have hit at a better time—it's big and brilliant and you'll want to sink into it on a beach somewhere.
Flights
by Olga Tokarczuk, translated by Jennifer Croft
Winner of the 2018 Man Booker International Prize, Flights is one of the hottest novels of the summer. Masterfully told in striking short pieces, Flights "explores what it means to be a traveler, a wanderer, a body in motion not only through space but through time." It's meticulously and brilliantly translated from the Polish by Jennifer Croft. If you need more convincing, Olga Tokarczuk's writing is being compared to that of W.G. Sebald and Milan Kundera and she's also on the longlist for the Alternate Nobel!
Convenience Store Woman
by Sayaka Murata, translated by Ginny Tapley Takemori
From one of Japan's most exciting contemporary writers, Convenience Store Woman is a dark, funny, and compelling novel with a heroine that defies convention and description. Keiko Furukura has worked at a convenience store for 18 years, comfortable in the patterns and norms of the store and its customers but aware of her family and society's general disappointment in her. When a young man enters her life she has the chance to change everything—if she wants to. I love this quote about the book from Jade Chang, author of The Wangs Vs. the World, "Instructions: Open book. Consume contents. Feel charmed, disturbed, and weirdly in love. Do not discard."
Pretty Things by Virginie Despentes, translated by Emma Ramadan
Virginie Despentes is an award-winning author, filmmaker, and critic. If the buzz around her recently published books—including Bye Bye Blondie, Apocalypse Baby, and others—is any indication, Despentes is hot and only going to get hotter with this new release. Pretty Things is a lurid, pulpy story of family, death, and gender. Joanna Walsh, author of Worlds from the Word's End, calls it "An intoxicating pop-trash plot of stolen identity that reveals the brutal and hilarious rules of gender—the high octane philosophy beach read of the summer."
The Geography of Rebels Trilogy present three linked novellas by influential *cult status level* Portuguese writer Maria Gabriela Llansol. She's all but unknown to English-speaking audiences, but with this English debut that's all about to change. "With echoes of Clarice Lispector, Llansol's novellas evoke her vision of writing as life, conjuring historical figures and weaving together history, poetry, and philosophy in a transcendent journey through one of Portugal's greatest creative minds."
Ma Bo'Le's Second Life
by Xiao Hong, translated by Howard Goldblatt
Xiao Hong has been called "the best female Chinese novelist you haven't heard of" and "one of the major Chinese literary figures of the century." Edited and finished by the translator, Howard Golblatt, based on Xiao Hong's notes, Ma Bo'le's Second Life is an interesting, undiscovered gem of a novel set in China in the period building up to the second Sino-Japanese War. It's a bleak but surprisingly funny "depiction of the despair of ordinary Chinese people confronted with the sudden onslaught of war and Westernization."
People in the Room
by Norah Lange, translated by Charlotte Whittle
Long viewed as Borges's muse, Norah Lange has been widely overlooked as a writer in her own right. Translated for the first time into English, People in the Room is an intense, haunting, and canon-breaking novel that completely overwhelmed me. Borges who? A young woman is looking out her window in the midst of a thunderstorm when she catches sight of three women in the house across the street from her. She begins to watch, obsess over, and imagine the secrets and lies of the women in the window. "Lange's imaginative excesses and almost hallucinatory images make this uncanny exploration of desire, domestic space, voyeurism, and female isolation a twentieth century masterpiece."