This content contains affiliate links. When you buy through these links, we may earn an affiliate commission.
The movie Suffragette, featuring Helena Bonham Carter, Meryl Streep and Carey Mulligan, premiered in the UK on Wednesday, October 7. In true feminist fashion, the movie was welcomed by feminists who stormed the red carpet to protest against UK government cuts that have been harming British women.
It was a badass show of activism by SistersUncut and I absolutely loved it.
However, I am the feminist killjoy who pops your suffragette-admiring bubble to say that Emmeline Pankhurst (and other suffragettes) was kind of racist (and very pro-colonisation in her later years). As much as the suffragettes were absolutely essential to the fight for equality, they often compared (white) women's lack of rights to slavery – effectively excluding black women from their fight for women's suffrage. This was extensively pointed out in social media after Suffragette actresses were pictured wearing shirts with one of Pankhurst's most famous (and offensive) quotes: "I'd rather be a rebel than a slave." (As if slavery was a choice but OK EMMELINE, WELL DONE). (ALSO, can we talk about why these actresses thought wearing this quote across their chest was OK?!!? Meryl, I thought you were cool.)
There's a lot to be said about whether it's right or wrong to admire the suffragettes if we look at the movement with an intersectional feminist lens, but I believe the best way to make that decision is to educate yourself. All of our idols will be problematic in one way or another and while I will definitely be watching the movie, I will also be reading some additional materials to make sure I understand the full picture of the suffragette movement in terms of intersectionality (or lack thereof). Below are the books I will be reading to seek this knowledge.
On a quick side note, it's important to say that the racism in the British and American suffragette movements were very different (it was definitely more overt in the US, with suffragettes arguing against black men having the right to vote) but that it existed in both countries.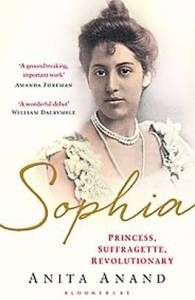 Sophia: Princess, Suffragette, Revolutionary by Anita Anand
Sophia Duleep Singh allegedly played a huge part in the British suffrage movement and was quite close to Pankhurst herself. As the title suggests, she was an Indian princess who fought for the British women's right to vote.
In an interview with The Telegraph, the author Anita Anand said: "She wasn't just welcomed by the movement, she was held aloft. Her propaganda was huge for them. She was part of Emmeline Pankhurst's close coterie of friends – she was one of her 'rock star' suffragettes."
I can't wait to read this book because I had no idea there even were any Indian suffragettes in Britain. So cool!
Sally Heathcote: Suffragette by Mary M. Talbot, Kate Charlesworth and Bryan Talbot
OK, I know this is technically fiction but it does contain an alternative view of who Emmeline Pankhurst really was as a person. It is based on historical facts and happens around the fictional character of Sally Heathcote.
Author Mary M. Talbot told The Guardian: "(…) I wanted to emphasise that the campaign wasn't just a middle- and upper-class phenomenon. It involved housemaids and seamstresses, too, and they wanted more than the vote. They wanted better education, pay and working conditions as well."
Talbot also said that she found herself writing Pankhurst as a villain, which I am curious to know more about.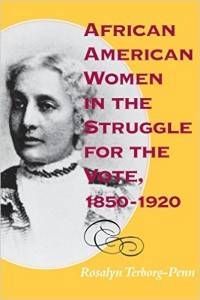 African American Women in the Struggle for the Vote by Rosalyn Terbog-Penn (1850-1920)
This book examines African American women's contributions to the suffrage movement in America and points out that many white suffragettes were not able to see past their own oppression and analyse the intersections of race and gender in American society. It also tells the stories of black women who fought against repeated attempts of disenfranchisement by white women.
This sounds like a good book to learn about black women's histories that is rarely spoken about in mainstream media.