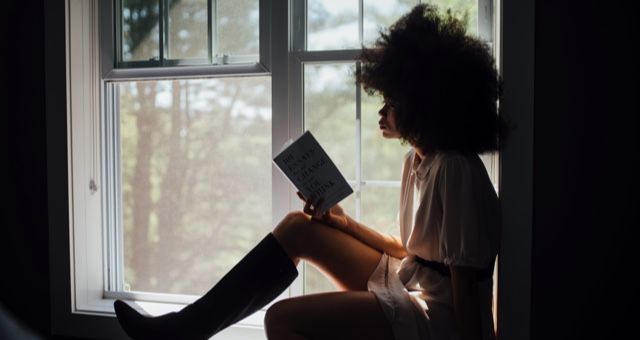 Feminism
9 Sudanese Women Writers Breaking New Ground
This content contains affiliate links. When you buy through these links, we may earn an affiliate commission.
Several new collections celebrate Sudanese writing. Among them are Modern Sudanese Poetry (2019), edited by Adil Babikir; Literary Sudans (2016), edited by Bhakti Shringarpure; Book of Khartoum, edited by Max Shmookler and Raph Cormack (2016); and more.
There are brilliant women collected within. But there are many more to be celebrated.
1) Rania Mamoun
Rania Mamoun's Thirteen Months of Sunrise, translated by Elisabeth Jaquette, came out this year from Comma Press.
The music of love and hunger fill the collection. Its stories are built around the thin skin that stands between life and death, love and loss. Indeed, Mamoun's stories are powered less by revelation than by a moment-by-moment struggle against the fragility of existence.
They are also laced with music; I happily made a literary playlist for this collection.
2) Safia Elhillo
Safia Elhillo is the author of the brilliant 2017 collection The January Children. She was winner of the 2016 Sillerman First Book Prize for African Poets and a 2018 Arab American Book Award.
In her dedication, Elhillo explains: "The January Children are the generation born in Sudan under British occupation, where children were assigned birth years by height, all given the birth date January 1."
You can read an excerpt on the UNP blog.
3) Omayma Abdullah
Sudanese author and engineer Omayma Abdullah has published three short-story collections and three novels.
Her "The Route Through Purgatory" was translated by Nassir al-Sayed al-Nour for The Short Story Project. It opens with anthropomorphized sand swelling around walkers on a journey: "The sands lolled and swam in the sun's blazing rays all day, then when darkness fell, they patiently waited for the sun to rise. As far as the eye could see, the sands swelled in every direction, wild and silent."
4) Najlaa Eltom
Najlaa Eltom is a Sudanese writer, translator, activist, and poet who was born in 1975. In 2000, she emerged on the poetry scene in Sudan. Her first poetry collection, The Doctrine of Thinness, appeared in 2007, and her second came out in 2016. In Modern Sudanese Poetry, editor Adil Babikir writes: "As a female writer in a literary tradition dominated by male figures, Najlaa had to deal with the complex questions of voice, individuality, taboos, image, and performance of a female writer."
A few of her works are available in English translation. "The Struggle Is Patriarchal," translated by Yasmine Haj, is available online. Two of her poems were published in translation in Banipal 55. Also, several more of her poems can be found in Babikir's translation in Modern Sudanese Poetry.
She's lived in Sweden since 2012.
5) Ann al-Safi
The great Abdel Baraka Sakin recommends reading Ann al-Safi. He particularly recommends her novel Kama Ruh.
You can read an interview with El-Safi on Sudanow, where she talks about the SF aspects of her novels.
"As we are on the 3rd millennium, technology has allowed exploring others' experiences while trying to learn from them[.] Even though our countries are classified as third world or under developed countries, this will open many doors for the narrative and novel writing."
6) Stella Gaitano
South Sudanese writer Stella Gaitano is one of my absolute favorites. I have a hoard of her collection Withered Flowers, both in the original and in Anthony Calderbank's translation.
Her brilliant, visceral story "It's Getting Very Hot," translated by Anthony Calderbank, was published in the first issue of ArabLit Quarterly. We read from that story on Episode 15 of the Bulaq podcast.
Gaitano was born in Khartoum in '79 to South Sudanese parents. She studied at Khartoum University, but migrated to South Sudan in 2012. Although English is the official language of the country, she is one of several younger South Sudanese authors who write in Arabic.
7) Ishraga Mustafa
The great Abdel Baraka Sakin also recommends the Sudanese-Austrian writer Ishraga Mustafa. He particularly recommends her autobiography: Untha Al-anhar.
You can watch a video interview with Mustafa, and you can read some of her poetry translated to German. She did her PhD in Political Science, worked as a journalist, and has published poetry in both Arabic and German.
8) Shamael Elnoor
Shamael Elnoor (@Shamael_noor) is a Sudanese writer and producer who says she faced "my first moral dilemma as a journalist in September 2013, when I was working for a Sudanese national broadcaster called Al Shorooq whose editorial views reflected those of the ruling party."
Elnoor is one of the contributors to the ground-breaking collection Our Women on the Ground, ed. Zahra Hankir. There, she writes about conflict reporting not as a parachute journalist who has a safe home to which to return, but as someone who is in the midst of the conflict, and who must make life-altering choices about not just what to report and how, but for whom.
9) Leila Aboulela
Surely the best-known Sudanese woman writer in English is Leila Aboulela. She lives in Scotland and writes in English.
Her books have won a number of prizes. I am particularly partial to her tender short stories, a form she masters. Her collection Elsewhere, Home won the 2018 Saltire Fiction Book of the Year Award.