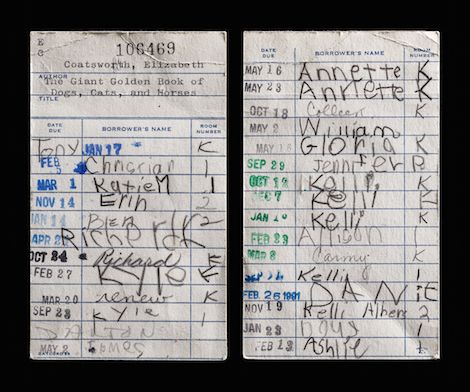 Stunning Photos of Well-Worn Library Books: Critical Linking, February 4, 2018
Sponsored by The Hazel Wood by Melissa Albert

---
Photographer Kerry Mansfield, who we first became aware of via Hyperallergic, makes photographic art out of library books and check-out cards, with a twist: she's fascinated and compelled by the wear and tear placed upon them by passing years, and their passage from reader to reader. On her website, she notes that "each one was chosen for specific characteristics that best display the love poured into library books over their years on the stacks." Her "Expired" series, which is currently comprised of 175 photographs, has been collected into a beautifully bound volume (though we'd love to see what it will look like after a few years in a library); you can buy it on her site, and she was kind enough to share a few images from it for this gallery.
We see so many odes to beautiful, pristine new books. This is an ode to the well-loved, the torn, and the aged.
____________________
Instead of going the classic pink or blue route, why not give the baby's room a design that's nearly as memorable as your baby's arrival itself?
Draw inspiration from the stories you read and relished as a child—ones you'll certainly read to your little one someday, too. At Budget Direct, we have created some fun, fantastical designs to help you get going.
These imagined nurseries based on children's book authors are bananas in the best way.
____________________
Islanders can now get a side helping of fitness when they borrow books — some P.E.I. libraries have begun lending out snowshoes.
The snowshoe lending program is a new pilot project that has purchased four pairs of different-sized snowshoes for each of seven libraries including Summerside, Charlottetown, Stratford, Montague, Kensington, Cornwall and the French library at the Carrefour de l'Isle St. Jean in Charlottetown.
I love learning about more and more libraries lending out non-traditional items.