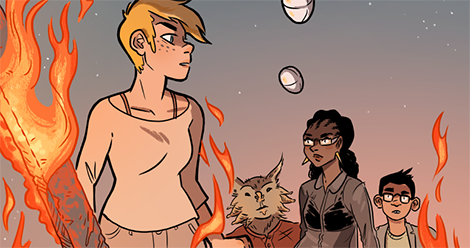 Comics Newsletter
'Strong Female Protagonist' Is the Superhero Webcomic We Need Right Now
This content contains affiliate links. When you buy through these links, we may earn an affiliate commission.
So, confession time: I have a really hard time getting into superhero comics. There's nothing wrong with the genre; it's just often not my cup of tea. I generally prefer small scale conflict to epic fights and adventures, and so nine times out of ten, I'd rather hear a story about a group of people saving each other than saving the world. So it may sound a little odd that one of my favorite webcomics right now is a superhero comic: Strong Female Protagonist, written by Brennan Lee Mulligan and illustrated by Molly Ostertag. But although SFP fits right into the genre of caped crusaders and superpowered battles, the story isn't really about superheroes saving the world. It's about them trying to figure out how to save the world.
The titular strong female protagonist is Alison Green, formerly a superhero known as Mega Girl, who unmasked herself on live TV at age 19 and left the superhero scene behind. But hanging up her mask and going to college doesn't mean that Alison can give up her superpowers, nor does it mean she can leave behind her fame, her superhero friends and colleagues, or her burning desire to make the world a better place. Over the four-plus years that SFP has been running, both Alison and the comic have grown and developed in complex and remarkable ways. The cast has broadened to include a diverse and complex collection of side characters, while the story itself continues to thoughtfully address topics such as power and privilege, punishment and rehabilitation, illness, disabilities, identity politics, and more. All while regularly delivering a healthy wallop of all kinds of feels.
I started reading SFP this fall, but curiously, I actually first stumbled across its existence years earlier. In 2014 I paid a brief visit to the Massachusetts Independent Comics Expo (MICE) in Cambridge, MA, half out of curiosity and half because a friend was volunteering there. Wandering through the showroom, I my only clear memory is of meeting a woman at a booth promoting a webcomic called Strong Female Protagonist. I told her (based more or less on the title alone) that her webcomic sounded really cool. She assured me it was and gave me a free promotional postcard. I don't know why I didn't immediately go home and check out the comic. Maybe the timing simply wasn't right. Somehow, I forgot all about the comic, the postcard, and the encounter.
It wasn't until October 2016 that I stumbled across the webcomic again. I don't recall what link or wayward search keyward sent me to the comic's homepage, or why I continued reading when I immediately discovered it was about superheroes. All I know is that I started reading, and was utterly hooked. It was a month until the election, I had stressful family stuff going on, and somehow, this comic was just what I needed. It was simultaneously an angry punch in the gut and a massive, rib-crushing hug. It made me laugh, it made me cry, on one occasion it even made me squee out loud. It made me think about power, superpower, and privilege in ways I hadn't before. I couldn't believe the degree to which the characters were willing to simply sit and talk to about these issues, rather than punching each other. Everyone had different perspectives. Everyone had good points to make. Everyone had their flaws.
I was nearly caught up on the comic when something finally occurred to me. I got up from my computer and dug out the big plastic bin under my bed where I keep posters and postcards and other fandom swag that isn't currently plastered to my walls. It only took a couple minutes of searching before I found it: the promo postcard for SFP that I'd gotten at the expo years earlier. I realized, with a comically belated sort of shock, that the woman I'd met at the booth was probably Molly Ostertag.
The postcard is hanging on the wall by my desk now, right alongside the other motivational mementoes and clippings I have tacked up. It depicts a relaxed scene — a handful of the main characters sitting around playing D&D — but whenever I look at it, the determined look on Alison's face as she rolls the dice reminds me to keep fighting, keep thinking, keep trying to save the world. SFP was exactly the comic I needed in fall 2016, and as we march forward into the unknown of 2017, I imagine I'm not the only one who needs it now more than ever. In times like these, we all need heroes. Fictional or otherwise.
Strong Female Protagonist updates Tuesdays and Fridays. Issues 1-4 can also be found in the trade volume Strong Female Protagonist Book One.