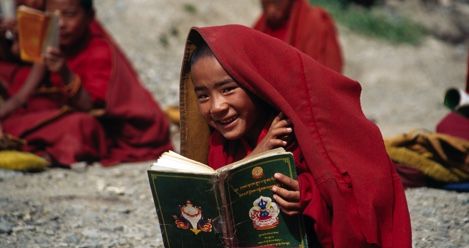 Striking Photos of Readers From Around the World: Critical Linking, July 16
Today's Critical Linking is sponsored by Flatiron Books and Legendary by Stephanie Garber.

---
That luminosity appears throughout the book, whether in the bowed head of a woman at a museum in Italy or the intent expression of a street vendor in Kabul. Over the past 40 years, the Magnum photographer has amassed a collection of images showing people engrossed in the printed word.
So many striking photos of readers around the world.
---
Over the years since, I've often drawn inspiration from Africa's extraordinary literary tradition. As I prepare for this trip, I wanted to share a list of books that I'd recommend for summer reading, including some from a number of Africa's best writers and thinkers – each of whom illuminate our world in powerful and unique ways.
In case you missed it, Obama shared a personally-curated list of African literature in prep for an upcoming trip to the continent.
---
That recipe is among a dozen that have been adapted by contemporary chefs and incorporated into a video project by Spain's National Library, to raise the profile of its vast collection of 23,000 food-related works, which date as far back as the 1400s.
What a neat project! If you can't see the NYT piece, you can go straight to the vids here.