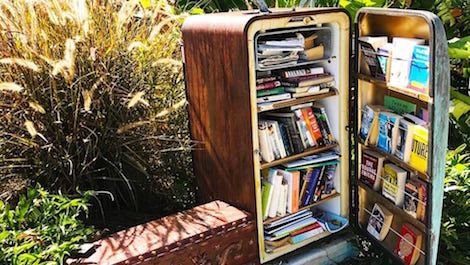 Street Libraries Spread Around Brisbane: Critical Linking, March 11, 2018
Sponsored by The Wicked Deep by Shea Ernshaw

---
There's a quirky new reading revolution that is quietly spreading across Brisbane (and the world) – pop-up Street Libraries.
These miniature community libraries are an initiative of residents and sometimes businesses across the inner-city and suburbs of Brisbane, and can take the form of everything from purpose-built garden huts down to phone boxes, recycled fridges and repurposed letterboxes.
Little Free Libraries aren't called that in Brisbane, Australia, but whatever the name, these are super cool to look at.
____________________
Consider the book cover: that eye-catching portal into fantastical stories, brutally honest memoirs, and art books brimming with hyper-detailed images of masterpieces.
At their best, covers offer an enticing teaser for what's to come on a book's pages, or convey the essence of a story in question. It's not an easy task, as any book designer will tell you. But it's certainly a rewarding one.
Below, we talk with five designers whose book jackets are routinely hailed as crowd favorites. Their designs blanket young adult bestsellers like John Green's Turtles All the Way Down (2017), literary classics like Vladimir Nabokov's The Eye (1930), and tomes that rethink the form of a book (one comes with a remote control, and drives like a toy car).
____________________
Today is a tears-of-joy day for emoji. In a move that reflects the changing nature of communication — and the evolving role of dictionaries — Dictionary.com has officially added explanations for these little pictorial symbols, becoming the first major reference to do so.
Including "these sorts of items" is a decision that the linguistic experts on staff have been mulling since Alphabet was still Google. Following a pilot project that tested out all kinds of unconventional material last year, the company made the move official on Tuesday, TIME can report exclusively.
____________________
Any list, especially one as idiosyncratic as ours, is bound to leave off some worthy contenders, like "Wolf Hall," say, or "Gilead" or "A Visit From the Goon Squad" (to name just a few). This is not a comprehensive list, far from it. We hope it will be seen as a start — a way to single out these extraordinary books and the ability of fiction to challenge and reimagine the world. Some of the books we selected, like "Americanah," bring a fresh slant to the novel's natural concerns about character and fate and belonging. Others, like "How Should a Person Be?," pluck new questions out of the air, in this instance about authorship and authenticity. They ransack classic stories ("American Innovations") and invent genres out of whole cloth ("Her Body and Other Parties").
Every one of these books features a woman at the center. She is brainy (Rachel Cusk's "Outline" trilogy), grimy ("Homesick for Another World"), terrorized ("The Vegetarian") and all of the above (the new mother in "Dept. of Speculation"). Each book's utterly distinct style emerges as its women try to invent a language for their lives.
You could say these books are on the vanguard, but to suggest just one vanguard feels so insufficient. What makes these books so rich is their plenitude, the variety they contain and embody. "My story flows in more than one direction," Adrienne Rich once wrote. "A delta springing from the riverbed/with its five fingers spread."
The New York Times built a list of essential 21st century books by women, and it's a pretty good reading list.