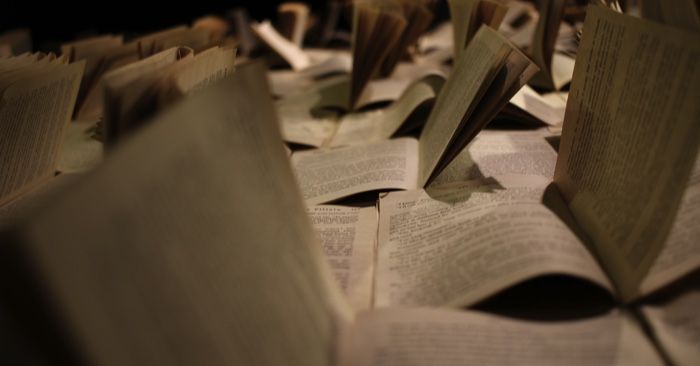 Fiction
8 Story Collections Inspired by Novels
Long ago, I wrote to you book-loving folks about short story cycle favorites, which are essentially short stories in which there is some type of interlinking between the stories. They are one of my top literary sub-genres as they give me everything I love about a novel but in bite-sized pieces. Since then, I've been on the lookout for story collections inspired by novels. While many on the list are not direct novel-to-story adaptions, they pay homage and/or take inspiration from beloved novels.
Reader, I Married Him: Stories inspired by Jane Eyre Edited by Tracy Chevalier
Did I choose this book just because it was edited by someone with a fantastic first name? Yes, but the good news is that it's also an interesting collection of stories inspired by Jane Eyre. There are dozens of stories here, written by such brilliant folks as Audrey Niffenegger, Namwali Serpell, and Emma Donoghue.
The Bloody Chamber and Other Stories by Angela Carter
All of the stories within The Bloody Chamber are based on fairytales, including both short tales and novel-length ones. Written shortly after translating fairytales from Charles Perrault, Carter gives many of the stories in this collection a feminist and/or modernist twist.
Here she has written two variants of Beauty and the Beast, one of which involves mysterious car trouble (Thriller vibes??), a retelling of Bluebeard, and unspecified woodlands goblins, amongst others.
The Ladies of Grace Adieu and Other Stories by Susanna Clarke
Set in the same universe Clarke created for her debut novel Jonathan Strange & Mr. Correll, this collection includes illustrations from Charles Vess.
Each of the stories can be considered a sophisticated fairytale and is written in the style of 18th/19th Century fairytales. Are these stories written in awe of those fairytales or satirically? Critics disagreed on that point, so you'll have to make up your own mind.
Endangered Species: Short Stories by Gene Wolfe
With more than 30 short stories in this volume, there is an impressive showing of various genres including horror, science fiction, and fantasy.
While most of the stories in this collection are unique, a few of them, most notably "The Cat" and "The Map," are based in a universe he created for his New Sun novels.
Cannibal by Safiya Sinclair
Though technically a retelling of a play, and done through a manuscript-length series of poems, not a short story, Cannibal is one of the most unique entries on this list.
Combining, confronting, and deeply analyzing postcolonial identity, this work brings new meaning to the term "full-blooded."
Sansei and Sensibility by Karen Tei Yamashita
Through a series of short stories and essays she wrote between the mid-1970s and the late 2010s, this collection retells all six Jane Austen novels through the lens of postwar Japanese culture.
Described as "hilarious" and "absurd," (two excellent descriptors, in my opinion), these stories depict Mr. Darcy as the captain of the football team and insert bake sales in place of ballroom dances, all without losing the feeling, if not style, of an Austen novel.
Close Range: Wyoming Stories by Annie Proulx
Home to the story with well-earned international acclaim, "Brokeback Mountain," Close Range is one of my favorite collections of the aughts. "But Tracy," savvy readers are objecting, "this was a short story before it was anything else—why is it even on this list?"
Thanks for being so polite when sharing your differing opinion on literature! What a great reader you are. And yes, indeed it was, but it has had so many incarnations since that a person could read this work in short story form, amended short story form, published screenplay form, and yes, as a stand-alone short novel.
First published as a piece of short fiction in The New Yorker in 1997, it went on to win the National Magazine Award for Fiction, after which it was published in Proulx's collection Close Range: Wyoming Stories, which was then shortlisted for the 2000 Pulitzer. See? It's impressive!
Telling Tales by Patience Agbabi
Shortlisted for the 2015 Ted Hughes Prize, Telling Tales offers a 21st Century take on Chaucer's famed "Canterbury Tales."
The epic retelling of this epic uses "funky, foul-mounted" lyrical language to offer both a complement and a counterpoint to the oft-studied Middle English Epic.