News
Stormy Daniels To Release Tell-All Memoir
This content contains affiliate links. When you buy through these links, we may earn an affiliate commission.
Unlikely hero of the resistance Stephanie Clifford, aka Stormy Daniels, is set to release a tell-all memoir on October 2, 2018. The actress and alleged mistress of Donald Trump has made quite a name for herself, starting in early 2018 when The Wall Street Journal reported Trump attorney Michael Cohen paid Daniels "hush money" to keep their relationship secret. Along with brash attorney Michael Avenatti, Daniels has gone on to be seen as a convenient villain by the right and a fierce warrior of truth by the left. Not one to step down, her reaction to the abuse she's suffered on social media in the aftermath seems to be an exciting progenitor to what readers will get in Full Disclosure.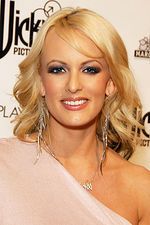 When asked by Joy Behar on the September 12, 2018, episode of The View whether or not the president would make an appearance in her memoir, Daniels said, "Yes. It's full disclosure. That's why I named it that." Publisher St. Martin's Press said of this announcement: "She was already well-known in some circles before March 6th, 2018, but that's probably the first time you heard the name Stormy Daniels. That's the day she filed a lawsuit against President Donald Trump over a nondisclosure agreement negotiated before the election but never signed."
Now how long until a cease & desist letter is sent to Macmillan from Trump's camp? And will the Stormy Daniels book rival the incredible success of Bob Woodward's Fear: Trump in the White House?