Lists
Stories about Family Legacies
This content contains affiliate links. When you buy through these links, we may earn an affiliate commission.
This round-up of stories about family legacies is sponsored by Flatiron Books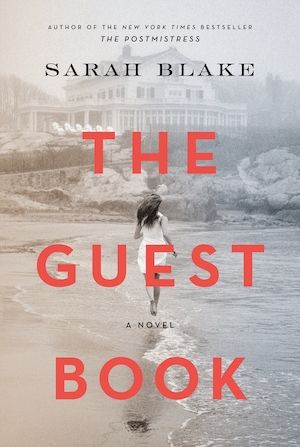 A lifetime of secrets. A history untold. No. It is a simple word, uttered on a summer porch in 1936. And it will haunt Kitty Milton for the rest of her life and its consequences will ripple through the Milton family for generations. Moving through three generations and back and forth in time, The Guest Book asks how we remember and what we choose to forget, and tells the story of a family and a country that buries its past in quiet, until the present calls forth a reckoning.
---
"There is no magic on earth strong enough to wipe out the legacies of one's parents," Salman Rushdie wrote in his seminal novel Midnight's Children. Perhaps this idea of events and decisions affecting generations of characters is why stories about family legacies have become such a staple of all genres of literature. We love reading about old sins casting long shadows, and children doing their best to break away from or mend the mistakes of the relatives who went before them – and it's equally intriguing whether they succeed or fail. Stories about family legacies have been popular for centuries (Arthurian legends, anyone?), and these are some of my favourites.
This epic novel (get an ebook, the paperback version is incredibly difficult to hold) tells the story of four families living in a newly independent and newly-partitioned India. With a sweeping look at India's politics and society, as well as a close and personal examination of the four families, A Suitable Boy is an intense and fascinating read.
Checkmate by Malorie Blackman
, from the Noughts and Crosses Series
The Noughts and Crosses series is set in an alternate reality where black people occupy a position of racial privilege and white people are discriminated against (don't worry – unlike infamous "reverse racism" novel Save the Pearls, the Noughts and Crosses books examine this premise with nuance and sensitivity). Centring two families, the Hadleys and the McGregors, the story reaches crisis point in Checkmate, where young Callie Rose must make a decision that has been led up to by the actions of her parents, grandparents, and uncle.
The Saga comics by Brian K. Vaughan and Fiona Staples
Like Noughts and Crosses, this far-reaching space story begins with a Romeo and Juliet premise and spins it out into an epic drama that focuses on family and politics alike. Following Alana and Marko, two aliens from warring races who fall in love and have a daughter together, the series follows their attempts to protect their family from the many different forces that wish to destroy them.
Family legacies – and the problems that come with them – don't get much bigger than when your family are gods. Set in the same universe as the famous Percy Jackson series, Magnus Chase and the Sword of Summer and its two sequels follow the adventures of Magnus, son of the Norse god Frey, as he learns about his heritage and tries to protect himself and his loved ones from the fire-giant Surt.
Family legacies don't need to transcend centuries – sometimes, one generation is enough. In this creepy story by one of the masters of American Gothic horror, narrator Merricat Blackwood lives in an isolated house with her sister Constance and Uncle Julian, the only survivors of a poisoning that killed the rest of their family. The small family is isolated from and hated by the residents of the nearby village, who believe Constance poisoned her parents and got away with murder – and as the events of the novel unfold, so does the aftermath of that tragic day.
Terrier by Tamora Pierce, from the Beka Cooper series
A different kind of family legacy story, this series follows the ancestor of a major character from Pierce's Song of the Lioness books. Unlike her master thief descendant George Cooper, Beka Cooper is a trainee member of the city guard, and in Terrier, the first installment in the series, Beka must take down a pair of criminals who are murdering and kidnapping their way across the city.
A liberal and a conservative family clash in this "transatlantic comic saga" by Zadie Smith. Loosely based on Howard's End, it follows two families, the Belseys and the Kipps, each headed by an academic patriarch who are each other's professional rivals. When the Kipps family moves to the Belseys' home town of Wellington in the USA, tensions between the families rise as some members become friends, and others become even more bitter enemies.
Published as The Cartographer's Daughter in the U.S., this debut novel centres the relationships between fathers and daughters. Isabella, daughter of the cartographer working on the island of Joya, has to disguise herself as a boy to rescue her best friend Lupe. Lupe, however, is the daughter of the Governor, who invaded the island several years before and made its inhabitants submit to his repressive regime. The two contrasting family legacies that the two girls must live up to, or break away from, become more and more important as this high-stakes adventure races towards its conclusion.
First Among Sequels by Jasper Fforde, from the Thursday Next series
The first of the second series of comic/sci-fi/fantasy genre-defying Thursday Next novels, this book sees the adventuring literary detective with a young family, all of whom are dragged into Thursday's ongoing adventures. Like the other Thursday Next novels, family legacies play a central role – Thursday and her son Friday must try to make sure that time travel is never invented (despite the fact that this could potentially remove Thursday's ex-ChronoGuard father from history).
---
Want more family-themed novels to add to your TBR pile? Try 100 Must-Read Generational and Family Novels. YA fans can find some great recommendations in Genre Kryptonite: YA Family Dramas.