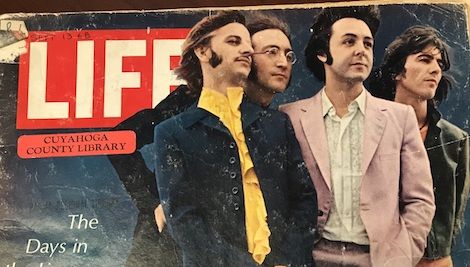 Critical Linking
Stolen Magazine with Beatles on Cover Back 50 Years Later: Critical Linking, March 8, 2019
Sponsored by our What's Up in YA Giveaway of a $100 gift card to Amazon! Enter here.
---
An Ohio library says a 1968 copy of Life magazine with the Beatles on the cover has been returned by a borrower who apologized for stealing it as a "kid" and sent $100 to cover late fees.
Not a deep story, but I love these stories anyway as someone who is terrible at returning books on time.
____________________
According to research commissioned by the Man Booker International (MBI) prize from Nielsen Book, overall sales of translated fiction in the UK were up last year by 5.5%, with more than 2.6m books sold, worth £20.7m – the highest level since Nielsen began to track sales in 2001. Over the last 18 years, sales of fiction in translation have risen "steadily", with the performance of translated literary fiction in particular standing out for its "extreme growth", up 20% in 2018 year-on-year. Sales of English-language literary fiction over the period, meanwhile, have plateaued and are now significantly below where they stood in the mid-noughties.
I wonder if we'd ever see a boom like this in the U.S.
____________________
The Dutch House: A Novel
by Ann Patchett
Sept. 24, 2019

Cover art by Noah Saterstrom (@noahsats) pic.twitter.com/Y5gITKsrRE

— Parnassus Books (@ParnassusBooks1) March 7, 2019
I know what I'm picking up for my birthday this year!