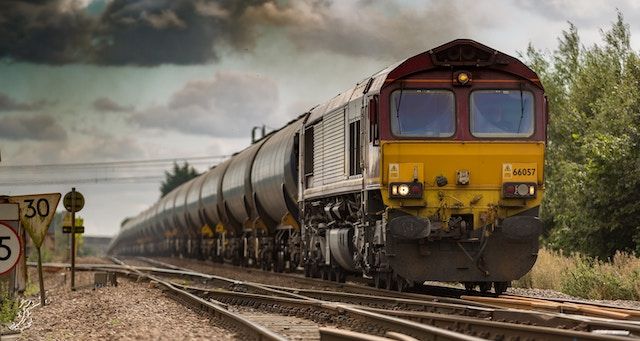 This content contains affiliate links. When you buy through these links, we may earn an affiliate commission.
I spent the month of August traveling by train from Berlin to Budapest and living out of just a backpack. I'm a reader accustomed to a sizable home library (complete with houseplants, cozy armchairs, and littered with coffee mugs) so this type of trip—while amazing!—turns my reading life upside down just a bit.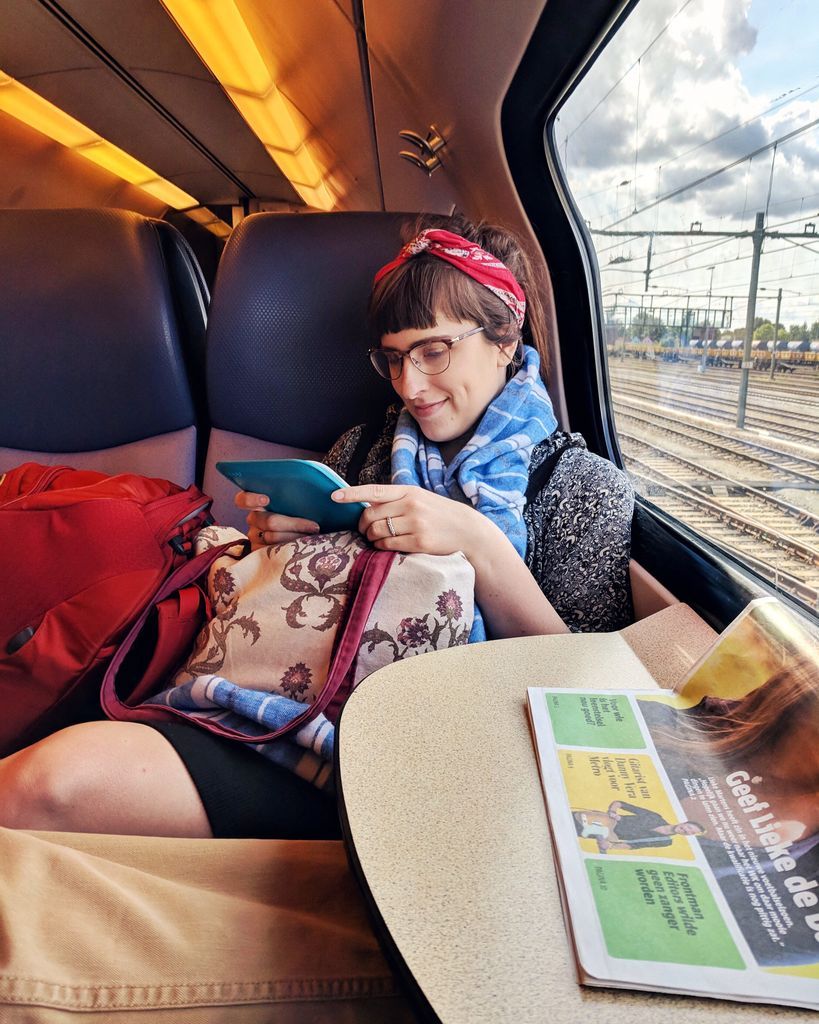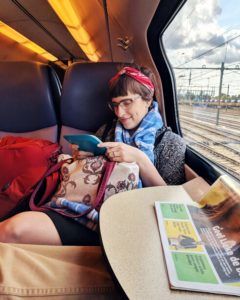 I don't usually use an ereader, but it is simply a necessity for a long backpacking trip involving trains. Fortunately, my mother-in-law gave me a hand-me-down NOOK Glowlight (the original model, it's an oldie) to load up with enough books to last me two international flights and at least six train rides. Since the ability to connect to wifi can be spotty on the various different train lines in Europe, I preloaded the reader with lots of options before leaving home.
Reading on the train is officially on my list of favorite hobbies now. Below you'll find the reading highlights from my trip. I tried to select books that dealt with travel or journeys in one way or another, or books that took place in one of the countries I visited, like Poland or Hungary. I hope you enjoy, and if you're traveling I would love to hear how you select your reading choices!
The Great Believers is very critically acclaimed and I feel like the last person to have read it. Half of the novel takes place in the mid to late 1980s in Chicago during the AIDs epidemic. It follows Yale Tishman, whose career as a development director at an art gallery for Northwestern University is on the brink of something incredible, but at the same time his friends are getting sick and dying—the threat of AIDs surrounds every aspect of Yale's life. Whole communities are wiped out by the virus, and eventually the only person Yale has left is Fiona, the little sister of one of his closest friends who dies of AIDs in the opening chapter of the novel.
Alternate chapters take place in present-day Paris, where Fiona travels to reconnect with her estranged daughter. Since we left her story in the 1980s, Fiona has been living with survivor's guilt for 30 years, and it has deeply affected her entire outlook on life and love. Though The Great Believers is tragic, it is also a beautiful and deeply affecting novel. The themes of art, love, and friendship bring a warm light onto a story that deals with loss, judgement, and heartbreak.
Putney
by Sofka Zinovieff
*This book has trigger warnings for child sexual abuse.* Putney begins when Daphne Greenslay is 9 years old. The Greenslay family is part of the bohemian arts scene of London in the 1970s, and Daphne's upbringing is hardly conventional—people come and go from the family home, Daphne's mother is often disappearing off to Paris for extended lengths of time, and her father has frequent affairs in the home with his writing students. And it is Daphne's father who firsts invites Ralph Boyd into the family home; Ralph is an up-and-coming composer meant to write a score for Edmund Greenslay's latest work for the stage.
Despite their age difference, Ralph projects that Daphne is his artistic muse, and begins grooming Daphne to fall in love with him. At first they don't have sexual contact, but when Daphne is only 13, Ralph (now a married man with children of his own) accompanies her on a trip to Greece to join her family for vacation and they begin a sexual relationship that lasts through Daphne's teens. Fast forward 40 years and Daphne is only now coming to terms with what she went through as an adolescent. In the present day she is helped along the way by her childhood friend, Jane, who is the only person who knows what Ralph perpetrated in their youth. Putney is infuriating, and oh so very engaging.
Flights
by Olga Tokarczuk
Flights was the perfect book for my most recent train journey because I spent a week traveling through Poland, and Olga Tokarczuk is from Wrocław, Poland, and sets several scenes in this book throughout Poland. It's also about travel and travelers. Double win!
Flights won the Man Booker International Prize in 2018, though it doesn't have a traditional novel format narrative. In a way, it's more like tightly interwoven stories and characters, though it does all come together surrounding the travel theme. The narratives take place on planes and trains, in hotel rooms, on vacation, during homecomings, and more. And throughout the stories there's this traveler's mantra pulse of "Where are you from? Where are you coming in from? and Where are you going?" The writing in this one is beautiful, and there were some story lines in here that absolutely ripped my heart out.
Homegoing chronicles the stories of three hundred years in what is now the country Ghana, and in the United States, by following the generations that spring from two half-sisters. The half-sisters, Effia and Esi, are born into two different villages in the 18th century.
Effia's descendants stay in Ghana where they battle neighboring villages and face British colonization. Esi is imprisoned at the Gold Coast, and then sold into the slave trade. Her descendants live in the United States where they are enslaved on plantations, then coal miners, and then jazz club performers in Harlem. This is a character-driven family saga at its best, and it is rich with history.
*This book has trigger warnings for domestic violence.* This novel is a unflinching and affecting portrayal of manipulation and domestic abuse. It's narrated by an unnamed Indian woman who marries a professor when she's very young. At first they seem in love, but we as the readers know from the beginning that the narrator has escaped years of her husband's abuse, both physical and psychological.
Her husband moves them away to a remote village, completely cuts the narrator off from her friends and family, makes it impossible for her to work, and manipulates all their mutual contacts so no one believes her true suffering is real. The writing is sharp and brutal, but the narration is darkly humorous and incredibly sharp-witted.
I remember hearing this book described as "if Greta Gerwig wrote a campus novel," and that description had me instantly sold. It's deadpan funny, full of literary references, and the characters love language and learning Russian—what's not to love? Storylinewise, it takes place in 1995 at Harvard. The main character, Selin, spends most of her time with her one best friend, or going to the movies, or studying for her classes.
But then she starts an email correspondence (keep in mind, it's 1995 so this is pretty novel) with a Hungarian graduate student in the Harvard math program. Selin and Ivan rarely speak in person, but they develop this strangely deep relationship, and the novel grapples with themes of communication and language throughout it. Selin even ends up following Ivan back to Hungary for the summer vacation, where she teaches English in a very small Hungarian village. It's an awkward coming-of-age and first love story, and though it's very cerebral it still made me cackle out loud from its weird and delightful humor.
---
Want more posts on bookish travel? Check out this post on essential travel tips for book lovers. Are you, too, venturing to Poland, Slovakia, or the like? Check out these 50 Must-Reads of Slavic Literature.