Melbourne has no shortage of quirky literary spaces, from a fantasy-themed cocktail bar to a comic studio/gallery/shop. Melburnians are proud of the literary, arty reputation of their city, which has more book clubs and reads more publications per capita than any other Australian city.
One unique spot is Sticky Institute. While the name might conjure up images of all sorts of unsavoriness, this is the only dedicated zine shop in Australia (and possibly the only one of its type in the world). Sticky is beloved among Melbourne's DIY publishing fans. The nonprofit has been running for 18 years now, surviving on a mix of retail (taking a 20% cut of zines sold in the shop) and grants. The place is clearly a labor of love, and is staffed by friendly volunteers. A word of warning, though: the opening hours are unusual.
Like so many zines themselves, the space is charmingly unpolished and ramshackle. Sticky is essentially one lavishly decorated room in a pedestrian subway leading to busy Flinders Street Station. It's both literally and figuratively underground.
Its shelves are stuffed full of zines, comics, and arty magazines of all shapes, sizes, and levels of sheen. Publications aren't just on the counter and every available inch of shelf. One nice touch is an overflowing exchange box whose only rule is that for anything taken home, a substitute item has to be added. This is a mix of potential gems and, well, items that only the charitable-minded could love.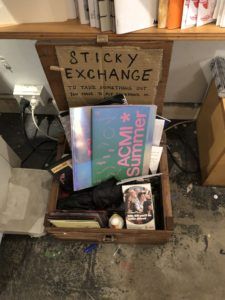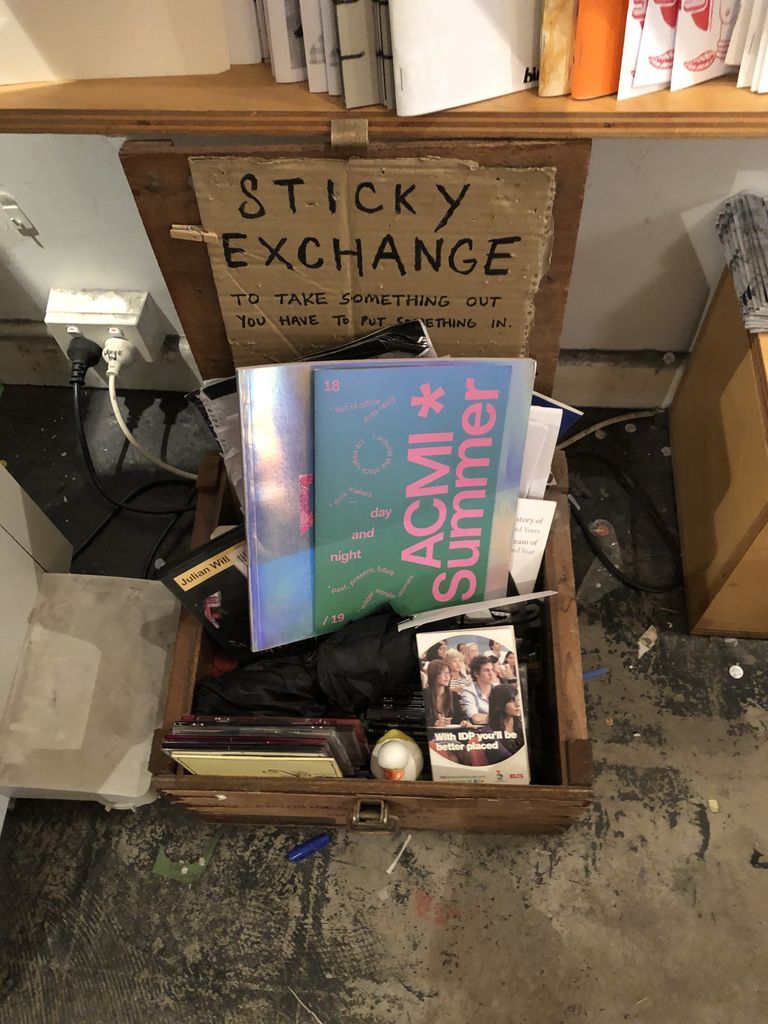 Though the small, cluttered space isn't for the claustrophobic, this is a browser's paradise. The shop is full of limited-edition, handmade publications that would be hard to find anywhere else. After all, anyone can sell their zines, after filling out a form. Self-publishers can even put their zines together right in the Sticky space, which has managed to fit a workspace, long arm staplers, drawing materials, typewriters, and other tools in the middle of the room. Anyone can use the photocopier as well, although this is subject to a fee.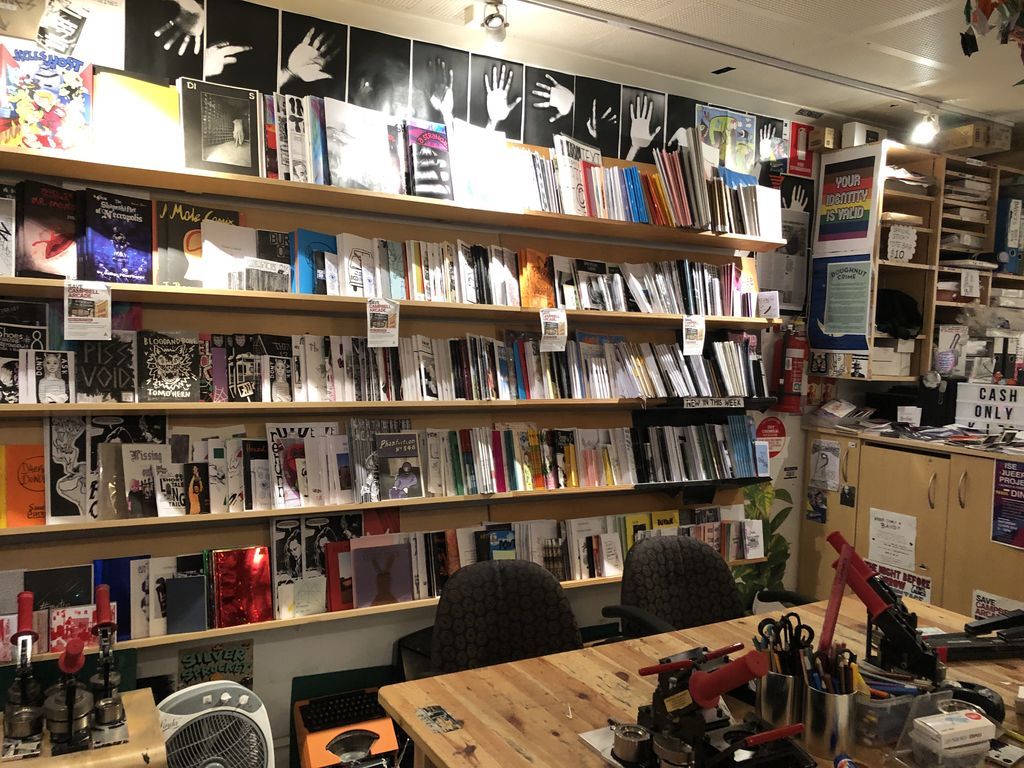 So at Sticky you can find delicate drawings of animals; confessional diary comics; short graphic narratives; nonfiction nuggets; compilations of work from multiple creators; mini-zine gifts; and plenty of rabble-rousing political content.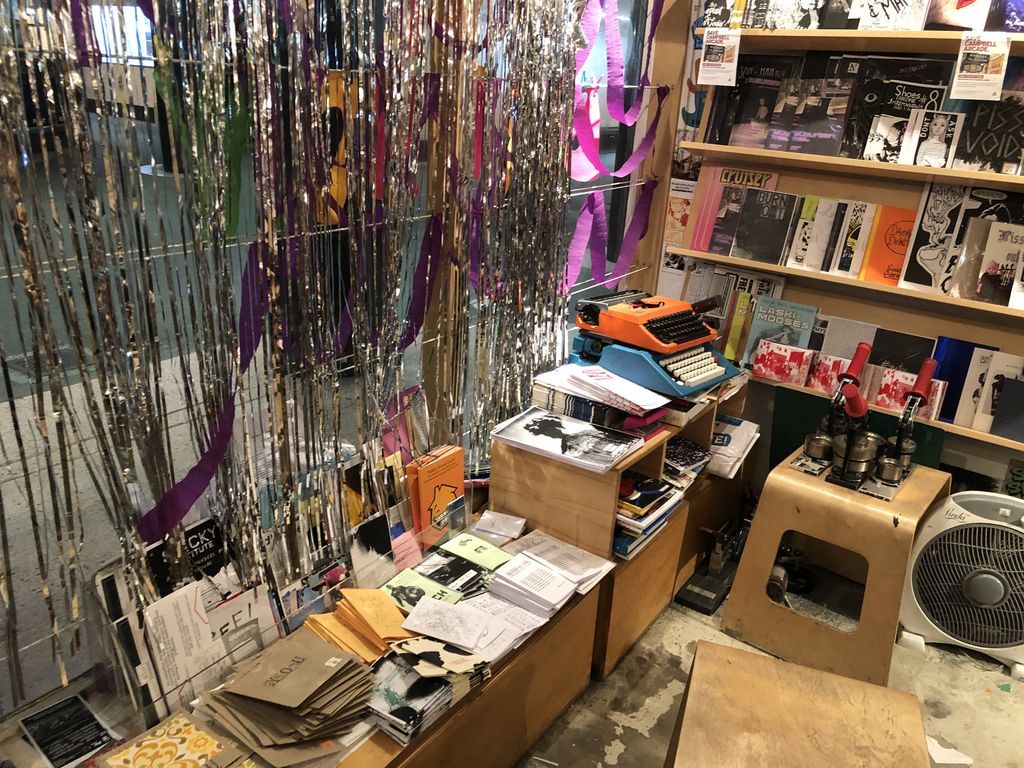 In fact, the shop was a target for homophobic trolls in 2017, during the Australian Marriage Law Postal Survey. Sticky Institute publicly declared its support for the Yes campaign, which advocated for a change to the law to allow same-sex marriage. Sticky also posted on its social media channels: "If you vote 'No' in the forthcoming plebiscite, please never visit our shop again." This brought out the haters in full force. But it also elicited plenty of supportive comments, as its political statements had been in keeping with its left-leaning, queer friendly ethos.
There are other ways to support Sticky Institute. The institute hosts a zine fair called Festival of the Photocopier. People unable to visit the shop in person can buy a grab bag of zines online. And there's a membership program for customers who want to get store discounts and a mailed assortment of zines.
Clearly, it's not the case that zine culture died out in the '90s. One piece of proof is Broken Pencil, a fantastic Canadian magazine and website dedicated to this subculture. Another is Sticky Institute, an eccentric and egalitarian corner of Melbourne's literary scene.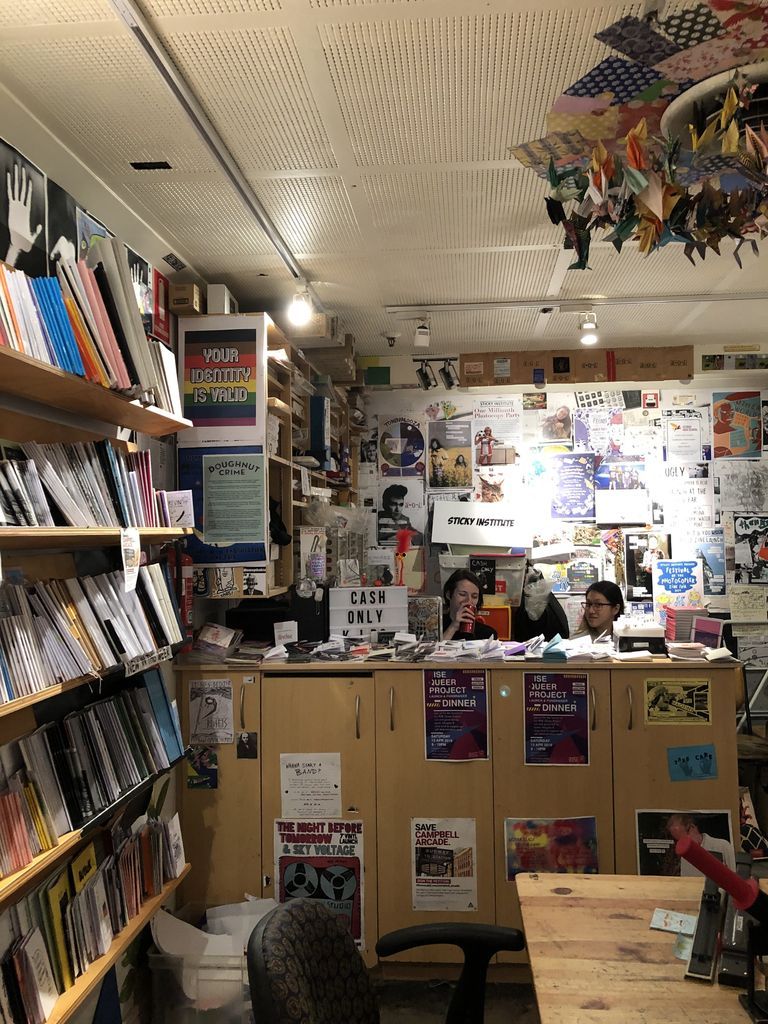 For more zine love, check out:
Reaching Teens with 'Zines in the Library
Get to Know the Little Magazines of the Harlem Renaissance
Zinesters Are Us: The Book Riot Live 2015 Attendee Zine