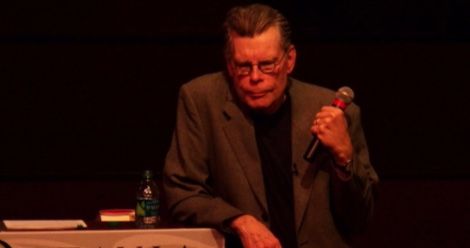 Critical Linking
Stephen King Announces New Novel: Critical Linking, February 5, 2019
Sponsored by The Lost Man by Jane Harper

---
Every kid has dreamed of getting notice that he or she has been recruited to join an elite, secret school for the unexpectedly powerful.
But in Stephen King's new novel The Institute, it sure as hell isn't Hogwarts.
The author's website announced the new title, due in stores Sept. 10, by invoking two of his classic novels: Firestarter and It.
You thought the Stephen King news was going to be about an adaptation, didn't you?
---
Elaine Welteroth, the former Teen Vogue editor-in-chief, has just dropped the cover of her new book— and ESSENCE has the exclusive first look!
Welteroth's More Than Enough: Claiming Space For Who You Are (No Matter What They Say) is part-manifesto and part-memoir, and it explores how this revolutionary editor came into her own power in her own terms. Not to mention, the book's foreword was written by award-winning director Ava DuVernay.
She's awesome and so is that cover!
---
"They're not just a bloc of black girls who went missing and nobody cares to know their names," said Sesay. "One of my biggest wishes with this book is that people see them as individuals."
Sesay, the former CNN anchor who broke the news of the kidnappings and won a Peabody Award for her coverage, has written Beneath the Tamarind Tree (HarperCollins, July), the first definitive account of these events. The debut author joined Booklist editor Donna Seaman on stage at the Closing Session of the American Library Association's 2019 Midwinter Meeting & Exhibits in Seattle on January 28 to discuss her book.