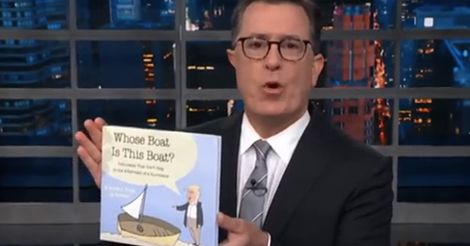 Stephen Colbert Made a Children's Book Out of Trump's Post-Hurricane Florence Comments: Critical Linking, October 2
Sponsored by The Boneless Mercies by April Genevieve Tucholke.

---
Stephen Colbert announced the show's latest attempt to spin gold out of straw, the straw being both Hurricane Florence and the moment President Trump told a North Carolina hurricane survivor regarding the boat shipwrecked on his property during the storm, "At least you got a nice boat out of the deal." All those comments and more will reportedly be featured in Simon & Schuster's upcoming children's book Whose Boat Is This Boat? Comments That Don't Help in the Aftermath of a Hurricane by Donald Trump (accidentally.) All proceeds from the tome will benefit organizations working with hurricane victims, specifically the Foundation for the Carolinas, The One SC Fun, The North Carolina Disaster Relief Fund and Wold Central Kitchen.
I found a helper.  (You can help by purchasing the book here)
---
Sure, the publishing industry's gender bias is old news, but I was shocked to learn that male authors dominate more than two-thirds of the translated fiction market. Meytal Radzinski, founder of Women in Translation month, recently exposed the solid foundations of this status quo: over five years, we've seen no change to the proportion of translated fiction written by women authors – just 28-30% is the rule. Now think about that figure in the context of translated works squeezing into only 1.5% of the UK's fiction sector.
Now I want to read 200 books by women from around the world!
---
The Society of Authors (SoA) and The Irish Writers' Union have released a joint statement warning of the impact of a no-deal Brexit on publishing and literature in the two countries.
The statement, citing the fact that "the U.K. and Ireland enjoy a close trading relationship" notes how, currently, "books are able to flow freely from one country to the other." It goes on, then, to note that "the introduction of tariffs and border controls in the event of a 'no deal' exit would be disastrous for this close trading relationship, hitting the wider industry in both countries.