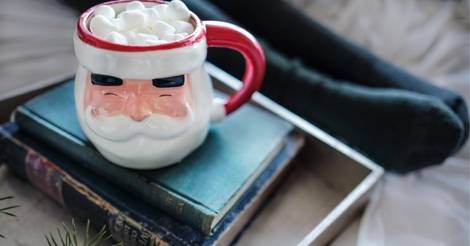 Humor
How To Steer Any Conversation Towards Books This Holiday Season
Are you tired of hearing about how stressful the holidays can be and then during the holidays realizing how stressful they can be? Are you tired of your family members not caring about books as much as you do? In that case, the reason you're stressed is probably because your family is not talking about books and instead talking about things you don't want to, like when on God's green earth is Barry going to propose already?
What if you could replace any unwelcome conversation with conversation about books? That sounds like a two birds, one stone kind of situation.
And it is possible. Simply follow the example scenarios below to preempt any stressful conversation on a number of taboo topics, such as politics and who really is mom and dad's favorite, and you will successfully steer any conversation towards books this holiday season.
If You're Avoiding Politics:
Your Uncle Stan starts in with: "I can't believe the liberal…"
You jump in: The liberal use of unreliable narrators in contemporary fiction, I know! It's getting out of hand! I mean I agree The Girl on the Train was great, but every narrator can't be suffering from drug or alcohol-induced amnesia, right? Totally agree, Uncle Stan, we need a new gimmick in 2019.
If You're Avoiding Weddings:
Your Dad starts in with: "You know, your Mom and I were married…"
You jump in: The year A Confederacy of Dunces was published? That is something to be proud of. I can't believe it was the only book he ever wrote. You've read it, right? Let me go find my copy for you, you should definitely borrow it.
If You're Avoiding Gender Politics:
Your Aunt Mary starts in with: "I don't understand why women these days…"
You jump in: Why women these days aren't more widely published? Agreed, Aunt Mary! They totally should be. You've really got your finger on the pulse. You must have read Jesmyn Ward and Ottessa Moshfegh, right? Of course you have—you're obviously a major proponent of women in literature!
If You're Avoiding Baby Talk:
Your Mom starts in with: "Babies really can be…"
You jump in: Babies really can be read to? Astute, Mom! There is a ton of research that suggests it's never too early to read to babies! My personal favorite kids books are Dragons Love Tacos and Forever or a Day. What are yours??
If You're Avoiding Money Talk:
Your cousin starts in with: "I covered the cost of all my gifts this year with my massive b…"
You jump in: With your massive Barnes & Noble gift card? What a really great idea to get everyone on your shopping list books. I didn't know you were such a reader, Kevin. Did you read The Friend by Sigrid Nunez yet? You have to! It's a little dark, sure, but wow is her prose amazing.
If You're Avoiding Favorite Child Talk:
Your sister starts in with: "Mom and Dad always get…"
You jump in: Always get my reading taste? I know! It surprises me too. I had no idea Mom even listened to Fresh Air with Terry Gross. I thought she was more of a Morning Edition gal. But you just really can't match those probing Fresh Air interviews. Did you hear Terry's interview with Esi Edugyan, the author of Washington Black? Woah.