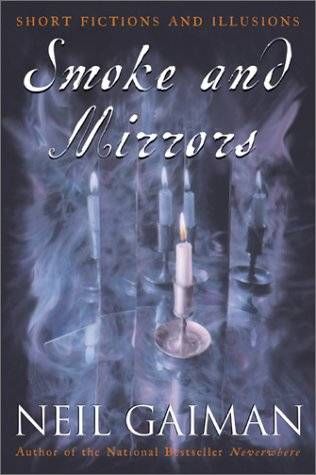 Events
START HERE: Neil Gaiman
This content contains affiliate links. When you buy through these links, we may earn an affiliate commission.
This post is part of our Neil Gaiman Reading Day: a celebration of one of our favorite authors on the occasion of the publication of his new novel, The Ocean at the End of the Lane. Check out the full line-up here.
Erin Morgenstern (author of The Night Circus) wrote the following as a chapter for our book, Start Here: Read Your Way Into 25 Amazing Authors. The goal of Start Here is to give motivating and lively 3-4 book sequences for trying out some great authors. So, if you've been thinking about trying Neil Gaiman, this is a good place to start.
____________________________
I think I stopped having to explain to people who Neil Gaiman is around the time he was referred to as "British Fonzie" on The Simpsons, so if you're reading this I shall assume you've heard of him.
Neil Gaiman has a vast catalog ranging from graphic novels to children's books and the sheer variety can no doubt confound the new-to-Neil reader. He takes myth and fairy tale and horror and blends it into something that can only be described as "Gaimany" but goes well with tea. So, whether you prefer your tea with honey or lemon or something altogether more sinister, let me pour you a cup and together we shall find a work of Mr. Gaiman's to complement it. This, in suggested order, is my Neil Gaiman Introductory Tea* Service:
(*feel free to replace tea with beverage of your choosing, but do please serve it in a vessel with some character. )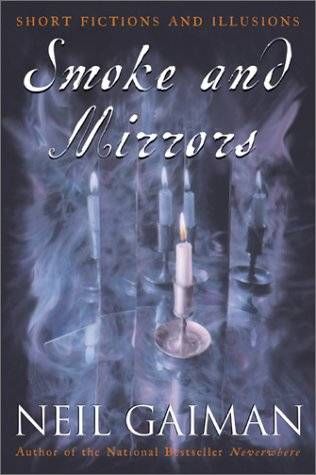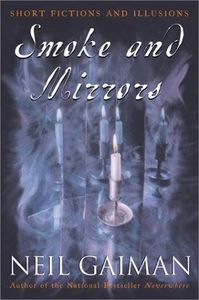 1. Smoke & Mirrors (1998)
We begin with small bites. While his novels may be better-known, Gaiman's short stories are equally rich and layered and I think they make a perfect starting point. Smoke & Mirrors is a collection full of atmospheric storytelling in easily manageable portions appropriately billed as "short fictions and illusions.
Standard practice would be to read the tales in order but if you prefer to dip in recklessly I myself am particularly fond of "The Price," "We Can Get Them For You Wholesale" and "Murder Mysteries."
(If you have very little time but you want to see if this whole Gaiman thing is for you, try the single-page "Nicholas Was…")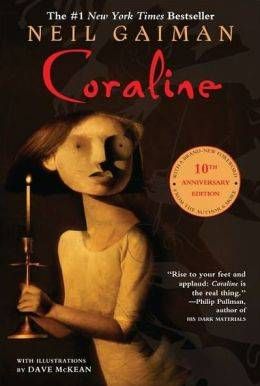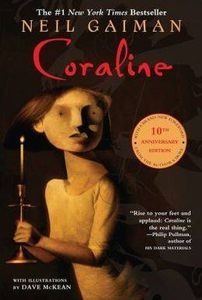 2. Coraline (2002)
Now that we've established a flavor profile we should indulge in something longer, but perhaps not too long as we don't want to spoil our appetites. Something sweeter, with a bit more whimsy.
So here we have a cake covered in buttons and beetles. I tried to get the beetles to spell out "Coraline" but it is difficult to get them to stay still in butterscotch frosting.
It is indeed a children's book and I recommend it regardless of your age. A deliciously creepy adventure that manages to be creepy and adventurous in equal measure, Coraline takes the everyday world and turns it into something Other, with shiny black buttons for eyes. Also, there is a mouse circus. Perhaps I should have put the mice on the cake instead. Ah, well.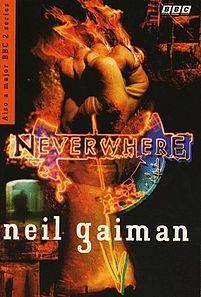 3. Neverwhere (1996)
So we've nibbled our short story petits fours and devoured our button-laden cake and now comes the time for an adult-market novel. You're thinking it's going to be American Gods because that's the one everyone knows about but it's not. Sorry.
I love American Gods, but I suggest reading something else first when it comes to the novels for (mostly) grown-ups. Maybe I'm just doing this to be contrary, maybe I'm pushing my personal favorite on potential readers like a literature dealer in a back alley, but do consider coming closer as I beckon you down this stairway and lead you onto this subway platform and hand you a take-away cup for your tea along with a copy of Neverwhere.
It's a bit Alice in Wonderland; it's a bit Hitchhiker's Guide to the London Underground, it's something in between with its own history and myth lurking below street level. Each of Gaiman's novels are unique but I think this one will treat you well as you start out, though you shouldn't let the Velvets get too close.
____________________________
And here on this imaginary subway platform I must abandon you to your reading. From here you should be able to easily access the rest of Gaiman's work, transfers are available at most stations. I apologize for not having had the time to read your tea leaves, and do please Mind the Gap.
**A note regarding Sandman: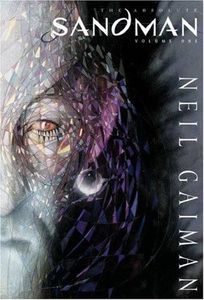 I considered adding Sandman to the tea service proper but delving into a 75-issue (available collected in various volumes) graphic novel series might be too much for a first-author-date tea.
Also, technically, Sandman is the first Gaiman-authored anything I ever read and I didn't like it. Someone lent me the first volume and I read maybe three or four issues before giving up on it only to try again years later after I'd read more of the Gaiman oeuvre and once I got through that first volume I loved it. So, if you are feeling daring and you want to give Sandman a try I have this advice:
Read Sandman #8: "The Sound of Her Wings." I would normally suggest reading in numerical order, but in this case I think the earliest issues aren't truly indicative of where this long strange trip can take you tone-wise, but this particular story is. Sit and feed the pigeons and from there you can decide if Sandman is a ride you'd like to go on, at which point you can begin again at the beginning.
____________________
Book Riot Live is coming! Join us for a two-day event full of books, authors, and an all around good time. It's the convention for book lovers that we've always wanted to attend. So we are doing it ourselves.